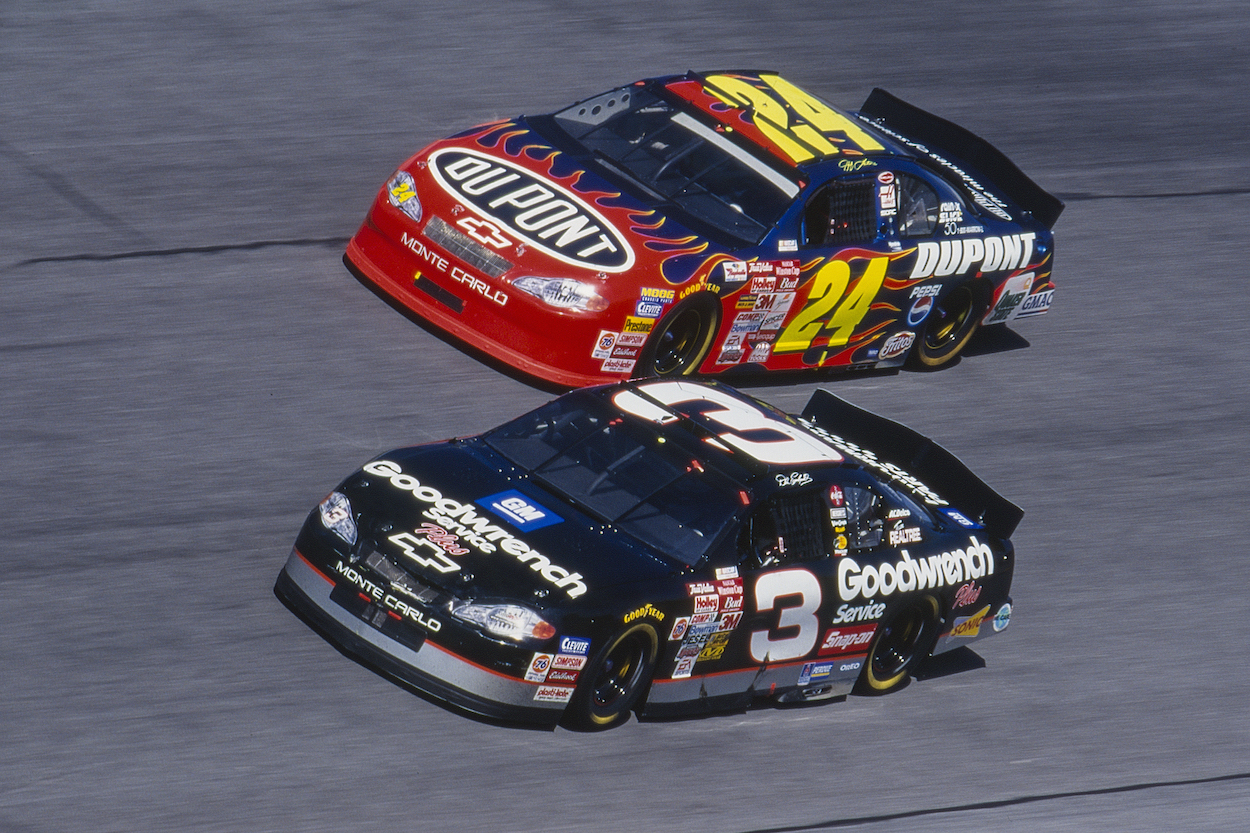 Dale Earnhardt Was Desperate for an Advantage in 1995 and Turned to a Jeff Gordon Voodoo Doll With Frightening Success
When Dale Earnhardt realized Jeff Gordon was a threat to his NASCAR reign in the 1995 season, he resorted to a Gordon voodoo doll and the results were eerily successful.
Dale Earnhardt Sr. engaged with Jeff Gordon in one of the most unique rivalries in sports history. Both NASCAR legends took the sport to a different level. And that was just what they achieved off the track. 
On the track, Gordon served notice to Earnhardt and the rest of the Cup Series drivers during the 1994 season when he won a pair of races, including the prestigious inaugural running of the Brickyard 400. In 1995, Gordon took his racing to the next level and challenged Earnhardt's multi-year reign at the top. The veteran, desperate to fend off the up-and-comer, resorted to an interesting tactic late in the season when he started using a Jeff Gordon voodoo doll given to him by a fan. Unbelievably, it worked. 
Jeff Gordon starts off 1995 season strong
Jeff Gordon and his team entered the 1995 season with a lot of confidence after a pair of wins the year before. After opening the season at Daytona with a disappointing 22nd-place finish, Gordon rebounded in Week 2 with a win at the Goodwrench 500 at the North Carolina Speedway. Earnhardt finished second.
Ten races into the 1995 schedule, and the two were about as close to even as you can get. Gordon had three wins and seven top 10 finishes. Earnhardt had a pair of victories to go with his seven top 10s. 
The tone had been set early on in the season, and Dale Earnhardt understood he was in for a challenge to his NASCAR supremacy, which had included winning four out of the last five Cup Series championships. By Week 20, Jeff Gordon had started to pull away in the points standings with a couple of more victories and one top 10 finish after another.
Fan gives Dale Earnhardt a Jeff Gordon voodoo doll
Late in the 1995 NASCAR Cup Series season, heading into Charlotte with three races to go, Dale Earnhardt trailed Jeff Gordon by around 300 points. It appeared the youngster was destined to dethrone the veteran and then something strange happened one afternoon during an autograph session at Earnhardt's car dealership.
"We had a lady in line visiting from Louisiana," recalled Earnhardt's PR rep and longtime associate J.R. Rhodes in the documentary Unrivaled: Earnhardt vs. Gordon. "She gave us a voodoo doll of Jeff Gordon. At the end of the autograph session, Earnhardt said, 'You bring that to the race track.' Richard and I and Dale and whoever was in the lounge got the pins and started putting pins in Jeff's right foot, his gas foot. We didn't want anything bad to happen to Jeff. We just didn't want him to hit the gas too hard." 
Halfway through the race at Charlotte, Gordon experienced mechanical problems. He finished 30th and outside of the top 10 for the first time in more than three months. Earnhardt finished second and erased 100 points from Gordon's lead.
Later that night, Dale Earnhardt called Rhodes. "That voodoo doll is still in the trailer, right?" he asked. "Yes," Rhodes assured him. "You make sure we have that thing for the rest of the season," Earnhardt commanded. 
Gordon wins 1995 championship and the torch is passed
The following week, Jeff Gordon got taken out by another driver, and it wasn't Dale Earnhardt. Gordon ended in 24th and Earnhardt finished seventh. The points lead continued to shrink. 
"Every weekend, we put a pin in his foot," Rhodes said in the documentary. "I don't think Jeff knows about that."
"Damn that voodoo doll. I had no idea that's what it was," Gordon responded in the documentary. "I'm going to be the arrogant driver that I was in 1995 and say that was the only way they were going to win the championship."  
Even a homemade Louisiana voodoo doll wasn't enough. Despite besting Jeff Gordon in the final two races, including a season-ending victory at Atlanta, Dale Earnhardt came up short and finished second to Gordon. 
Gordon won his first Cup Series title, but more significantly, the torch had been passed. Earnhardt came close but never won another Cup Series championship while Gordon went on to win two of the next three. Interestingly, Gordon captured his fourth and final Cup Series title in 2001, the year that Earnhardt died. 
Like Sportscasting on Facebook. Follow us on Twitter @sportscasting19.