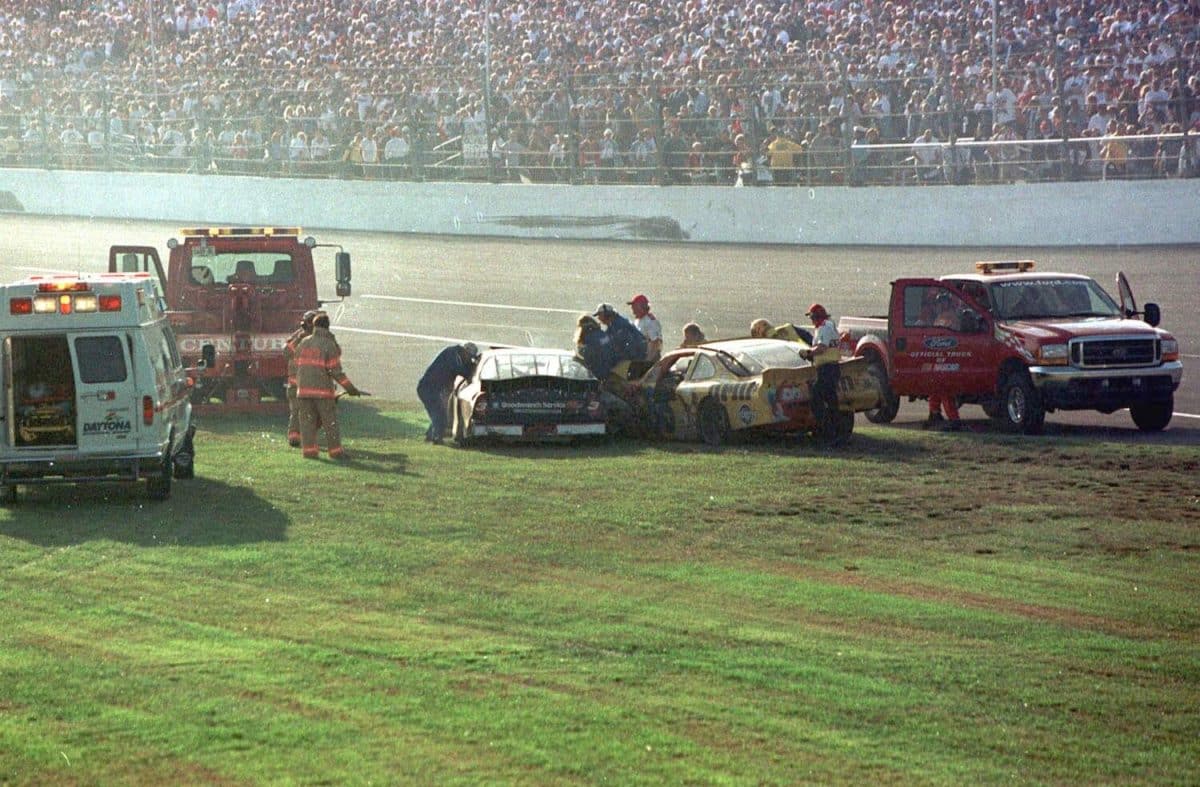 Dale Earnhardt Sr. and Sterling Marlin Had a Chilling Conversation About Death Just Days Before Fatal Accident
Just weeks before his death, Dale Earnhardt Sr. and Sterling Marlin had a chilling conversation about dying and what Earnhardt expected to happen if he died in a race.
Dale Earnhardt Sr. is, by many accounts, the GOAT of NASCAR. In his legendary 27-year career, he won 76 times and seven Cup Series championships. His career and life tragically ended on the last lap of the 2001 Daytona 500. His death shocked the racing world.
Just days after the accident, Earnhardt's friend and fellow driver Sterling Marlin revealed the details of a chilling conversation the two drivers had about death just weeks before the fatal crash. It was a prophetic and haunting discussion, but one that helped Marlin and many of Earnhardt's fans find peace following the loss of the legend.
Dale Earnhardt Sr. killed on last lap of 2001 Daytona 500
It was supposed to be one of the happiest moments for Michael Waltrip as he crossed the finish line to capture his first Daytona 500 narrowly edging out Dale Earnhardt Jr. Instead, it was the darkest day in NASCAR history as Earnhardt Sr. was involved in a fatal accident.
Just three years earlier and after years of coming close, Earnhardt had finally won The Great American Race for the first time. Heading into the final lap of the 2001 event, Earnhardt was looking to capture his second Daytona victory, but he had company. 
Up in front of him were Earnhardt's son, Dale Jr. and Michael Waltrip. Senior battled in the third position with Ken Schrader and Sterling Marlin as they made the final turn of the race. 
That's when disaster struck as the right front of Marlin's car tapped Earnhardt, causing him to wobble, before he made a sharp right turn slamming into the wall and collecting Schrader in the process. Earnhardt and Schrader's cars both slid down into the infield grass. 
Many Earnhardt fans blamed Sterling Marlin for his death
Dale Earnhardt's tragic death was a horrifying moment for NASCAR. For Sterling Marlin, his mourning was combined with fear. That's because many of Earnhardt's fans angrily blamed Marlin for the accident. 
A day after the race, upset fans bombarded Marlin's website with emails. Others called his race shop to threaten him and his family. Marlin spoke out about the threats.
"Maybe people are frustrated and just looking for somebody to blame. I'd do anything to not be here today, to not address this subject," Marlin told ABC News. "If people just come back to their senses, listen to what everybody's saying, and watch the tape, that's all I ask." 
Sterling Marlin reveals chilling conversation he had with Earnhardt weeks before his death
In that same interview asking for fans to calm down and use common sense, Sterling Marlin revealed the chilling details of a conversation he and Dale Earnhardt had just weeks before the fatal accident.
"Dale said, 'If I ever get killed in a race car…I don't want nobody crying and moaning and groaning… It's what I love to do, and don't worry about it,'" Marlin recalled. "That's the way Earnhardt was, and when he buckled that seatbelt Sunday, he knew anything could happen."
Every NASCAR driver understands the inherent risks when strapping inside a car traveling at speeds topping 200 miles per hour. Fans understand the dangers as well.
For those saddened by Earnhardt's death, The Intimidator's conversation about dying wasn't what they wanted to hear, but it was something they needed to hear, and it helped everyone find some solace at a very dark moment in NASCAR history.