After Dale Earnhardt Sr.'s Death at the Daytona 500, Dale Earnhardt Jr. Ended the Outrage Directed at Sterling Marlin in a Heartwarming Moment
It's crazy to think that it's been 20 years since the tragic passing of Dale Earnhardt Sr., the motorsports legend who was killed during the final lap of the 2001 running of NASCAR's season-opening Daytona 500. In the wake of the fatal accident, Sterling Marlin received death threats as some believed he was to blame for the crash.
His fellow drivers, however, stood up for him, saying he was only doing what Earnhardt himself was trying to do that day: win the race. One of those drivers was none other than Dale Earnhardt Jr., who quickly came to Marlin's side and essentially put an end to the outrage with a heartwarming gesture at the very next race following his father's death.
The Daytona 500 crash that killed Dale Earnhardt Sr.
When the white flag dropped for the final lap of the 2001 Daytona 500, Michael Waltrip was leading the race while Dale Earnhardt Jr., who was running "The Great American Race" for just the second time in his NASCAR career, was in second. Dale Earnhardt Sr. was running in third and was one of numerous drivers that still had a chance to win.
Sterling Marlin was one of those drivers and as the pack hit turn three at Daytona International Speedway, he was running in the bottom lane with Earnhardt Sr. in the middle lane, Ken Schrader at the top, and Rusty Wallace directly behind Earnhardt Sr.
As turn four approached, Marlin's No. 40 Dodge made light contact with Earnhardt's famous No. 3 Chevy. "The Intimidator" quickly tried to regain control but went flying up the bank and slammed into the wall pretty much head-on at somewhere between 155 and 160 miles per hour.
While his death wasn't announced until hours later, Schrader, who was the first to look into the No. 3 car after the crash, said he knew Dale Earnhardt Sr. was dead.
Sterling Marlin received death threats in the wake of The Intimidator's death
RELATED: How Sterling Marlin Reacted to Death Threats Following the Daytona 500 Crash That Killed Dale Earnhardt Sr.
In the days following the 2001 Daytona 500, Sterling Marlin received numerous death threats from NASCAR fans (if you can really call them that) who believed he was responsible for Dale Earnhardt Sr.'s tragic death.
A fan wrote "I'll kill you Sterling" on his trailer, phone calls were made to the shop Marlin owned in North Carolina, and his website received a number of e-mails that not only threatened Sterling Marlin himself but his family as well.
Marlin insisted that he'd done nothing wrong and was only trying to win the Daytona 500, just as Dale Earnhardt Sr. was trying to do. He was later officially cleared of any wrongdoing by NASCAR but Dale Earnhardt Jr. wanted everyone to know almost immediately that he didn't blame Marlin for his father's death and got his point across in a major way the following week in Rockingham.
Dale Earnhardt Jr. embraced Sterling Marlin during introductions the very next week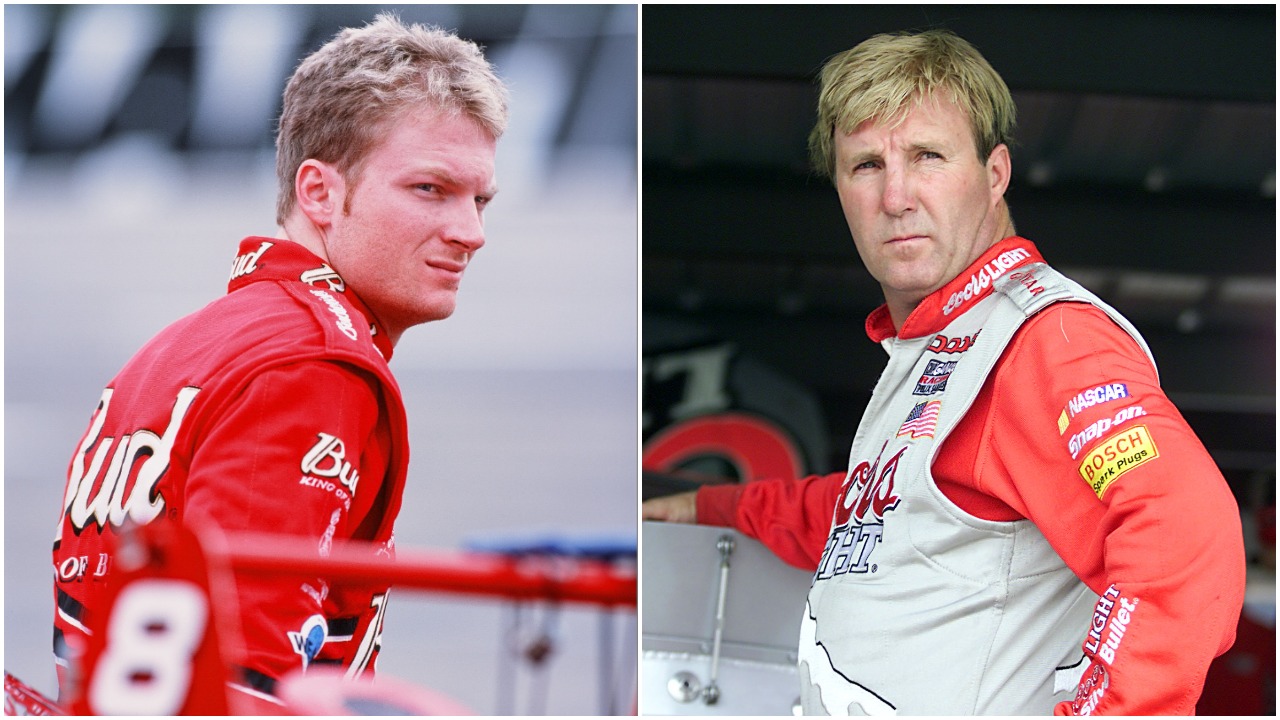 RELATED: The Conspiracy Theory That NASCAR Rigged Dale Earnhardt Jr.'s 2001 Season, Specifically His Win at Daytona, to Help Boost Ratings
Just one week after the death of Dale Earnhardt Sr., Dale Earnhardt Jr. and Sterling Marlin were at North Carolina Speedway for the running of the Dura Lube 400.
Given the threats that had occurred during the week, Marlin had armed security guards with him during driver introductions and nobody knew quite what to expect when his name was called. But Earnhardt Jr. wanted to put an end to the notion that Marlin was to blame for his father's death and embraced Marlin on the stage as he was announced, which brought a thunderous ovation from the crowd and essentially ended the outrage. It was a truly touching moment and one that those who saw it back then will never forget.