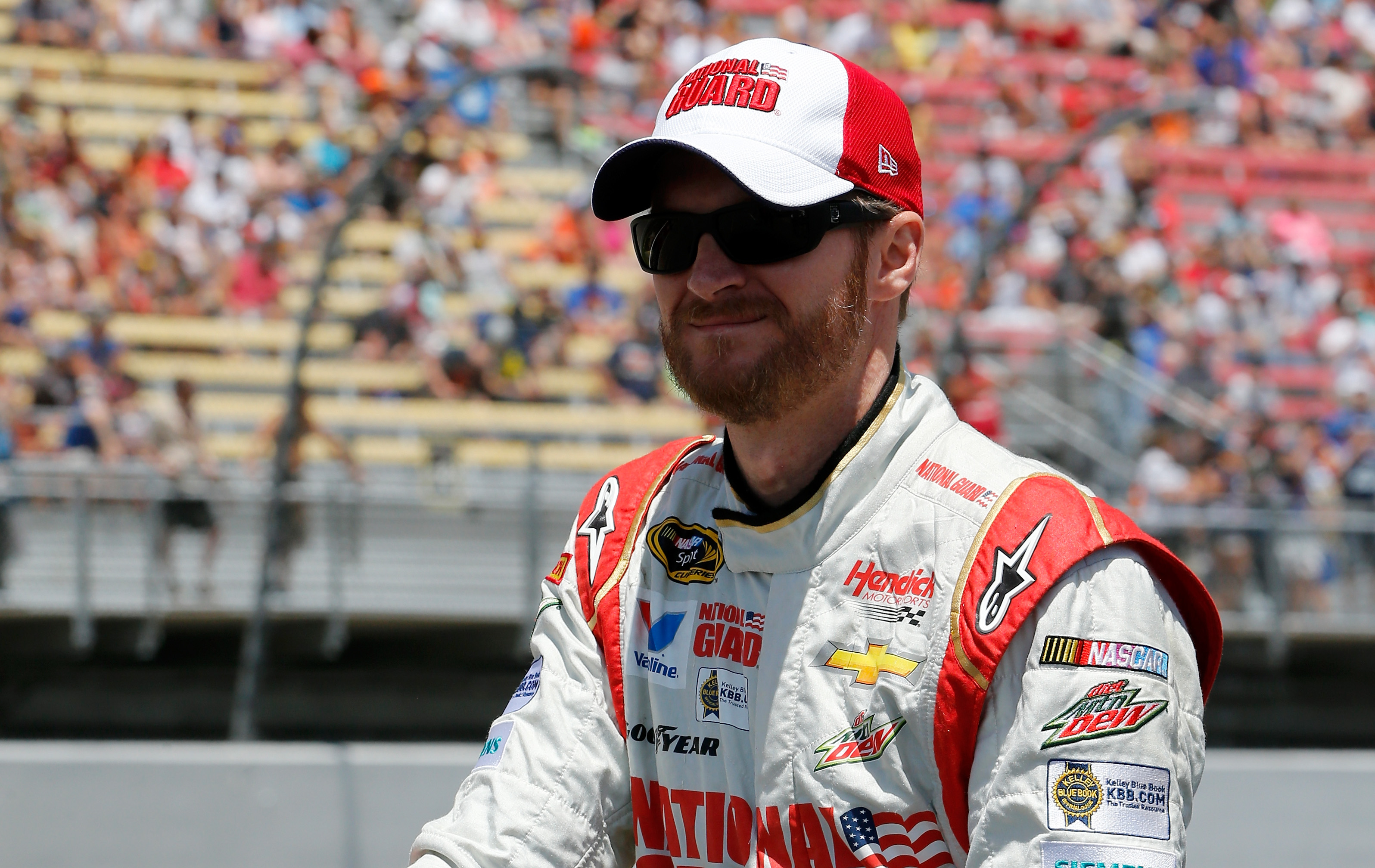 Dale Earnhardt Jr. Reveals What He Believes Is the Biggest Accomplishment in NASCAR History
Dale Earnhardt Jr. revealed what he believes in the biggest accomplishment in NASCAR history.
Dale Earnhardt Jr. has pretty much seen it all when it comes to NASCAR racing. He grew up with it and then became a Hall-of-Fame racer himself. He's been an owner and television commentator so he's no stranger to the biggest moments in the sport. During an interview last May, Junior revealed what he thought was the biggest accomplishment in NASCAR history.
Both Dale Earnhardt Jr. and his father had some huge moments
Between the two of them, Dale Earnhardt Jr. and his late father, Dale Earnhardt Sr., they have 102 NASCAR Cup Series wins and 688 top-10 finishes. The father-son duo has spent a combined 46 years in Cup Series racing. Both are NASCAR Hall of Famers.
The elder Earnhardt was killed in 2001 during the final lap of the Daytona 500. He owns a Daytona 500 victory, winning it back in 1998. Earnhardt Sr. won seven Cup Series championships, tying his with Richard Petty and Jimmie Johnson for the most all-time. He was a member of the inaugural NASCAR Hall of Fame class in 2010.
Junior owns a pair of Daytona 500 victories. He claimed wins in 2004 and 2014. He was also named the Monster Energy Cup Series Most Popular Driver for 15 straight years. Earnhardt Jr. is one of three drivers headed into the NASCAR Hall in 2021.
Who is NASCAR's best of all-time?
Judging the GOAT of NASCAR is just as difficult as it is in any other sport. It's similar to trying to figure out if Michael Jordan or LeBron James in the best NBA player ever. There can be arguments made for multiple athletes in each sport and NASCAR is no different.
"My dad was a seven-time champion, and I love to think of my father as the greatest who ever raced, but there's two guys who accomplished as much as he did," Dale Earnhardt Jr. said in an interview with the NASCAR Hall of Fame in May. "There's not many people who have won multiple championships, and here are three guys that have won seven."
Jimmie Johnson and Richard Petty are the other two with seven titles. Petty is statistically the most accomplished driver in the sport. He's the only one with 200 career victories. He's also won seven Daytona 500 races. Petty once won 27 races in one season, including 10 straight.
Earnhardt Jr. reveals the biggest NASCAR accomplishment
There have been so many big moments in NASCAR history that there isn't one clear-cut accomplishment that stands above the other. During a question-and-answer session with the NASCAR Hall of Fame in May, Dale Earnhardt Jr. said what he believes is the biggest accomplishment in the sport's history.
It's tough choosing between anything his father, Richard Petty, Jimmie Johnson, Jeff Gordon, or any other racer did, but Junior came up with one. "Jimmie's five (Cup Series championships) in a row is the most impressive accomplishment I believe we have in our sport today." Earnhardt Jr. said. "Jimmie's a great guy, a great spokesman for our sport, represents our sport so well. Johnson was the Cup Series champ from 2006-10.
"And Richard Petty is Richard Petty," Junior said. "He's still at the track today, still putting everything he has into NASCAR and being such an amazing ambassador for our sport."