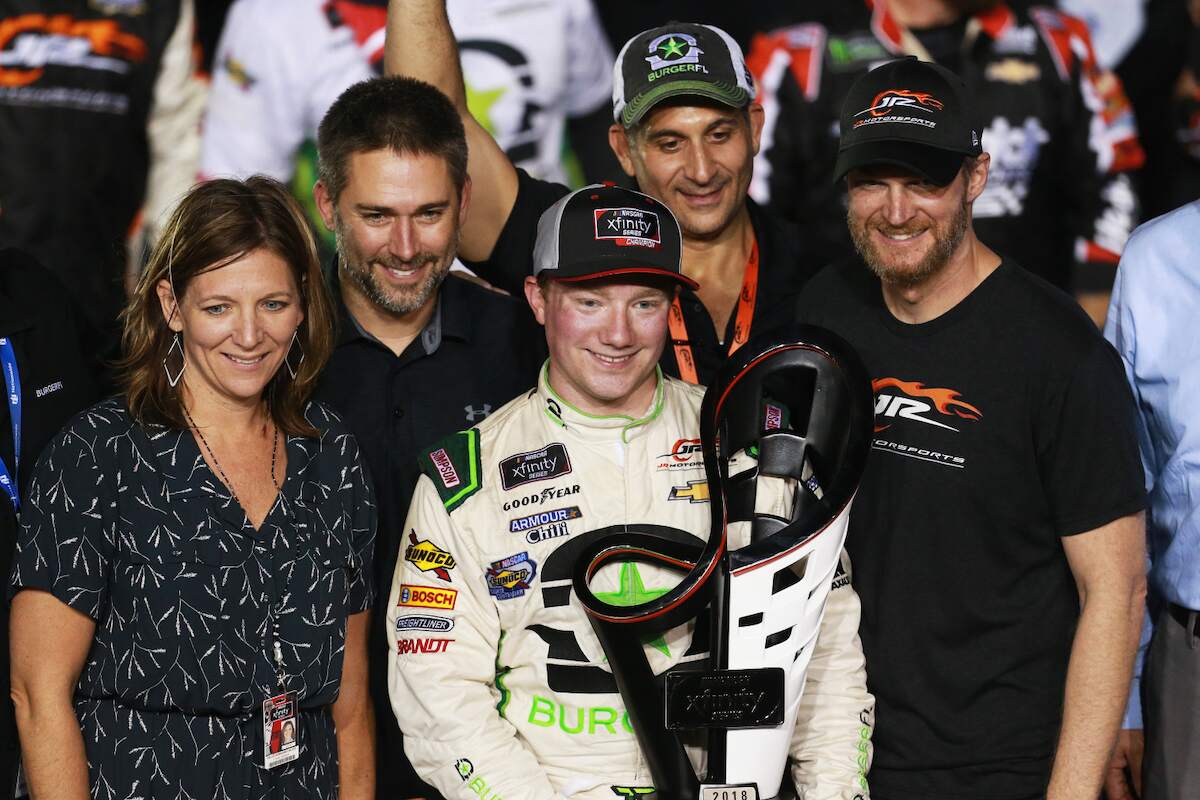 Dale Earnhardt Jr. Wasn't Even the Best Racer Among His Siblings
Dale Earnhardt Jr. came from a huge racing family, but he wasn't even the best driver among his siblings while growing up.
Dale Earnhardt Jr. has the motorsports hardwood. He's won a pair of Dayton 500s. He's claimed 26 NASCAR Cup Series victories and added 24 more in the Xfinity Series. Earnhardt Jr. was even a 2021 inductee of the NASCAR Hall of Fame. Despite all his success as a racing adult, he wasn't the most successful Earnhardt racing child.
The racing accomplishments of Dale Earnhardt Jr.
Dale Earnhardt Jr. came from a racing family as his father, the late Dale Earnhardt is a member of the NASCAR Hall of Fame. His grandfather, Robert Gee Sr., was a NASCAR car builder. Earnhardt Jr. began his racing career at 17 when he competed in the Street Stock division at Concord, North Carolina's Motorsport Park.
Earnhardt Jr. had his breakout year in the Winston Cup Series in 2000. He collected his first victory at the DirecTV 500 at Texas Motor Speedway. With that DirecTV 500 victory, Earnhardt Jr. broke his father's record for the fewest starts for a driver to win his first race in NASCAR's modern era. Earnhardt Jr. won the race in his 12th start.
Earnhardt Jr. has 26 Cup Series wins in his 19 years of racing. He's finished in the top 10 260 times. Earnhardt Jr. is also a 2017 inductee of the Texas Motor Sports Hall of Fame. That same year, he earned the Bill France Award of Excellence. He's also been elected to the NASCAR Hall of Fame as a member of the 2021 class.
Dale Earnhardt Jr. wasn't even the best racer among his siblings
Dale Earnhardt Jr. has an older sister Kelley and an older half-brother Kerry. He also has a younger half-sister named Taylor. According to a 2010 ESPN article, Dale Earnhardt Sr. was once speaking about who might be the next great driver in the Earnhardt family. Earnhardt Sr. spoke about one of his children having the aggression and mental toughness to become a racing champ.
Was he speaking of Dale Jr.? Nope. Was it Kerry, the older half-brother? Nope. It was his sister Kelley. Kelly Earnhardt Miller is now the vice president of JR Motorsports, which she co-owns with Dale Jr. Even Dale Jr. could see she was better when they were growing up.
"[Kelley] could have had a lot of opportunities had it been a different environment and a different culture and a different climate," Earnhardt Jr. said, according to ESPN. "She was hardheaded and tough and drove hard. She would eventually have polished her abilities to where she would have been a pretty good race car driver at the higher level."
Kelley Earnhardt explains why she veered off the racing path
In an interview with Graham Bensinger posted on Dec. 22, Kelley Earnhardt explained why she didn't pursue racing as a career. Instead, she went to the business side of things and things have gone pretty well for her at JR Motorsports.
"It was such a different time when I raced in the mid-90s," she told Bensinger. "It still was weird to go to the race shop because the guys were hanging out there, telling stories or do whatever they were doing. That was the time they got to go talk guy-talk. The girls weren't supposed to be around or listen. Society was kinda like that, too. Girls aren't supposed to be driving racecars."
It was Kelley who brought Danica Patrick to JR Motorsports. "That's why I think the Danica thing was so important to me," she said. "I joked back then when I was doing interviews that I lived vicariously through her. That would've been awesome to be doing that. I think partly because of our heritage in the sport, how awesome would it have been to have an Earnhardt girl do big things in the sport?"