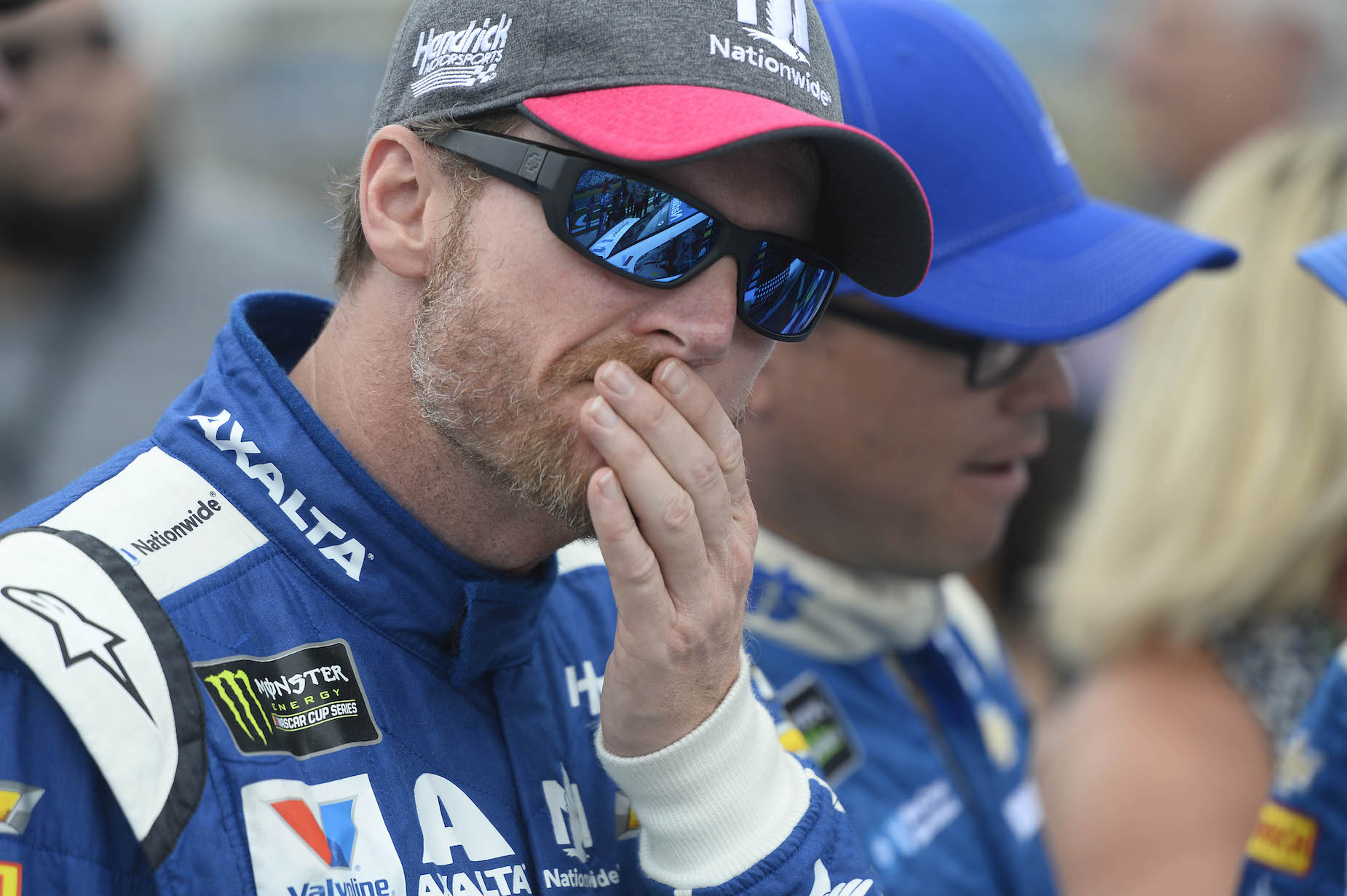 Dale Earnhardt Jr. Pinpointed the Exact Crash That Tragically Changed Both His Life and His NASCAR Career
Dale Earnhardt Jr. is unfortunately able to pinpoint the exact crash that changed the course of both his life and his NASCAR career.
From afar, professional athletes seem like larger than life characters. That's especially true for someone like Dale Earnhardt Jr. As someone who became rich and famous by driving race cars at 200 miles per hour, it seems like he landed a pretty sweet gig. Junior's life behind the wheel, however, has been far from perfect.
While Dale Earnhardt Jr. is still a major name on the NASCAR scene, he retired after the 2017 season; concussions had eventually taken their toll on the motorsports star. In retrospect, though, he was able to pinpoint the exact crash that tragically started all of his issues.
Dale Earnhardt Jr. followed his father's footsteps and became a NASCAR star
Given his famous father, you might assume that Dale Earnhardt Jr. was always destined for racing greatness. In reality, though, that wasn't always the plan.
Growing up, Junior earned an automotive degree and got a job at his dad's car dealership. After getting fired by a new service manager, he began working on his sister's late model car; Earnhardt Jr. also climbed behind the wheel and started racing more and more.
Dale Jr. cut his teeth on the short track scene before moving up to the Busch Series in 1996; two years later, he made his Winston Cup Series debut. Before long, he became a fixture on the NASCAR circuit.
After his father's tragic death, Earnhardt Jr. took over the mantle as the family's top dog; unsurprisingly, he proved to be incredibly popular. In 2012, though, Junior suffered a career-changing crash of his very own.
A career-altering crash in Kansas
Over the course of a career, every NASCAR driver will experience at least a few crashes. Unfortunately for Dale Earnhardt Jr., one of those proved to be a life-altering experience.
In August 2012, Earnhardt Jr. hit the track at Kansas Speedway to test some tires. "We were averaging laps around 190 miles per hour, so, down the straightaway, we were probably doing about 210," the driver told Graham Bensinger. "I got down to the end of turn one and, just as soon as I lift off the throttle and set weight, the right front tire exploded. And the car sets down on the splitter, and when it lays on the splitter, the splitter's like a ski on snow."
The car headed straight into the fence with Earnhardt Jr. powerless to stop it.
"I hit the wall at 190 miles per hour," he continued. "My head is right against that headrest, and it's as stiff as a roll bar. So my head didn't go anywhere, and everything inside of it went into high-speed movement, and my brain just compacts against the inside of my skull at an incredible force."
That impact changed everything for Dale Earnhardt Jr.
Unsurprisingly, Dale Earnhardt Jr. suffered a concussion during that crash. The driver's issues didn't end there, though; that crash, in Junior's mind, set the stage for years of additional struggles.
"There's not any situation that I can think of that would result in a harder impact in racing," he explained. "And if it doesn't happen to me, I probably don't cut my career short. I'm probably still driving race cars today. But that wreck made it easier, I think, for me to get concussions beyond that instance."
Concussions, of course, proved to be a major problem for Dale Jr. He missed two races during the 2012 campaign shortly after the crash at Kansas Speedway; he also sat out a chunk of the 2016 season with post-concussion symptoms. While he returned to the track in 2017, that was his final year as a full-time driver.
In total, the driver estimates that he had between 20 and 25 concussions; he also plans to donate his brain to science after his death.
In the world of sports, there are countless 'what if' moments. For NASCAR fans, Dale Earnhardt Jr.'s crash at Kansas Speedway has to sit near the top of the list.