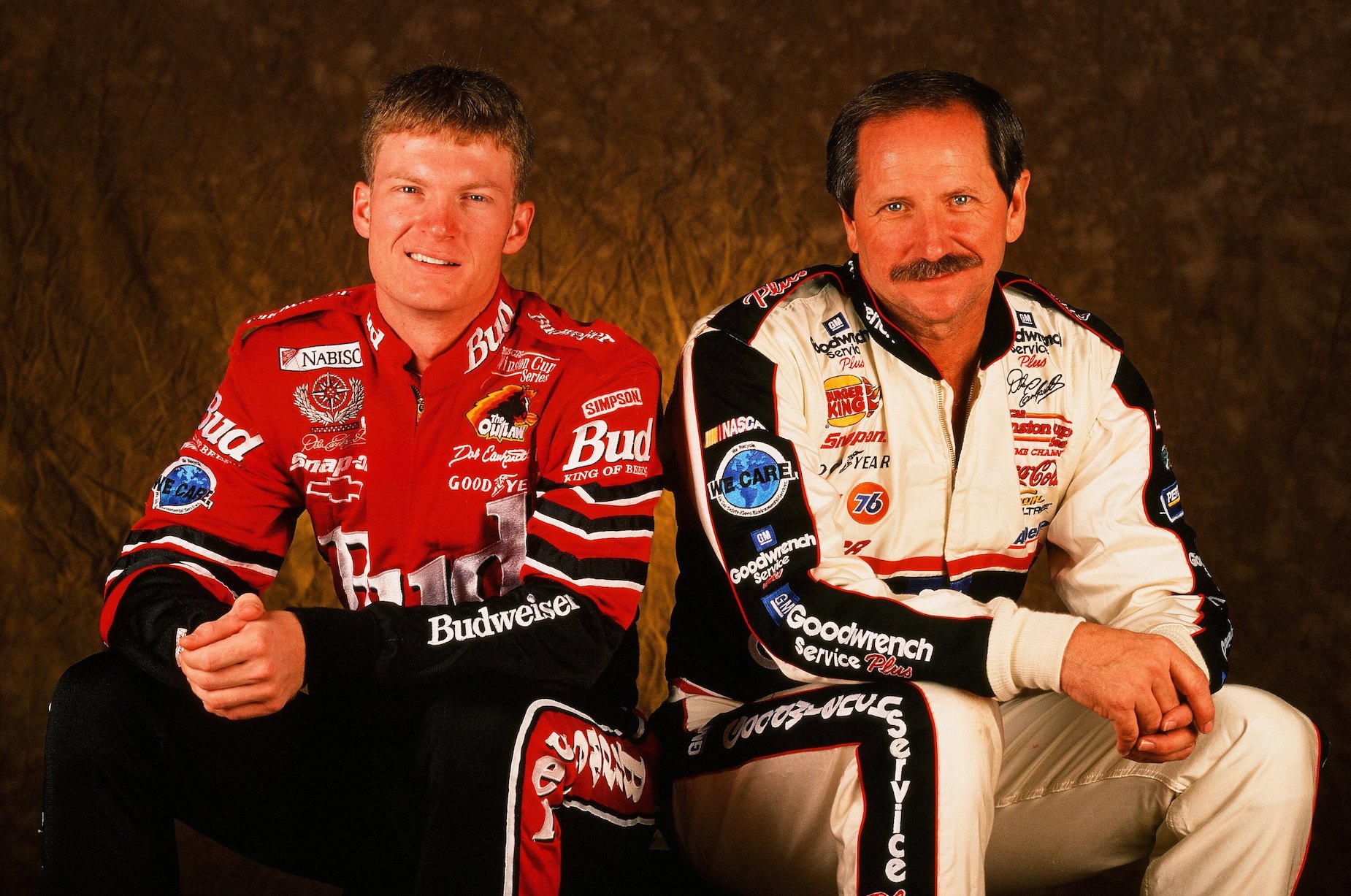 Dale Earnhardt Jr. Once Got Fired From His Dad's Car Dealership
Dale Earnhardt Jr. once had a job at his father's car dealership. That relationship, however, didn't prevent Junior from getting fired.
In the world of NASCAR, few names are bigger than Earnhardt. The family dynasty started with Ralph; Dale Earnhardt then picked up the torch before passing it on to his son, Dale Earnhardt Jr. That star status, however, didn't save Junior from some issues during the early days of his career.
Before he became a living motorsports legend in his own right, Dale Earnhardt Jr. took a job at his father's car dealership. Being related to the boss man himself, however, wasn't enough to save Junior's job.
Dale Earnhardt Jr. grew up as the son of racing royalty
These days, Dale Earnhardt Jr. is a celebrity in his own right. Growing up, however, there was a much bigger star in the household.
Junior was born in 1974, a year before his father made his Winston Cup Series debut. Before long, Earnhardt Sr. claimed the NASCAR Rookie of the Year crown and begun his transformation into one of the sport's biggest stars.
As we all know, Dale Jr. went on to follow in his father's footsteps and climbed behind the wheel of a stock car. That wasn't his initial goal, though.
"Growing up, I never intended to be a professional race car driver," Junior explains on his website. "My plan was to be an auto mechanic at my daddy's car dealership. I earned a two-year automotive degree at Mitchell Community College and was well on my way to working on cars. Your cars."
Getting fired from his father's dealership
As Dale Earnhardt Jr. planned, he did get a job at his father's auto dealership. While he managed to rise to the rank of "assistant engine guy," that gig didn't end happily.
"One day, we got a new service manager, and the guy was like, 'We're gonna stay after, and we're gonna have this meeting. I'm gonna change the service department and fix it," Earnhardt Jr. recalled on the Dan Patrick Show. "And I was like 'I'm not staying if we can't stay on the clock."
Unsurprisingly, the new manager didn't appreciate that choice and, the next day, Junior was told to take some time off to think about his commitment to the job.
"I was broke," Earnhardt Jr. continued. "It was a 45-minute commute to the dealership and then back, and I called dad and said, 'This guy's sending me home to think about my job for a couple of days see if I'm really serious about it. I don't want to drive all the way home, and you say, 'get your butt back to work."
Dale Sr. advised his son to go back inside and tell the service manager that he was either going to work or not work, with no room for consideration.
"And [the manager] said, 'Find somebody to help you load your toolbox up. You're out of here.' That was the end of that job," Earnhardt Jr. concluded.
Everything worked out well for Dale Earnhardt Jr., though
Getting fired isn't a fun experience for anyone, even if you're the son of a NASCAR star. Thankfully for Dale Earnhardt Jr., though, everything worked out for the best.
With his dealership opportunities done, Junior headed home and started working on his sister's late model; he also started racing more and more, setting the stage for his own NASCAR career.
During his time behind the wheel, Dale Earnhardt Jr. won 50 races, claimed first place in two Daytona 500s, and took home 15 NASCAR Most Popular Driver titles. That success and popularity helped him become a co-owner of JR Motorsports, score a role as part of NBC's NASCAR coverage, and build up an estimated $300 million net worth.
That sounds like a much better deal than being a humble dealership mechanic.