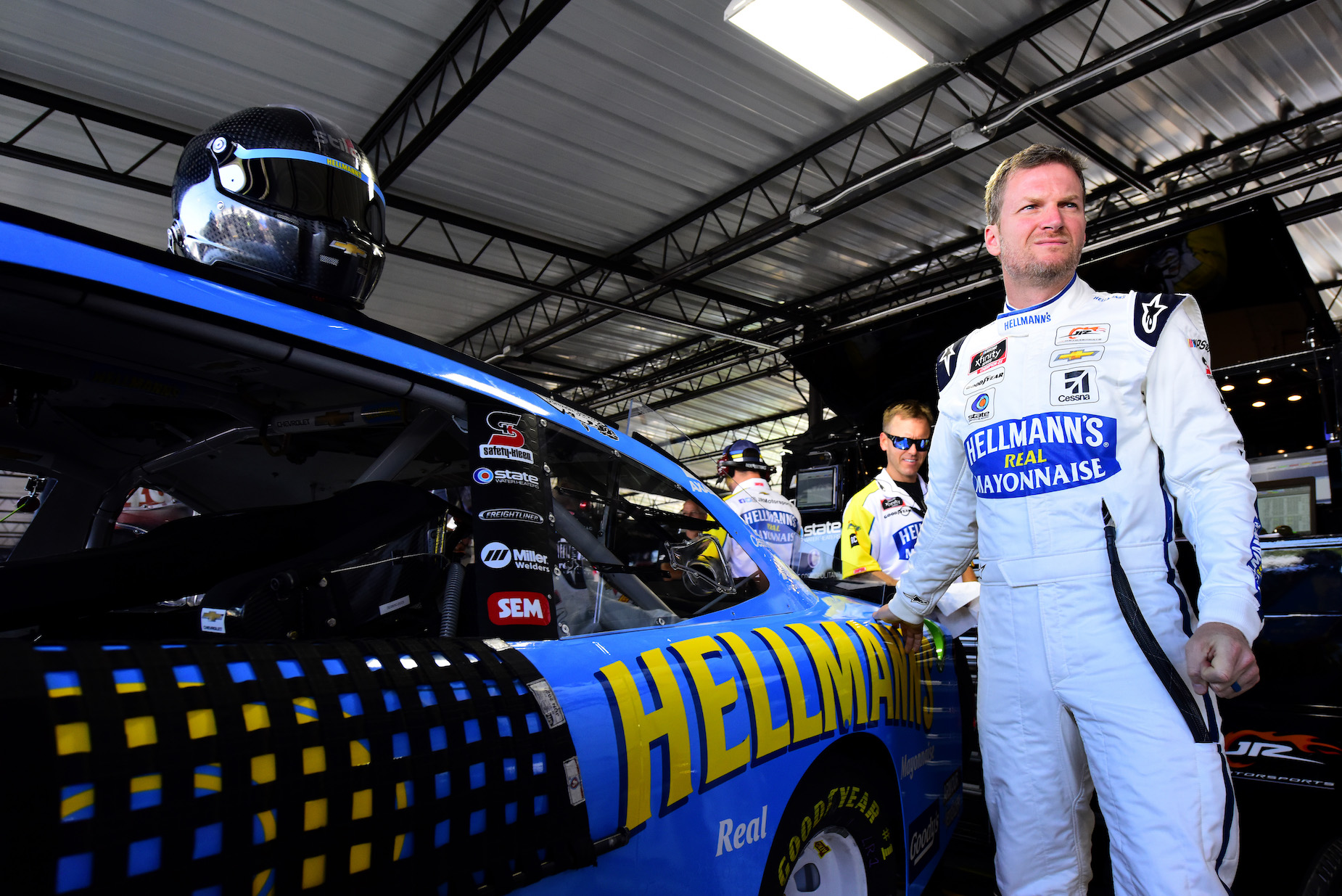 Dale Earnhardt Jr. Has a One-of-a-Kind Car Collection That Didn't Cost Him a Single Penny
Despite having a massive net worth, Dale Earnhardt Jr. hasn't spent a penny building one of NASCAR's most unique car collections.
In the world of NASCAR, few names are bigger than Dale Earnhardt Jr. While his famous father certainly played a role in his popularity, Junior more than held his own on the track. Two Daytona 500 titles, a successful business career, and a place in the NASCAR Hall of Fame is nothing to sneeze at.
As you might assume from his professional interests, Dale Earnhardt Jr. owns quite the car collection. Despite having a massive fortune, though, the motorsports legend hasn't spent a single penny on these one-of-a-kind vehicles.
Dale Earnhardt Jr. was one of NASCAR's most popular drivers
The term 'popularity contest' can often be used derisively, suggesting that name recognition, rather than talent, played a role in one's success. While Dale Earnhardt Jr. was pretty popular during his time on the NASCAR circuit, he also knew a thing or two about driving cars.
Junior attended Andy Hillenburg driving school and, after graduation, started out on the short track scene. He then made the jump to the Busch Series in 1996; within two years, he debuted in the Winston Cup Series.
In 2000, Dale Earnhardt Jr. officially announced his arrival on the NASCAR scene; he scored his first two career wins, finished in the top-five on three occasions, and took home more than $2 million in winnings. From there, his star would only continue to rise.
Despite some concussion-related issues and the immense pressure of living up to his father's legacy, Earnhardt Jr. built up an impressive NASCAR resume. He won 50 races across the Cup Series and what's now known as the Xfinity Series, claimed first place in two Daytona 500s, and earned 15 NASCAR's Most Popular Driver titles.
That success unsurprisingly brought plenty of financial rewards, too
While his popularity undeniably received a boost from his father's fans, Dale Earnhardt Jr. still held his own as a NASCAR driver. As you might expect, those two factors combined to make him pretty wealthy.
"Earnhardt only finished in the top three of Nascar's year-end standings once during his career, but his popularity with sponsors and fans helped him earn more than $400 million from salary, endorsements, and his share of race winnings and licensing," Forbes explained in 2017. Furthermore, the publication noted that he had personal endorsement deals with some big-name brands, like "Nationwide, Chevrolet, Axalta, Goody's, TaxSlayer and Wrangler."
Even though Junior isn't driving anymore, he's still capable of earning a nice chunk of change. He's a co-owner of JR Motorsports, is part of NBC's NASCAR coverage, and has plenty of additional business ventures. In total, Earnhardt Jr.'s net worth is estimated at roughly $300 million.
Dale Earnhardt Jr. didn't need to spend a penny to build up a one-of-a-kind car collection
Given his immense fortune, Dale Earnhardt Jr. could buy just about anything that his heart desires. Despite that reality, the former driver has built up a unique car collection without spending a penny.
On Junior's North Carolina property, he has what his website calls a 'race car graveyard,' consisting of old vehicles in various states of decay. Since many of the wrecks are casualties of the NASCAR circuit, every car is its own piece of unique history and, perhaps even sweeter, didn't cost anything.
"I got about 50 or 60 cars out there and I didn't buy any of them," Dale Jr. said, according to Yahoo Sports. "We get a forklift or a tractor with a forklift or front-end loader and just carry it into the woods and just set it out there somewhere."
While seeing large chunks of twisted metal rusting in the woods might not be everyone's idea of an ideal 'car collection,' Junior's graveyard undeniably holds a certain appeal for NASCAR fans. From Juan Pablo Montoya's fiery Daytona wreck to Danica Patrick's Wonder Woman car, a walk through Dirty Mo Acres is like cracking open a real-life motorsports history book.
The only downside? It's located on Dale Earnhardt Jr.'s private property, meaning visitors probably won't be getting an in-person peek anytime soon.