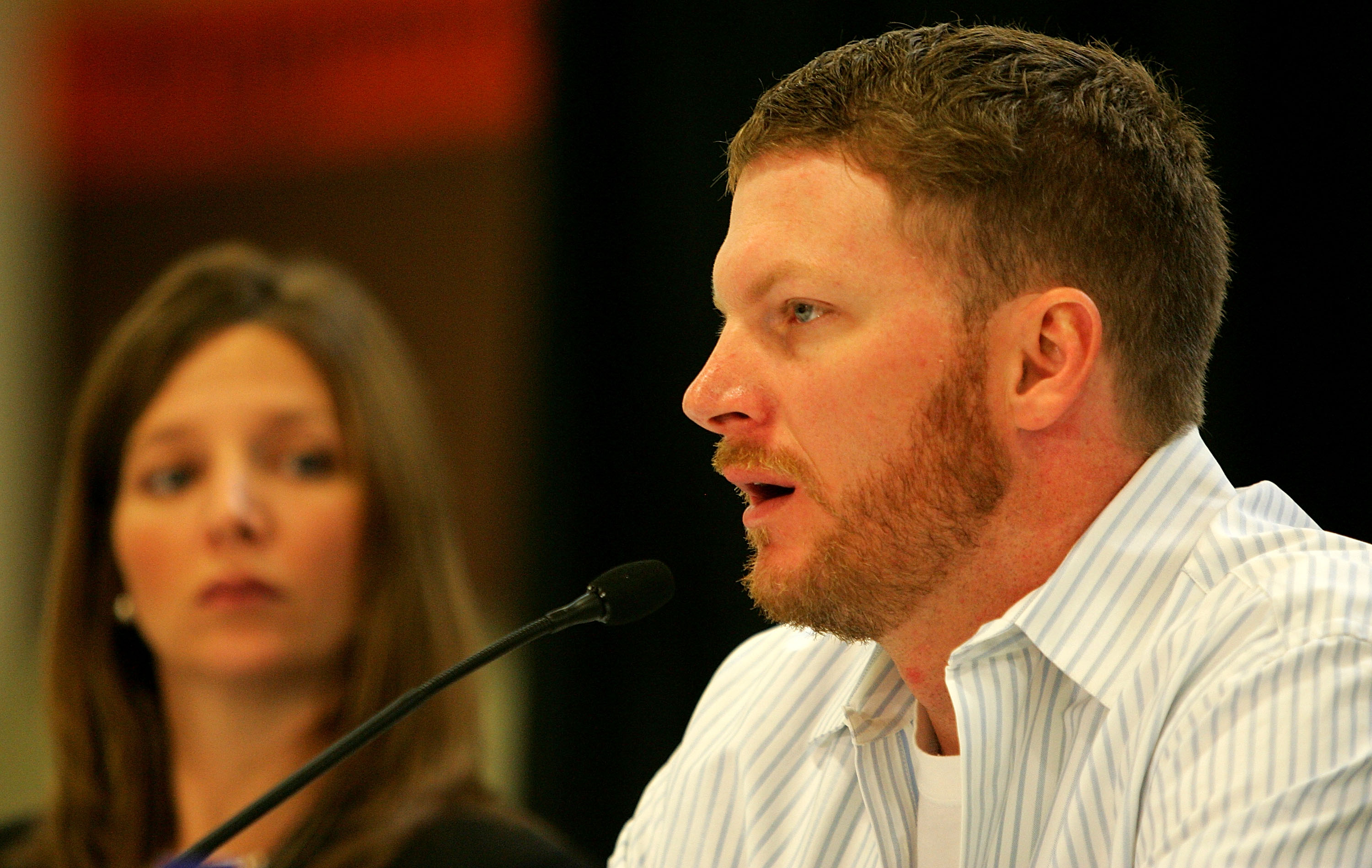 Dale Earnhardt Jr. Summed Up His Sister Kelley in 1 Word
Dale Earnhardt Jr. was always very appreciative of the support he received from his older sister Kelley.
Dale Earnhardt Jr. said he has nothing to complain about when it comes to his childhood. He did suffer through some difficult times, including waking up to his house on fire. His older sister Kelley took the future NASCAR Hall of Famer under her wing, and during his retirement announcement, Earnhardt Jr. described Kelley in one word.
Kelley Earnhardt was a role model for her brother
Kelley Earnhardt was the little girl growing up in the Earnhardt family. To Dale Earnhardt Jr., she was much more than that. Kelley was Dale's big sister. She was someone who was just as concerned about him than she was herself.
Dale Earnhardt Jr.'s parents divorced very early. When Junior was 6 years old, he woke up one morning with his house on fire. Dale and Kelley were sent to live with their father. Dale Earnhardt Sr. wasn't around too much as he was busy with his Hall-of-Fame racing career.
With her father and stepmother too busy with racing, Kelley took it upon herself to look after her little brother. Dale Jr. was sent off to a military school at the age of 12 and Kelley then dropped out of her school to join him. Kelley has always been the role model for her brother.
Kelley Earnhardt grew up a racer
How could Kelley Earnhardt not be involved in racing? As a child, she was always racing cars. It was also reported that she raced them well, even better than her younger brother, who will be inducted into the NASCAR Hall of Fame with two others in the 2021 class.
In an interview with Graham Bensinger posted in December, Kelley explained why she stopped racing. "It was such a different time when I raced in the mid-90s," she told Bensinger. "It still was weird to go to the race shop because the guys were hanging out there, telling stories or do whatever they were doing. That was the time they got to go talk guy-talk. The girls weren't supposed to be around or listen. Society was kinda like that, too. Girls aren't supposed to be driving racecars."
While she's not racing anymore, she's still heavily involved in the sport. Kelley co-owns JR Motorsports with her brother, who admitted she was one heck of a driver. "(Kelley) could have had a lot of opportunities had it been a different environment and a different culture and a different climate," Earnhardt Jr. said, according to ESPN. "She was hard-headed and tough and drove hard.
Junior has nothing but respect for his sister
Dale Earnhardt Jr. followed the footsteps of his father, who was tragically killed during the final lap of the 2001 Daytona 500. Earnhardt Sr. was a member of the inaugural NASCAR Hall of Fame. Junior was a 2021 inductee, although the ceremony hasn't taken place because of the COVID-19 pandemic.
Earnhardt Jr. suffered a series of concussions in his career. He wanted to go out on his own terms and retired in 2017. During his retirement speech, Earnhardt Jr. was quick to point out how much his sister meant to him. He said he could sum her up in one word.
Kelley Earnhardt Miller, I think if I were to sum up Kelley's life in one word, it would be sacrifice," Earnhardt Jr. said in his speech, according to NBC Sports.  "You all know the stories, and they're all true.  She dropped out of one school to enroll in military school, where I was, because she was worried about me.  She came to work for me even though it meant that she'd have to take a massive pay cut, but she knew that I needed her.  She didn't think twice about it. She made it her life mission to have my back.  I'm telling you today, Kelley, how much I appreciate that."