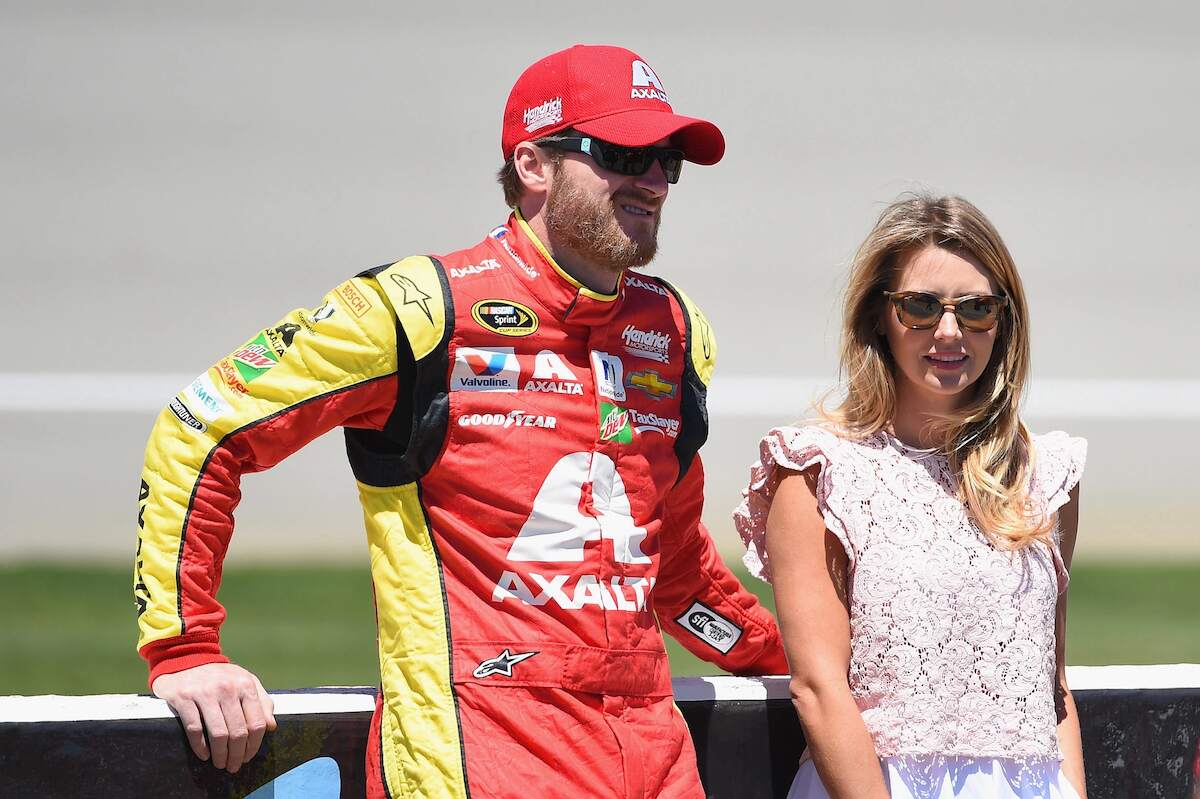 Dale Earnhardt Jr. Once Got in Trouble With His Wife Thanks to $12 and a Winning Lottery Ticket
While Dale Earnhardt Jr. has had plenty of success, he once clashed with his wife over $12 and a Powerball lottery ticket.
In the eyes of most NASCAR fans, Dale Earnhardt Jr. won the lottery. As the son of a racing legend, motor oil ran in Junior's blood. While he never intended on climbing behind the wheel himself, he eventually became a successful — not to mention highly-paid — driver. On one occasion, though, he also won a more literal lottery.
During a 2015 trip to New York, Dale Earnhardt Jr. snagged a Powerball ticket, hoping to strike it rich. Instead of claiming the grand prize, though, the motorsports star only ended up with a few dollars and a less-than-happy girlfriend.
Dale Earnhardt Jr. is one of the biggest names in modern NASCAR
In motorsports, Dale Earnhardt is still spoken of with great reverence. While his son, Dale Earnhardt Jr., might not have reached the same heights as The Intimidator, he still had a successful career in his own right.
Although Junior started working at his dad's car dealership, he eventually joined the family business and climbed behind the wheel of a car. He started out on the short track scene before moving up to the Busch Series in 1996. Two years later, he made his Winston Cup Series debut.
Dale Jr. announced himself on the Cup Series stage in 2000, winning two races and earning three top-five finishes. While the 2001 campaign saw the tragic death of Earnhardt Sr., the younger driver's star only continued to rise.
Although Dale Earnhardt Jr. never quite found the same success as his famous father, he still had quite the NASCAR career. He won 50 races across the Cup Series and what's currently called the Xfinity Series, took home the checkered flag at two Daytona 500s, and was a 15-time winner of NASCAR's Most Popular Driver title.
Finding success away from the track, too
During his time behind the wheel, Dale Earnhardt Jr. found plenty of success. Even in partial retirement, though, he's still doing pretty well for himself.
Although Junior never won a Cup Series title, his popularity and name recognition still gave him a valuable leg up on his peers from a commercial perspective.
"Earnhardt only finished in the top three of Nascar's year-end standings once during his career, but his popularity with sponsors and fans helped him earn more than $400 million from salary, endorsements, and his share of race winnings and licensing," Forbes explained in 2017. Many of his endorsements, as you'd imagine, were with massive brands that every NASCAR fan knew, like Chevrolet and Wrangler.
Even though Dale Jr. has mostly retired from racing, he's still capable of taking home a nice chunk of change. He's a co-owner of JR Motorsports, appears on NBC's NASCAR coverage, and has his own media company; that, combined with his on-track success, has helped Junior build up a net worth somewhere in the neighborhood of $300 million.
Dale Earnhardt Jr. once bought a Powerball ticket, only to win $12 and a fight with his future wife
Based on his NASCAR success, Dale Earnhardt Jr. isn't hurting for money. That reality, however, didn't stop him from buying a lottery ticket in 2015.
As documented by For the Win, Dale Jr. was in New York on a media trip when he spotted someone selling Powerball tickets. The jackpot was over $500 million then, so the NASCAR star decided it was worth a shot. He bought a Quick Pick ticket and waited for the results.
When everything was said and done, Earnhardt Jr. won a $12 prize. He also ended up in trouble with his significant other, though.
"Amy [Reimann, Earnhardt Jr.'s then-girlfriend and current wife] got mad at me," he explained. "She's like, 'What the hell do you want a Powerball ticket for? You don't need to be winning it.' I promised right then I'd split half with charity. She made me feel pretty bad for actually buying it."
Presumably, Dale Earnhardt Jr.'s next charitable donation included an extra $6.