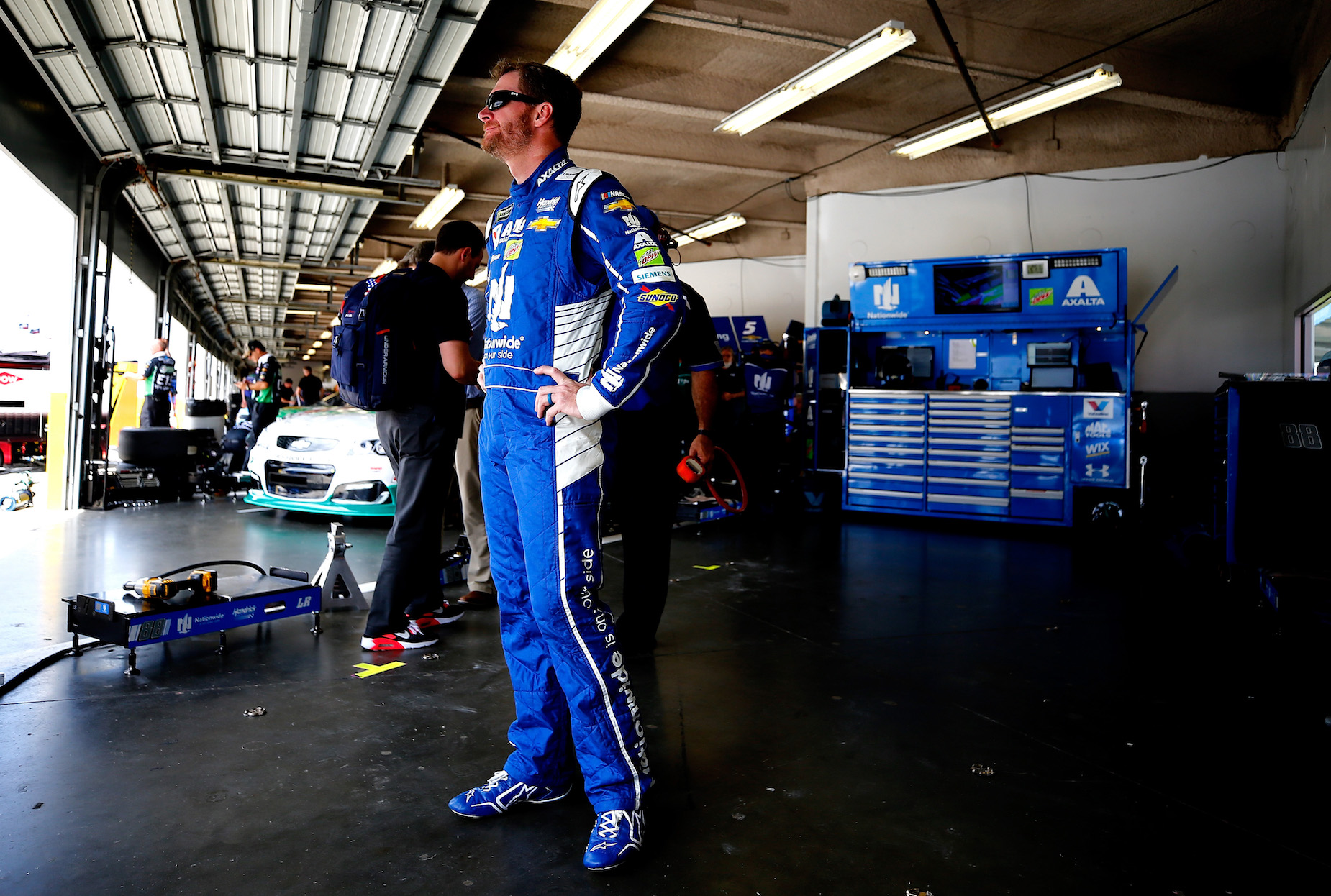 Dale Earnhardt Jr. Revealed the Biggest Regret From His Successful NASCAR Career
Despite his successful time on the NASCAR circuit, Dale Earnhardt Jr. came to regret one specific decision that could have changed his career.
During his time on the NASCAR scene, Dale Earnhardt Jr. has experienced some incredible highs and awful lows. In regards to the former category, the driver accumulated plenty of success as both a driver and an owner; on the opposite side of the spectrum, the tragic death of Dale Earnhardt Sr. still speaks for itself.
Beyond all of those memories, though, one specific moment remains in Dale Earnhardt Jr.'s memory. Out of all his successes and failures in the world of motorsports, he still holds onto an uncomfortable family-related regret.
Dale Earnhardt Jr. was a popular and successful NASCAR driver
As the son of a NASCAR legend, Dale Earnhardt Jr. didn't have a problem winning over motorsports fans. He wasn't merely popular, though; he was pretty talented behind the wheel, too.
While following in his father's footsteps was never the plan, Junior eventually realized that racing was in his blood. He attended Andy Hillenburg's driving school and, after graduation, started out on the short track circuit. He eventually made the jump to the Busch Series in 1996 and, within two years, he debuted in the Winston Cup Series.
Although Earnhardt Jr. never quite achieved the same level of dominance as his famous father, he still did pretty well for himself as a professional driver. Junior won 50 races across the Cup Series and what's now known as the Xfinity Series, won two Daytona 500s, and was named NASCAR's Most Popular Driver 15 times. When push comes to shove, that resume is nothing to sneeze at.
That career helped Junior strike it rich
In theory, most professional athletes are in it for the love of the game more than anything else. While that might be true, Dale Earnhardt Jr. still earned a nice chunk of change along the way.
Even though he never claimed a Cup Series title, Junior's popularity still gave him plenty of earning power on the NASCAR circuit. "Earnhardt only finished in the top three of Nascar's year-end standings once during his career, but his popularity with sponsors and fans helped him earn more than $400 million from salary, endorsements, and his share of race winnings and licensing," Forbes explained in 2017. Many of his endorsements, as you'd imagine, were with massive brands like Chevrolet and Wrangler.
While Earnhardt Jr. doesn't drive much these days, he should still have a decent amount of money rolling in. He's a co-owner of JR Motorsports, is part of NBC's NASCAR coverage, and has his own media company; that, combined with his on-track success, has helped Junior build up a net worth somewhere in the neighborhood of $300 million.
Dale Earnhardt Jr. came to regret his split with Tony Eury Sr.
During his time behind the wheel, Dale Earnhardt Jr. had plenty of success. Despite that reality, he still had a painful regret heading into his final days as a driver.
In the lead-up to his 2017 retirement, Junior got the chance to look back on his career. One decision—parting ways with his uncle and crew chief Tony Eury Sr.—unfortunately stood out for the wrong reasons.
"I regret that," Earnhardt Jr. explained, according to Chelsea Howard of the Sporting News. "That's probably my biggest [regret] in motorsports as a driver, was that decision because it did nothing and it made our relationship a challenge to repair. Like I say, we'd won a lot of races together and he had been a big reason why I even got in the XFINITY car, to begin with. He was my biggest supporter and we had won so many races together. I don't know what …. I got confused there a while thinking that I knew better than anyone else what was best for me."
For the record, Junior won six races during the 2004 campaign with Eury Sr. as his crew chief; when the season ended, though, Eury Sr. was promoted to team manager, with Peter Rondeau stepping in as Dale Jr.'s crew chief. That new duo only won one race during the entire 2005 campaign, and it took Junior some time to regain his lost form.
Would Dale Earnhardt Jr. have had an even more successful career if he and Tony Eury Sr. stuck together? At this point, that question is nothing but a regrettable 'what if?'.