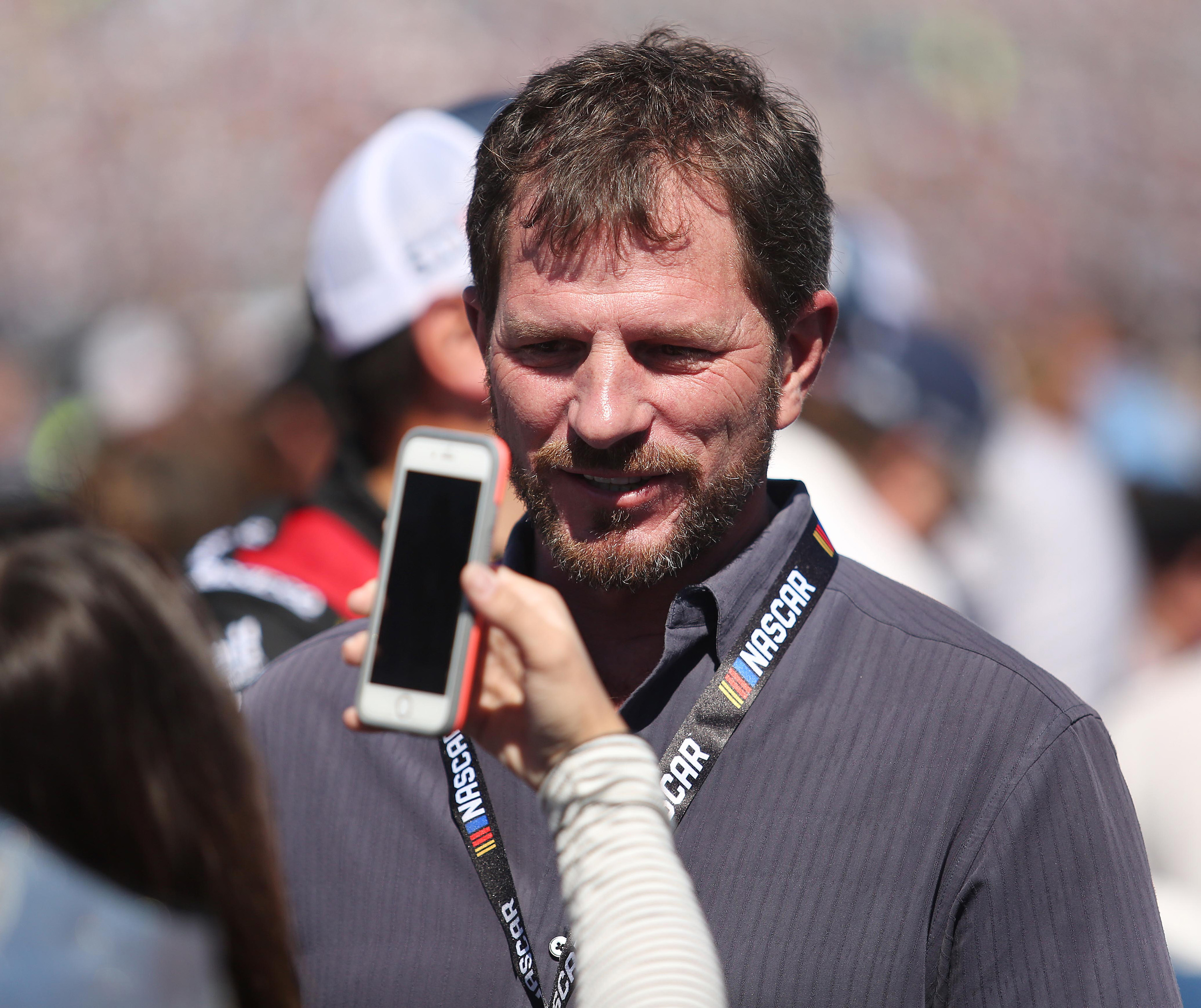 While Dale Earnhardt Jr. Was Playing Football, Kerry Earnhardt Had the Door Slammed in His Face at Family Reunion
Kerry Earnhardt had the door slammed in his face as a teenager when he was hoping to meet his siblings.
Kerry Earnhardt was nervous. He was young and hadn't spent any significant time with his Earnhardt family. He took it upon himself to drive out and meet with his father, NASCAR icon Dale Earnhardt.
During that initial face-to-face conversation with his biological father, a meeting was set up in which Kerry would get to know his half-brother, Dale Earnhardt Jr., and his half-sister, Kelley Earnhardt. The day of that meeting, Junior was outside playing football, and Kerry approached the door, only to have it slammed in his face. Kerry recently recalled the incident on his half-brother's podcast.
Dale Earnhardt Jr. and his sister Kelley had to look out for each other
Although their dad became one of the greatest drivers in NASCAR history, the Earnhardt kids didn't have the greatest of childhoods. When a housefire forced Dale Jr. and Kelley to move in with their father, things got a little rough. The fire forced their mother to move back home to Virginia to be closer to family.
The elder Earnhardt was consumed with his racing career, spending much of the time away from his children. When he had Dale Jr. and Kelley move in with him, he already had Kerry from a previous marriage. Kerry, however, lived with his mother and step-father after Earnhardt and his mother split up when Kerry was a year old.
While Earnhardt worked on his Hall of Fame career, Kelley and Dale Jr. bounced around from school to school. Big sister looked after Junior, taking him under her wing. It was then that brother and sister developed their strong bond, which continues today.
Kerry Earnhardt didn't meet his biological father until his late teen years
Kerry Earnhardt was a year old when his mother, Latane Brown, split with the motorsports icon. Brown, Dale Earnhardt's first wife, remarried Jack Key, who adopted Kerry. He assumed Key's last name for the better part of his early life.
Kerry was always curious about his biological father. He and his mother began talking about him quite often before a phone call was arranged when Kerry was about 13 years old. Father and son hit it off over the phone, but their first face-to-face meeting didn't occur until three years later.
Kerry took it upon himself to address the situation. When he got his driver's license, he told his mother he was heading out. He drove to meet Earnhardt, who was stunned when his son showed up. "When I walked in, it got quiet," he said recently on the Dale Jr. Download podcast.
The two went for a drive to do some catching up. "He explained why he left, you know, chasing his dream," Kerry said. "He regretted every minute of it." Earnhardt then invited him over to get to know Junior and Kelley the following week.
Kerry Earnhardt describes that meeting with his new family
Kerry recalled pulling up to the house to meet his siblings, watching kids outside playing football. He was nervous as he approached the door. "I pull up in the driveway," he said to Earnhardt Jr. on the Dale Jr. Download, "and you're out in the front yard playing with a couple of guys, playing football. Kelley wasn't out there. It was just you and a couple of kids.
"I walked up and knocked on the door. It wasn't Dad that answered. It was someone else. I said hello, and she slammed the door. Dad, I heard him inside, and he came to the door. He said, 'Hey, son, sorry about that. She wasn't expecting you.'"
Co-host Mike Davis asked who it was.
Both Kerry and Junior answered, "It was Teresa." Teresa was Earnhardt's third wife. Teresa and the siblings always butted heads throughout the relationship. Her rude greeting, though, didn't prevent father and son from talking.
"I walked in and we went down in the basement and went and talked for a good while," Kerry said.
Davis chimed in and asked Junior if, at that moment, he had known he had a brother.
"I've heard that we had a brother, but I didn't know what that meant," Junior said. "My first memory of meeting him wasn't at this house. It was at (another) family reunion. I didn't know he was coming."
"We talked about just building slowly," Kerry said of the conversation with his father.