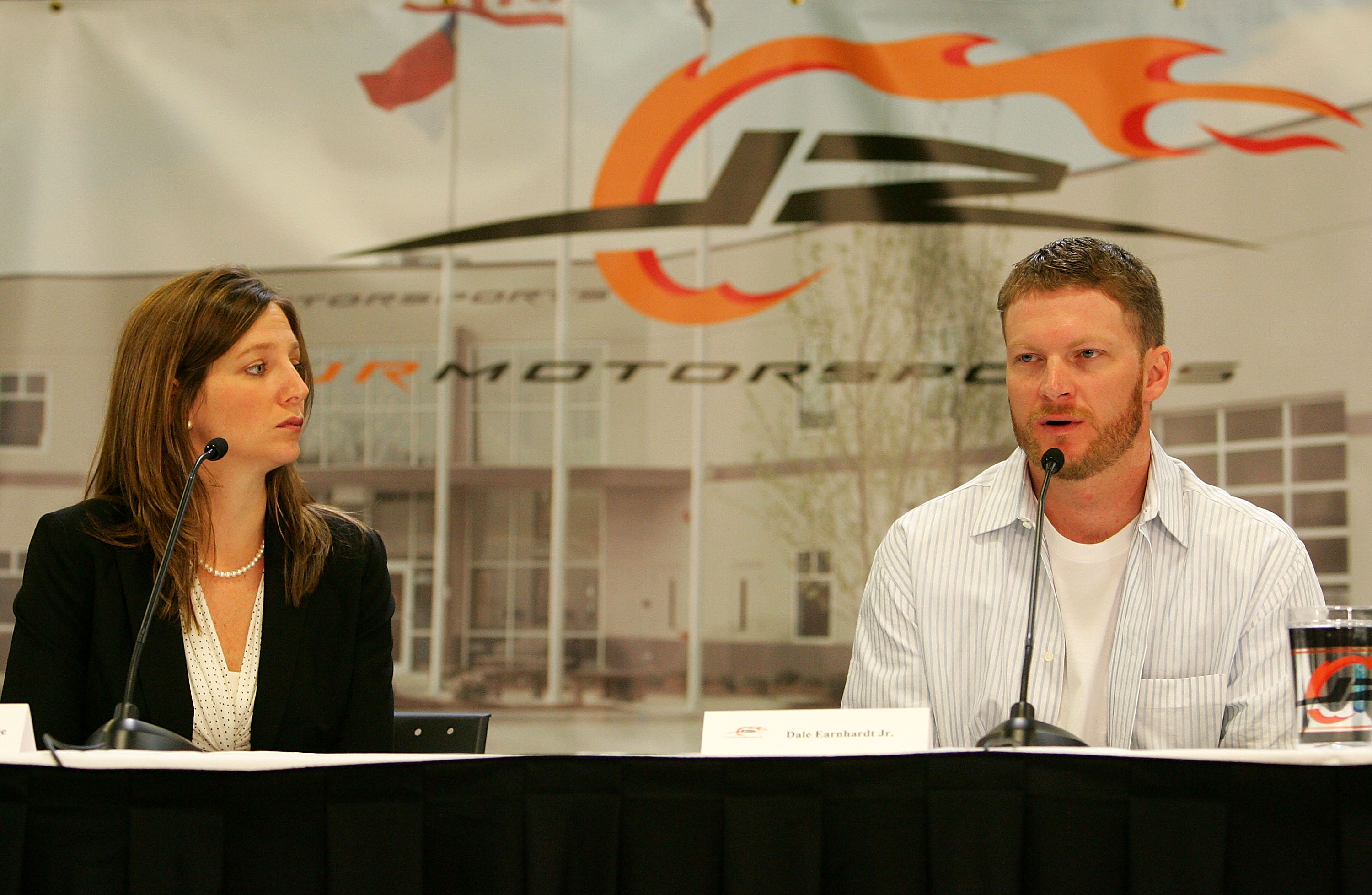 Kelley Earnhardt Recalls When She and Dale Jr. Formed Their Special Bond
Growing up, Kelley Earnhardt and her brother, Dale Earnhardt Jr., formed a very special bond.
Growing up, Kelley Earnhardt Miller and her younger brother Dale Earnhardt Jr. had some good times and they shared some bad times. What they always had was each other. Kelley was more to Dale Jr. than a bigger sister. She became his mentor. Kelley Earnhardt knows exactly when that special bond began.
Kelley and Dale Earnhardt Jr. were big racers growing up
How could Kelley Earnhardt and her younger brother Dale Earnhardt Jr. not be born to drive? Their father, the late Dale Earnhardt Sr., was a seven-time Cup Series champion and a member of the inaugural NASCAR Hall of Fame class (2010). Their grandfather, Robert Gee Sr., built NASCAR cars.
Kelley and Junior grew up around the racetracks. They began racing well before Junior started his racing career at the age of 17. Some have said Kelley was the best racer among the siblings. Junior, himself, acknowledged that fact.
"(Kelley) could have had a lot of opportunities had it been a different environment and a different culture and a different climate," Earnhardt Jr. said, according to ESPN. "She was hardheaded and tough and drove hard. She would eventually have polished her abilities to where she would have been a pretty good race car driver at the higher level."
The Earnhardt siblings developed a special bond
Dale Earnhardt Jr. took after his father when it came to racing. Although he wasn't as successful, he had himself quite a NASCAR career. Junior's Cup Series career spanned 19 years and he ran 631 races. He finished in the top 10 260 times and recorded 26 victories. Earnhardt Jr. will be joining his father in the NASCAR Hall of Fame. He was one of three members inducted as a member of the class of 2021.
Earnhardt Jr. retired from full-time racing in 2017. He battled through concussions and retired from the sport he loved on his own terms. Kelley Earnhardt was one of the first people he mentioned when Junior announced his retirement prior to the 2017 racing season.
"She dropped out of one school to enroll in military school where I was because she was worried about me," Earnhardt said in his speech, according to NBC Sports. "She came to work for me even though it meant that she'd have to take a massive pay cut, but she knew that I needed her.  (Kelley) didn't think twice about it. She made it her life mission to have my back.  I'm telling you today, Kelley, how much I appreciate that."
Kelley Earnhardt recalls when that special bond was created
Dale Earnhardt Jr. woke up to a house fire when he was about 6 years old and was forced to move in with his father. His parents divorced early and he had been living with his mother, who had to move back to Virginia to be closer to home. She had no job and struggled to support Dale Jr. and Kelley. Dale Earnhardt Sr. was hardly around as he was always at the racetrack and consumed with work.
"The absence of Dad, not just going to the races, but being a part of the things you were doing – proms, graduation, soccer games, softball games," Kelley Earnhardt said in an interview with Kyle Petty posted on Motorsports on NBC in 2019. "It's absence. On top of that, it's one thing to be gone and not attend those things or whatever, but then in the home, too. You're not tucking them in the bed. You're not home at bedtime. He kinda left that to (his wife) Teresa."
It was at that moment when Kelley and Dale Jr. became extra close. "That was when Dale and I really forged our bond," Kelley said. "And people say it's like no other, but it's the only thing I know. I have a brother and a sister, too, that I'm not as close to."