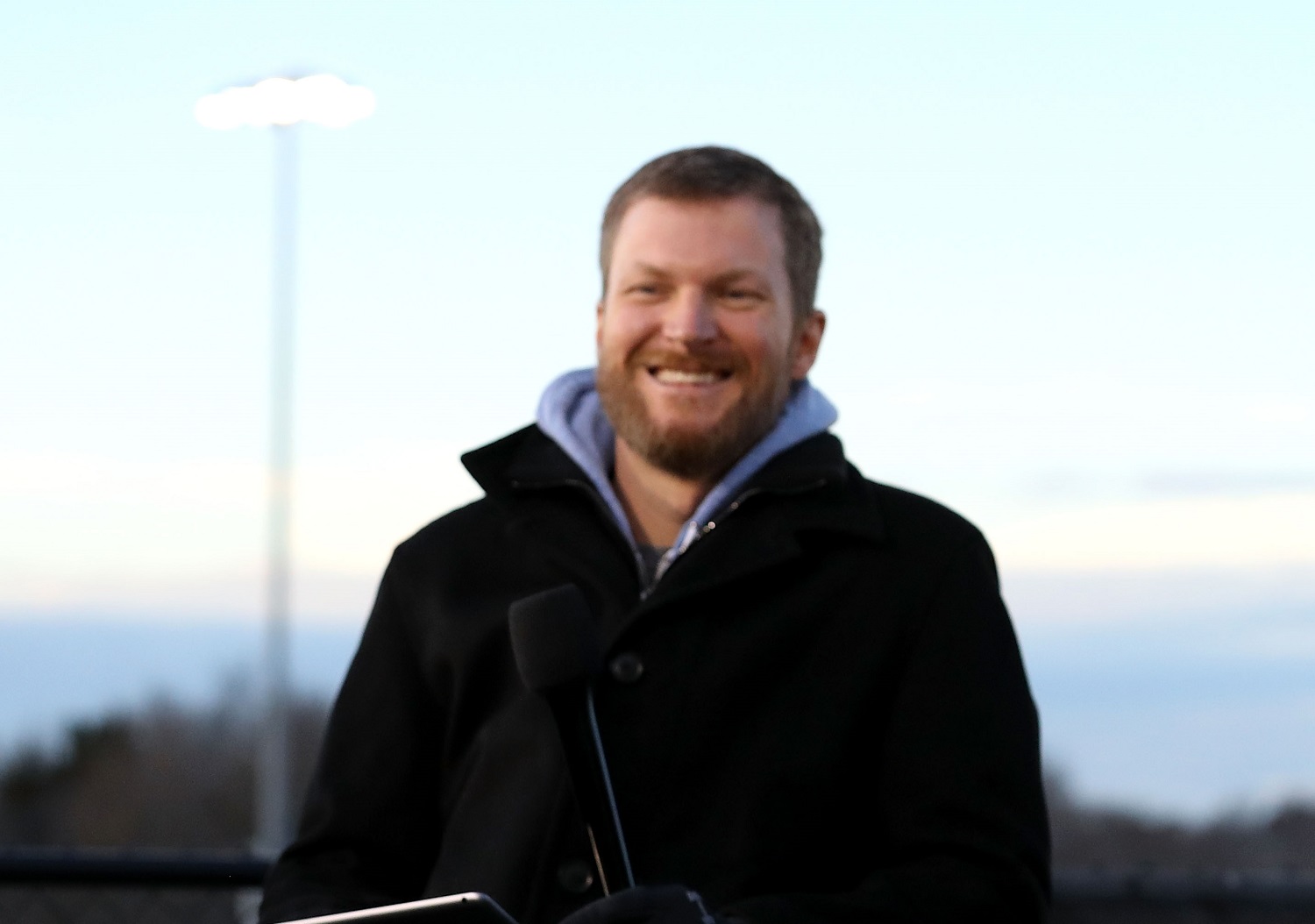 Dale Earnhardt Jr. Dropped a Big Hint About His Return to NASCAR Racing
Dale Earnhardt Jr. has been racing once per season in the Xfinity Series since his NASCAR Cup Series retirement and will do so again in 2021. The venue had been a closely guarded secret until recently.
The family name alone means that there is no counting out Dale Earnhardt Jr. He may be officially retired, but Earnhardt retains the same passion for NASCAR racing that his legendary father did long after becoming one of the most accomplished drivers ever.
That's why it is no shock that previous concerns are unfounded: Dale Earnhardt Jr. intends to continue his tradition of racing in the Xfinity Series. And he has dropped a clue as to where his 2021 return will take place.
Racing remains in Dale Earnhardt Jr.'s blood
Even Tony Stewart, who loves every form of motorsports, eventually gave up his occasional appearances in the Xfinity Series in his final few years as a driver in the NASCAR Cup Series. On the other hand, it's hardly a real race weekend if Kyle Busch isn't doing double duty. Busch, a 57-time winner in NASCAR's top series, still enjoys hopping into Xfinity cars half a dozen times a year, and he's just three victories away from 100 for his career on that circuit.
Among other active drivers, Denny Hamlin has settled into a routine of picking one Xfinity event per year. It's a no-pressure situation and allows Hamlin to maintain relations with sponsors while helping tracks sell a few more tickets.
Even in retirement, Dale Earnhardt Jr. has followed the Hamlin model. He gave up full-time racing after the 2017 NASCAR Cup Series season, but Earnhardt has picked one Xfinity race per season. He remains quite good at it, too. Earnhardt is 3-for-3 in top-five finishes since his official departure.
The Xfinity series has been good to him
As solid as his NASCAR Cup Series record was – 26 wins and another 123 top-five finishes – Dale Earnhardt Jr. has always been even more proficient in the Xfinity Series. Earnhardt won the season championships in 1998 and '99 to launch himself into full-time status on the bigger circuit and has chalked up 24 victories there. He has also placed in the top five a remarkable 70 times in 142 starts.
Limiting himself to no more than four races per year beginning in 2010 didn't cost Earnhardt his edge. He has two wins and 18 top-fives in 29 races since then. That's why it was disappointing to fans last June when he sounded like he was calling it a career after a fifth-place showing.
"I don't know how many more of these I'll do," Earnhardt said, according to  NASCAR.com. "This might be the last one, and this ain't no tease or anything like that. I'm not trying to be annoying about that. It's a lot of a commitment, and I just … I don't know."
Well, he eventually had a change of heart, which was good news to fans who voted Earnhardt the most popular NASCAR driver 15 times. Earnhardt said late last year that he would continue his tradition of competing in an Xfinity Series race in the No. 8 Chevy under sponsorship by Hellman's.
Dale Earnhardt Jr. has dropped a hint about when he'll return
Dale Earnhardt Jr. has not announced the venue for his 2021 Xfinity Series return, but Beyond the Flag did some sleuthing based upon an interview before the season and came up with what sounds like a pretty good guess.
Earnhardt's choices were already narrowed to seven races in which Unilever is sponsoring JR Motorsports, but he took the two Martinsville dates off the table. One is April 9, when full-time drivers are still picking up valuable early-season experience, and the other is late in the playoffs. Racing there would detract from the bigger story.
That gets it down to just a few other options.
"It's somewhere that I've raced before in the last couple of years," Earnhardt said. "I'm sure some of you guys can kind of guess where it might be."
The Homestead-Miami Speedway date has already come and gone. Scratch Richmond, too, after Labor Day because JR Motorsports is committed to giving Sam Mayer the No. 8 Chevy Camaro after he turns 18 this summer.
That seemingly leaves only Darlington Raceway. The Labor Day weekend race there would also seemingly belong to Mayer. By process of elimination, then, the only option for Earnhardt would appear to be May 8 at Darlington.
Coincidentally or otherwise, JR Motorsports has not yet announced a driver for that weekend even though it has Mayer, Miguel Paludo, and Josh Berry under contract.
All stats courtesy of Racing Reference.