Kyle Busch's Past Feud With Dale Earnhardt Jr. Later Ultimately Resulted in Death Threats
Kyle Busch and Dale Earnhardt Jr. are two of the most popular faces in the NASCAR and motorsports world. While they have both had plenty of success, being a top-tier competitor sometimes leads to having feuds with other drivers. For Busch and Earnhardt, they actually had a feud with each other, which led to Busch receiving death threats.
Kyle Busch and Dale Earnhardt Jr. have been very successful in NASCAR
Even many casual NASCAR fans typically know the names Kyle Busch and Dale Earnhardt Jr. They are two of the most famous drivers in the racing world.
Earnhardt was extremely popular among fans during his career, winning 15 consecutive Most Popular Driver awards. He also ultimately recorded 26 Cup Series wins, per Sporting News.
Busch, however, has been one of the most successful drivers of his era. He won the Cup Series championship in 2015 in 2019, and his 57 Cup Series wins are No. 10 all-time. He also holds the record for wins in the Xfinity Series and the Gander RV & Outdoors Truck Series, according to NASCAR.com.
Earnhardt is now an analyst for NBC. Busch, on the other hand, finished eighth in the 2020 Cup Series standings. He had 14 top-five finishes and 20 in the top 10.
They had a feud during the 2008 NASCAR season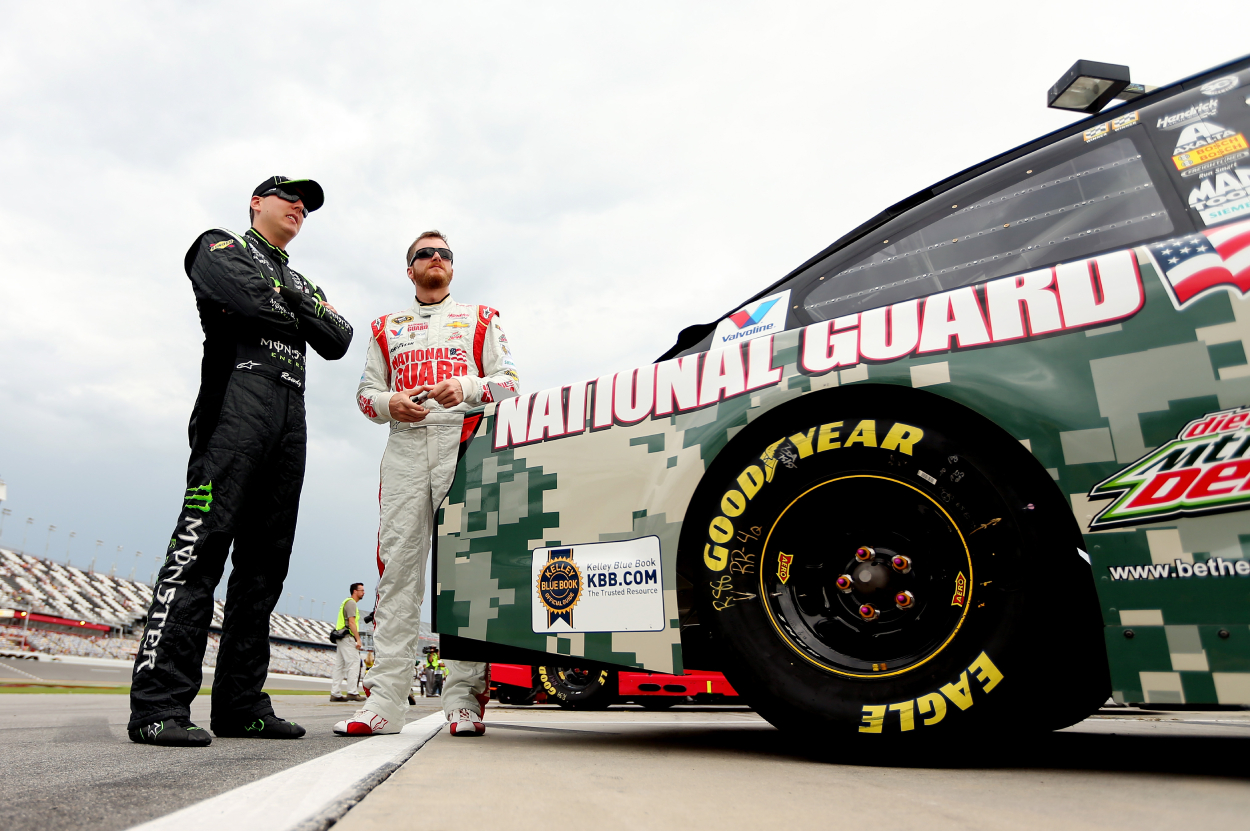 During the 2008 NASCAR Cup Series season, Busch and Earnhardt had a pretty heated rivalry. It reached its peak during an incident at the Crown Royal Presents the Dan Lowry 400 at the Richmond Raceway.
With just a few laps left, Earnhardt had the lead. Busch, though, ultimately spun him out. Clint Bowyer then ended up winning the race. Busch most likely didn't do it on purpose, but after the race, Earnhardt said that Busch was "going to need security from all of us" when leaving the track, according to USA Today's For the Win.
In 2018, Busch appeared on the Dale Jr. Download podcast and ultimately said that there were "words being slung, rocks being slung, hats being slung, beers being slung – at us, at the golf cart," as he left the track, according to For the Win.
That wasn't all that happened to Busch, though.
Kyle Busch received death threats because of the feud
Busch had to worry about his safety that day at the Richmond Raceway. However, he had to worry about it for quite some time after that, too.
"For the rest of the year, there was crazy death threats and stuff like that. There was death threats to the house," Busch said, according to For The Win. 
Busch then detailed a scary incident at the Kentucky Speedway in a race he did in the Xfinity series.
"I won that night, and as soon as I did the Victory Lane stuff, they corralled me and got me and took me into a cop car and took me out of the race track in a cop car," he said, according to For The Win. "I'm like 'What are we doing, boys? What's going on?' They were like, 'We've had a tip-off that there's a shooter on the loose. Like, a guy's coming to the race track with a shotgun.' So it was stuff like that that was happening not weekly but periodically through that time, definitely through the rest of '08 and maybe once or twice in '09."
Busch continued: "So we actually had a behind-the-scenes FBI guy tailing me through the rest of '08. … He came with us about everywhere."
It appears that Busch and Earnhardt have moved past their feud. They both agree that Busch didn't spin Earnhardt out on purpose. That rivalry, though, ultimately resulted in a pretty intense time for Busch, as some fans just take things way too far.
Like Sportscasting on Facebook. Follow us on Twitter @sportscasting19.