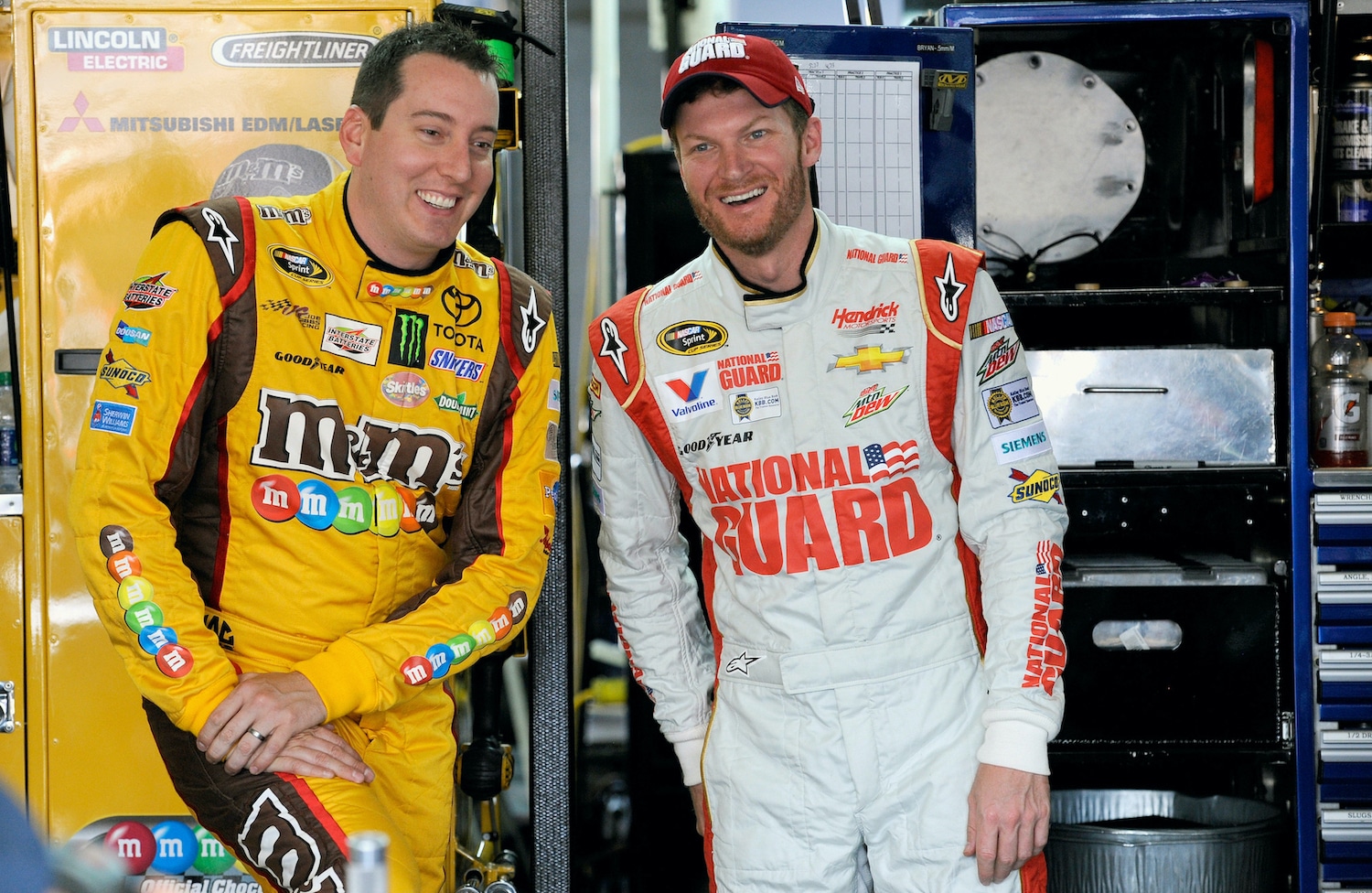 Dale Earnhardt Jr. Admits an Alarmed Kyle Busch Called Last Week After His Tweet Suggesting Driver Going to No. 8, and Reveals How They Concocted Plan to Throw Fans Off
Dale Earnhardt Jr. candidly admitted on his podcast that he received a call from an alarmed Kyle Busch last week after he tweeted that the driver was going to RCR in 2023, and revealed how the pair came up with a plan to throw off fans.
Dale Earnhardt Jr. has talked about Kyle Busch's contract situation for months on the NBC broadcast and on his weekly podcast. However, Junior hadn't revealed during that time that he had also been giving the driver advice about his future. Busch admitted as much after his major announcement this week that he was leaving Joe Gibbs Racing for Richard Childress Racing in 2023.
On this week's episode of the Dale Jr. Download, Earnhardt revealed one conversation between the pair that occurred last week when the alarmed driver frantically called the NASCAR Hall of Famer after he had tweeted about his plans to go to RCR. The two talked through it and crafted another tweet to throw fans off the trail. 
Dale Earnhardt Jr. tweets Kyle Busch going to RCR
Last last week, after the Sport Business Journal's Adam Stern reported that the frontrunners for the services of Busch were 23XI Racing and Richard Childress Racing, Dale Earnhardt Jr. posted an emoji-filled tweet, hinting at where he thought the JGR driver was headed that included a bush, followed by a finger pointing to a magic 8-ball. Fans interpreted that as Busch going to the No. 8 car at RCR.
The response was massive, including Truck Series driver Carson Hocevar, who summed up Earnhardt's tweet. "And you've successfully blown up Nascar Twitter more then it already was," he wrote.
Interestingly, less than an hour later, Earnhardt fired off another tweet. This time, however, he had the same bush and finger pointing but followed it with 32 basketballs and an eye and ear, or Busch going to 23XI racing, I hear.
"The High Rock must b flowing tonight," Busch replied, referring to Earnhardt's vodka product line. 
Earnhardt reveals alarmed Kyle Busch called him
This week during The Download, Dale Earnhardt Jr. talked about Busch's move to RCR and he took fans behind the scenes and revealed that there was a lot going on in between that first and second tweet.
"I put out a tweet about a bush going to an eight ball, which is basically Kyle going to the 8 car. I regret sending that tweet," Earnhardt candidly admitted. "Kyle calls me and he's like, 'Dude, what are you doing?' And I'm like, 'Man, everybody's speculating. I'm just jumping into this conversation.'
"And he's giving me a hard time. And I'm like, 'So I'm right? Am I right about this?' And he's like, 'Dude, wait until Tuesday. Why couldn't you wait until Tuesday to send that tweet?' And he says, 'Send another tweet. Send another tweet.' I'm like, 'OK. What tweet do you want me to send?' Me and him came up with the basketball tweet to sort of throw people off. 
"I guess at some point there were some conversations between him and 23XI about driving the No. 32 car. Actually, he told me, 'Send a tweet with me going to the 45 car.' And I said, 'Well that's your brother's car. Let's not do that.' And he goes, 'Ok, 32. 32. That was one of Michael's jersey numbers, right?'"
On the podcast, Earnhardt was informed Jordan never wore the No. 32 in his career but only 23 and 45. 
"I don't know why we came up with that number then," he said. "Anyways, he was like, 'Let's do 8, then do 16, do a 32.' He was just coming up with all kinds of ideas. I said, 'Yeah, no problem. So I'll send these tweets out.'"
Busch admits to getting advice from Earnhardt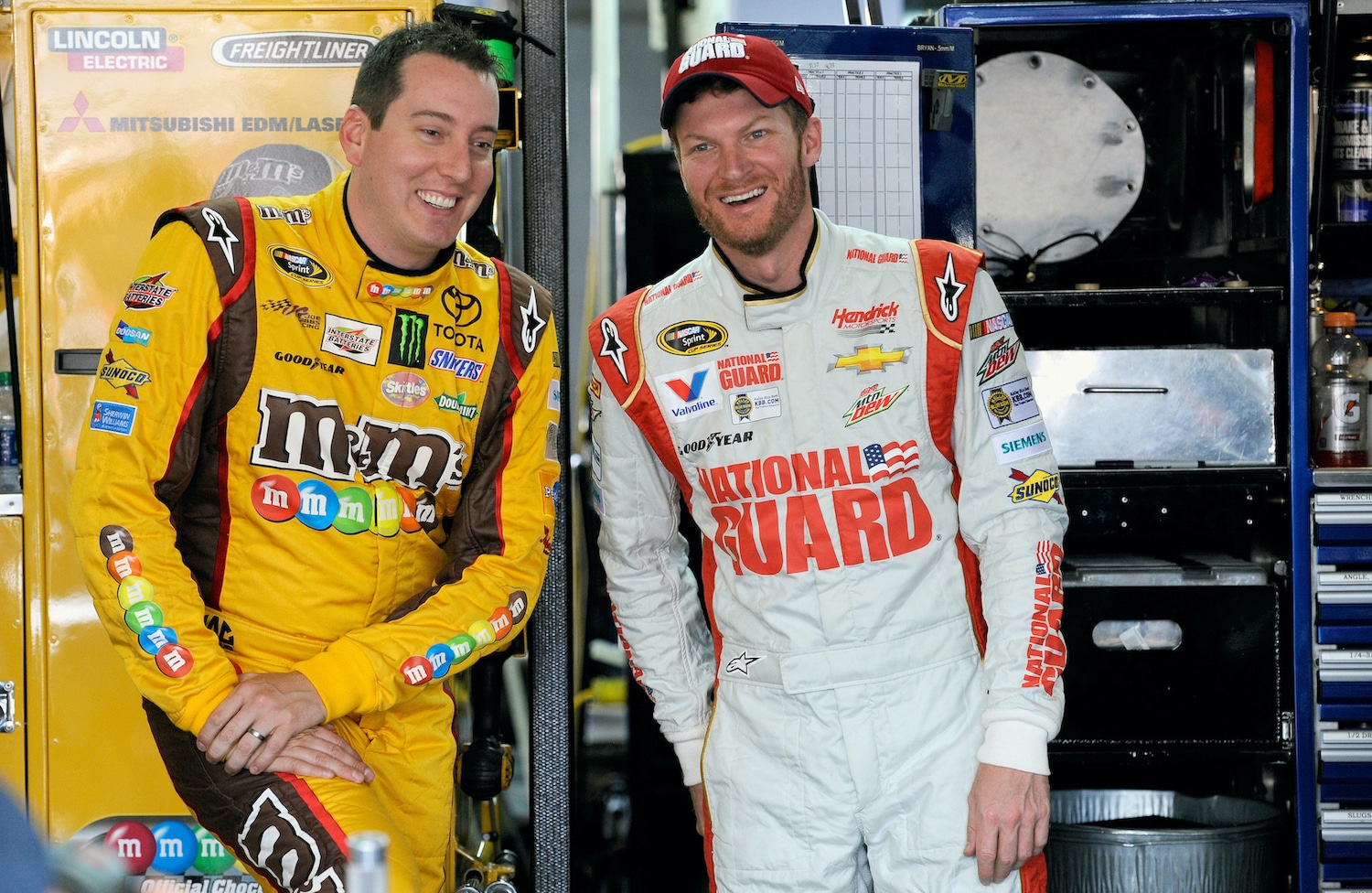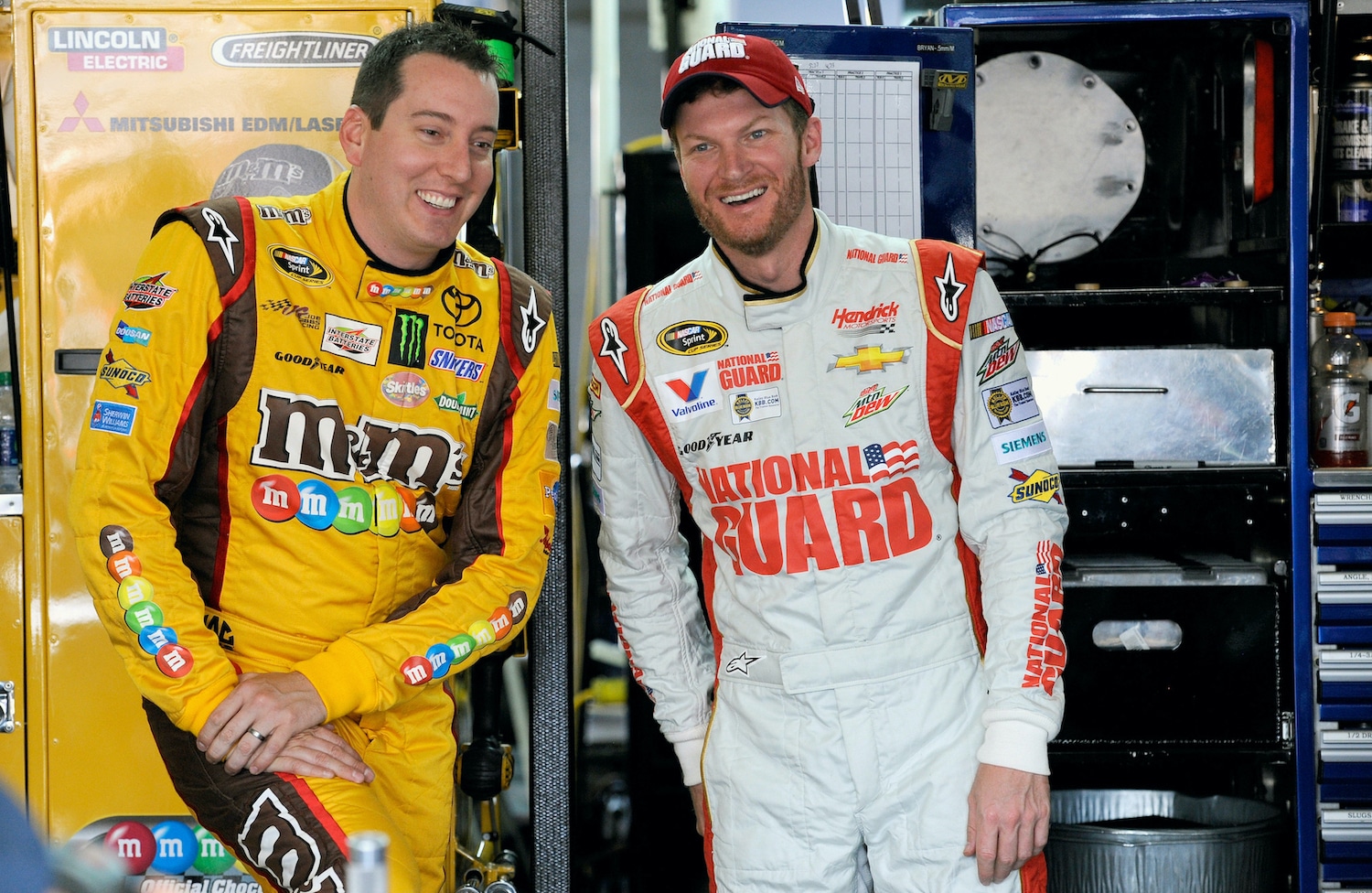 Following Busch's announcement, he made the media rounds talking about the big news. During his appearance on SiriusXM NASCAR Radio, he was asked about who he might have turned to in helping navigate through the situation.
"Relying on past drivers that are now team owners as well as my brother was definitely one that I leaned on and talked to and took some advice from," Busch said. "He's made the transition between teams before and so I felt like just kind of getting a sense from him would be a good place to start. 
"As well as the sport's most popular driver was definitely one of the guys that I kind of leaned on for advice as well, too. I guess the past most popular driver. Yeah, that one. Not the current one."
During their racing days, Dale Earnhardt Jr. and Kyle Busch had several conflicts and didn't always see eye to eye. Obviously, the pair have moved past that and the current driver views his former racing counterpart as someone he can trust to advise him — at least in certain areas. After last week, it's safe to say he won't be looking to Junior for any guidance on Twitter. 
Like Sportscasting on Facebook. Follow us on Twitter @sportscasting19 and subscribe to our YouTube channel.