Kyle Busch Says NASCAR Execs Gave Him Bad Advice For Years and Are Partially to Blame for His Prolonged Contract Drama
Kyle Busch has been front and center of the headlines since April because of his uncertain future with Joe Gibbs Racing. In the last month, it's become quite apparent that, after 15 good years together, the two-time Cup Series champion will be driving for a different team in 2023.
In the past few weeks, the 37-year-old has been candid about the months-long drama and the toll it's personally taken on him. Recently, while visiting with reporters, the driver made an interesting statement about the current situation when he suggested NASCAR execs had given him bad advice and are partially to blame for his prolonged contract drama. 
Kyle Busch and his uncertain future 
In April, before the race at Talladega, Kyle Busch shocked reporters when asked about his contract situation, and he repeatedly told them to talk with team owner Joe Gibbs for any answers on the matter. And that was just the beginning.
Since then, there have been countless rumors and all kinds of speculation about the driver's future. He's staying at Gibbs. He's leaving but staying at Toyota and going to 23XI Racing. He's joining Stewart-Haas Racing and replacing Aric Almirola. He's going to Richard Childress Racing. The list goes on.
Incredibly, more than four months after that initial press conference in Alabama, the driver still hasn't announced where he'll be racing in 2023, although recent reports indicate an announcement is imminent. 
Busch said he got bad advice from NASCAR execs
Last week on Playoff Media Day, the JGR driver visited with reporters, where he talked about the season, expectations for the playoffs, and of course, his future. At one point, he acknowledged the overarching theme of being unable to land a sponsor to replace the millions of dollars spent by M&Ms has forced him to think about his persona and potentially change it to broaden his appeal to more businesses.
Interestingly, when SiriusXM NASCAR Radio's Claire B. Lang suggested that NASCAR officials love Busch's personality, the driver agreed and then made a surprising statement.
"Trust me, I have heard from every single NASCAR executive. 'Kyle, man, you're awesome for us. Don't change,'" Busch said, referring to conversations with top officials. "Right. Well, now, listening to that for the past 15 years might present me jobless. So I guess don't listen to those that are offering you advice all the time is my best submission."
Admits he might have to change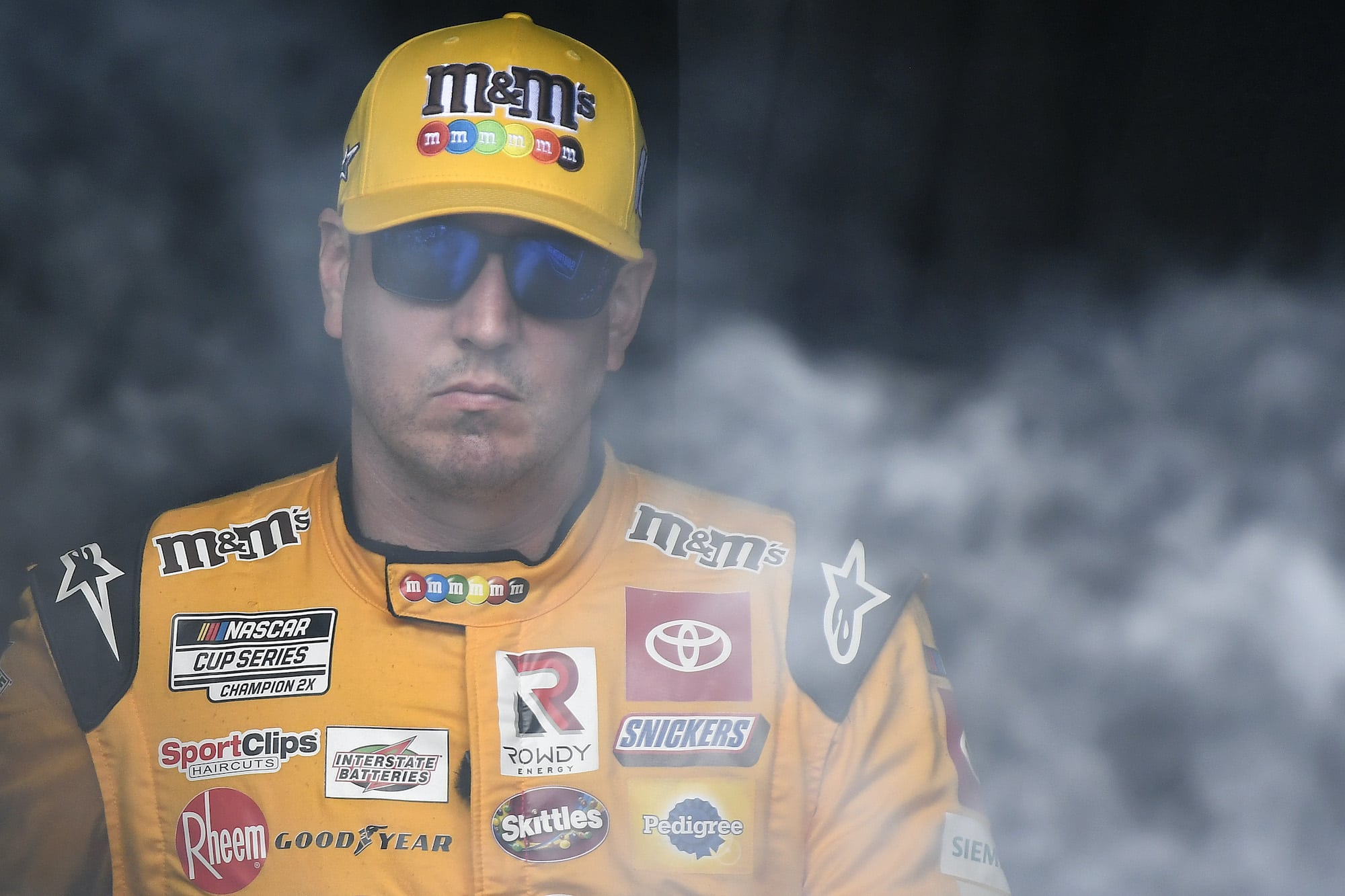 Being jobless is a bit of a stretch. Busch will land somewhere. However, as he suggested to the media, it might have to be a new and improved version of his former self.
"Having the freedom of being able to act or react to certain situations the way that I could through the support of M&M's allowed me to be as successful as I was on Sundays. One thousand percent," Busch said. "Will that have to change? Most likely. How much? 10 percent? 15 percent? I don't know. Maybe it's 18 percent that you have to change. I don't know what that is or what that looks like. So obviously, that's still to be determined."
To be determined. Sound familiar? We've been repeating that since April.
Like Sportscasting on Facebook. Follow us on Twitter @sportscasting19 and subscribe to our YouTube channel.
RELATED: Somber Kyle Busch Avoids Admitting to Embarrassing Mistake at Darlington, but Denny Hamlin Does It For Him