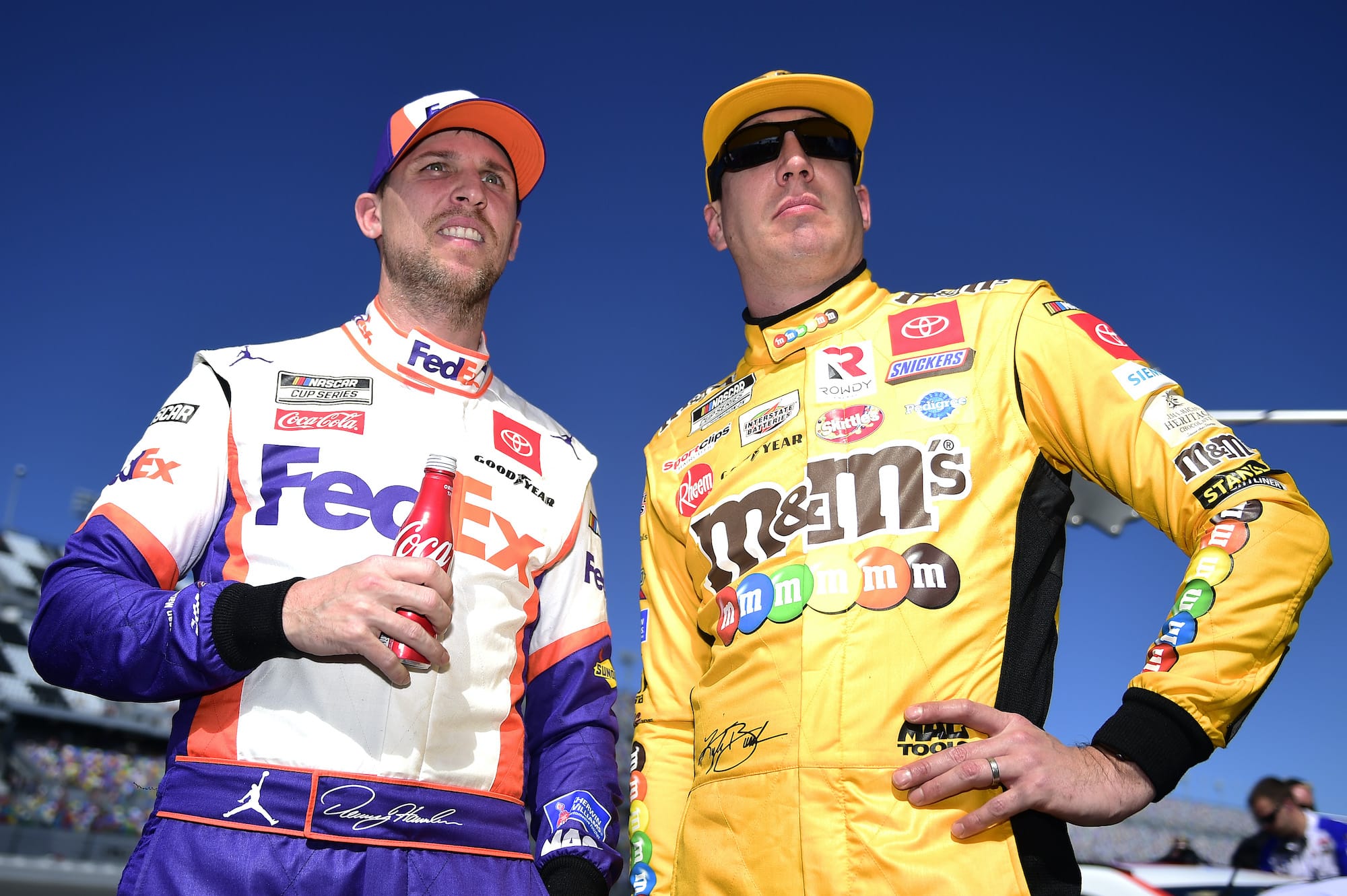 Somber Kyle Busch Avoids Admitting to Embarrassing Mistake at Darlington, but Denny Hamlin Does It For Him
Kyle Busch failed to mention in his postrace interview the costly mistake he made that caused mechanical problems and ended his day. Denny Hamlin did it for him.
Kyle Busch had a great day going at Darlington, leading a race-high 155 laps. Unfortunately, the two-time Cup Series champion's dominance didn't translate into victory because engine troubles late in the race dropped him to 30th.
In his postrace interview, the Joe Gibbs Racing driver took on a regretful tone and made some interesting remarks about his team. Interestingly, after the race concluded, his teammate Denny Hamlin surprisingly provided some context to what happened in the race and why the driver sounded so somber.
Busch leads race before mechanical failure ends his day
Kyle Busch was the dominant car at the Lady in Black. With 28 laps to go and more than a three-second lead on second place Tyler Reddick, it appeared that the No. 18 would cruise to the team's second victory of the season, but more importantly, the first win in the playoffs, and advance to the second round. 
However, a late caution changed the situation. During the subsequent pit stop, Busch's crew maintained its top spot off of pit road. All that the future Hall of Famer had to do was get a good restart and hold off the field. Shockingly, the bright yellow Toyota never made it there.
Moments before resuming the race, small puffs of white smoke began billowing out from the car. In a matter of seconds, the puffs grew thicker and whiter while someone over the team radio suggested "they were blowing up." 
Busch calmly drove into the garage, unlike his most recent trips at Darlington, where he parked his car and walked into his hauler. Several minutes later, NBC's Kim Coon caught up with the driver and asked what happened.  
"Engine broke. Just unfortunate circumstances for us tonight," Busch somberly admitted. "Guys did a great job. Brought a really fast M&M's Toyota Camry. Just real proud of the effort. 
"All of the stuff that the guys have done and gone through with just all the news and everything going on through the year. They've dug in. They've never given up and they continue. Just had a great car and don't come out with anything to show for it. That's what I really really hate about it."
Hamlin identifies mistake Busch made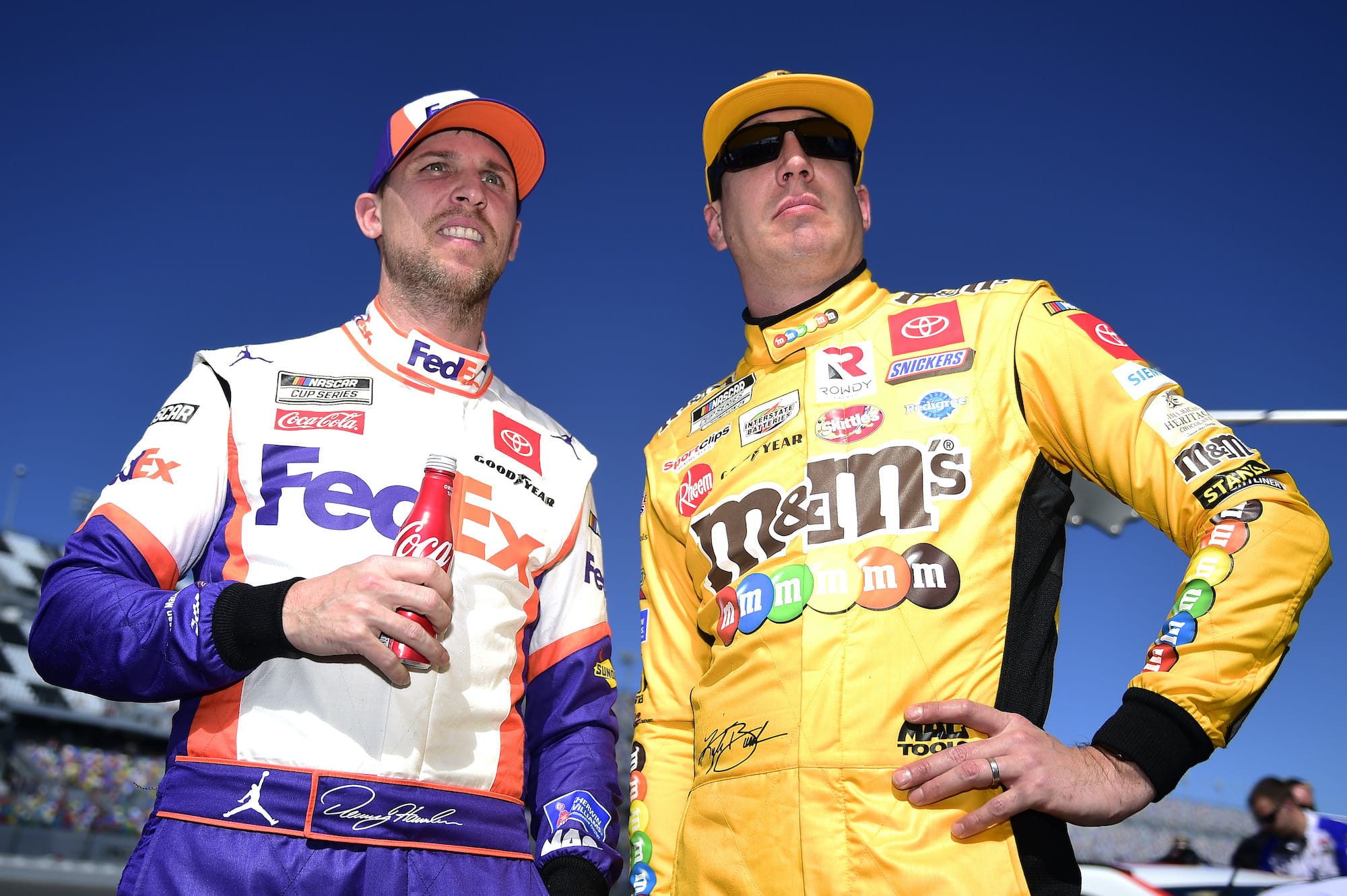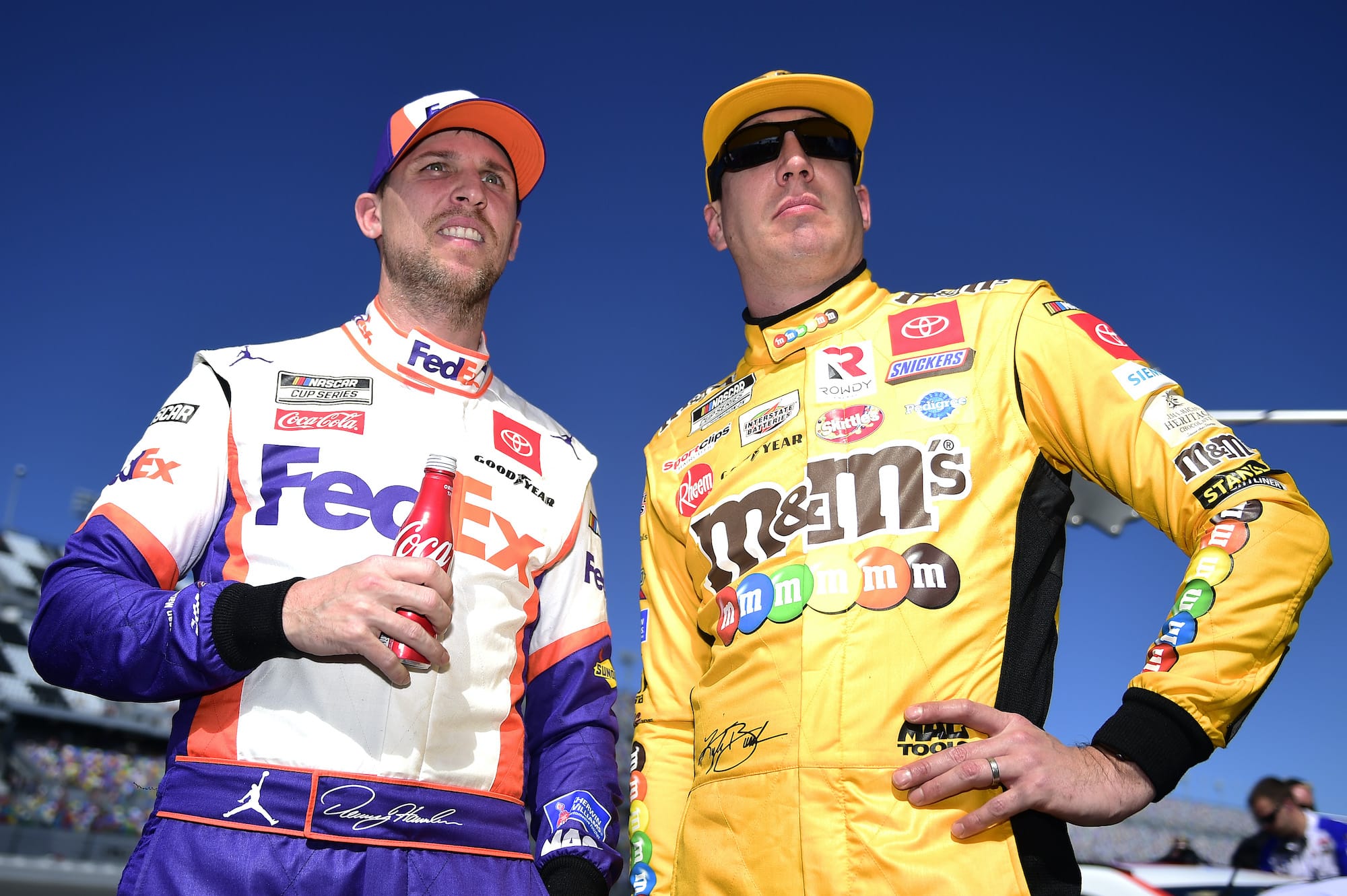 After the race, Denny Hamlin, who finished second, talked with reporters about his day. When SiriusXM NASCAR's Claire B. Lang asked him if he ever had any concern about his own car having engine issues like Busch, the three-time Daytona 500 winner addressed the question and offered some interesting intel on his teammate's situation.
"Sure, I'm worried about it, but it doesn't do me any good. I can't change the engine during the course of the race," Hamlin said. "I think the 18 missed a shift at some point. So you do that certainly it's going to play a factor in it. Overall, we didn't have any issues."
Hamlin knows about missing shifts
Hamlin knows exactly what missing a shift can do to the Next Gen car. He experienced that scenario earlier this season at Las Vegas in a situation eerily similar to Busch's outing at Darlington.  
With 46 laps remaining in the race, the No. 11 driver, who had a fast car and led 31 laps, made a costly mistake coming off of pit road, shifting the wrong way with the new sequential gear shifter, and breaking the transmission. 
"Yeah, we broke the transaxle," the dejected driver explained to Fox's Jamie Little. "Just killed every gear when I left pit road. We had the best car today. Just got back there and we were working our way forward and made mistakes."
Several hours after the race, the 41-year-old took to Twitter and criticized himself.
"Fastest car in the track today," he wrote. "Worst driver on the track today. Great improvements by everyone @JoeGibbsRacing and @ToyotaRacing. Get me to Phx."
Hamlin didn't say anything on Twitter about Busch after Darlington. He didn't have to. Calling him out for his mistake during the interview was more than enough.
Like Sportscasting on Facebook. Follow us on Twitter @sportscasting19 and subscribe to our YouTube channel.