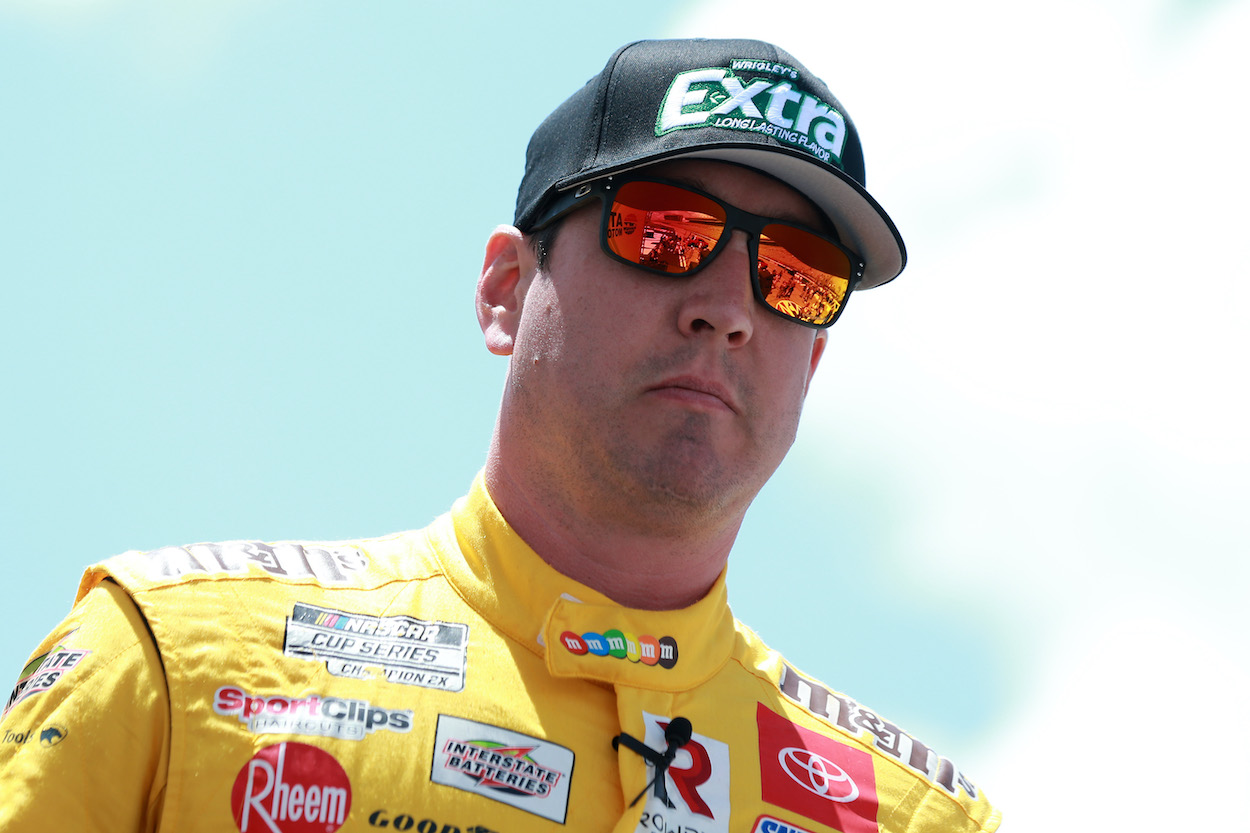 Angry Kyle Busch Goes Ballistic at Darlington: Aggressively Drives Through Pits That Sends Race Personnel Scrambling for Safety and Finishes With Profanity-Laced Interview Ripping His Team
Kyle Busch wrecked and ended his night early at Darlington and then went ballistic, driving aggressively through the pits and delivering a profanity-laced interview ripping his team.
Kyle Busch entered the 2021 NASCAR Cup Series playoffs cautiously optimistic. He's won a pair of championships in the last six years. But he also knows in order to win in the elimination era, it is imperative for a team to execute a clean plan and not beat itself. 
In Sunday night's race at Darlington, where he won once before in 2008, Busch didn't make it past Stage 2. After making contact with Austin Dillon, Busch slammed into the outside wall and headed directly to the garage. On his way, he hurried so quickly down pit road that he ran over a barricade of cones, sent multiple race personnel scrambling out of the way to avoid getting hit, and finished with a profanity-laced interview in which he called out his team.      
Kyle Busch drives over pylons, sends multiple people scrambling for safety
With 10 laps to go in Stage 2 at Darlington and the first race of the 2021 playoffs, Austin Dillon got into the left rear of Kyle Busch in Turn 2, which sent the yellow No. 18 sideways and the right rear of the car slamming into the outside fence. The two-time Cup Series champion immediately dropped down to the lower line and headed to pit road. 
"Going to the garage," Busch communicated over the radio. He drove down pit road and made a sharp left turn toward the garage, running right through a barricade of four orange pylons, one of the cones lodging under the front of his car. 
Busch's aggressive driving surprised numerous race personnel, who hurriedly rushed to the side and out of the car's path. After clearing the people, the No. 18 car drove straight to the rear of his hauler, where a clearly agitated Busch exited his car to the cheers of many fans in the stands.  
Kyle Busch goes off and rips team in profanity-laced interview
A few minutes later, NBC's Marty Snider caught up with Kyle Busch to talk about what happened and asked about contact with Austin Dillon. 
"It wasn't the 3's fault. Just take our lumps. We're running like s—. We got wrecked," Busch said. "It's what you get when you run like s—. Shouldn't be there. I don't know what our problem is. Every time we go to sim and use the sim and think we have a good sim session, we go to the race track and we suck. I'm done with that. We'll have to use some other tools on figuring out how to be good. The M&M's Camry was not very good and we're running terrible. We got wrecked. It wasn't the 3's fault." 
When asked his thoughts on the next two playoff races where he's run well in the past, including 14 wins at Richmond and Bristol, Busch had no interest.  
"Who cares? We get what we get," he curtly answered.
Previewed playoffs and talked about avoiding mistakes
While Kyle Busch was angry, as evidenced by his actions and words on Sunday, a few days earlier, during an interview with reporters, he talked about his team and what it would take to make a successful run in the playoffs. Avoiding mistakes was on the top of his list. 
"Don't beat yourself, speeding penalties, obviously, and leaving lug nuts off. Just dumb stuff," Busch said. "Those are definitely things to kind of live by." 
Busch's postrace remarks directed at his team didn't necessarily indicate there were any "dumb" mistakes committed. But more significantly, the general performance of the car was off, and any time he's worked on preparation in the simulator, it hasn't helped. 
As Snider mentioned, Busch has been very good on the two upcoming playoff tracks. However, based on what he said Sunday night about his team's performance, it may not even matter. 
Like Sportscasting on Facebook. Follow us on Twitter @sportscasting19.