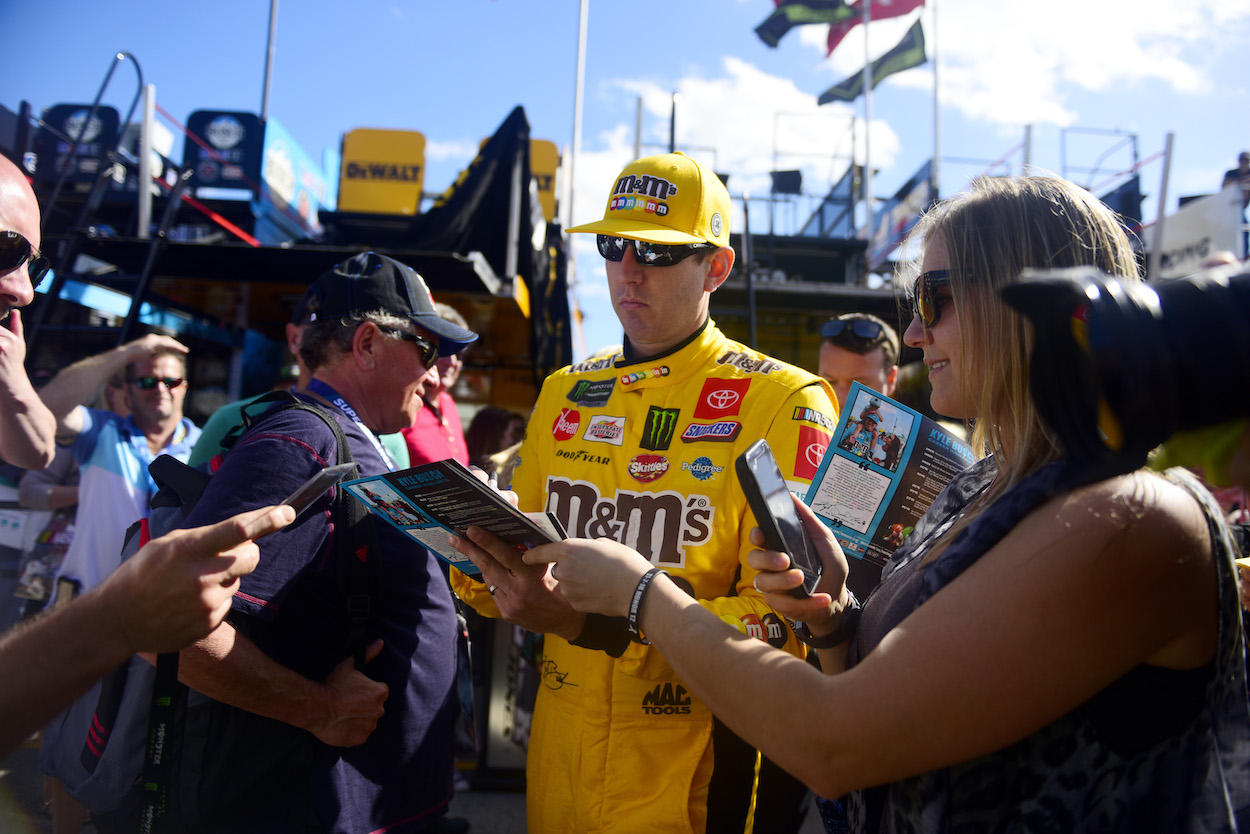 Kyle Busch Is Despised by Many but Showed This Week Just Why His Fans Are Loyal and Love Him so Much
Kyle Busch may have a reputation as being irritable and loud but this past week he did something and showed why his fans will be loyal and always love him.
Kyle Busch will go down as one of the greatest drivers in NASCAR history. He'll also be remembered as one of the most polarizing characters in the sport. His fans love him. Many others love to hate him. 
Busch already made headlines during NASCAR's two-week Olympic break for his wild behavior while on vacation. This week the two-time Cup Series champion made headlines in a small Illinois newspaper for just being a down-to-earth nice guy and making one of his fan's dreams come true. 
Kyle Busch embraces controversy
Kyle Busch has never shied away from sharing his thoughts. It doesn't matter if it's another driver, fans, or even NASCAR, the 36-year-old has taken more than his fair of shots at all of the above. 
Just this year, Busch mocked fans in Kansas. Less than a month ago in Atlanta, he expressed his displeasure toward Ross Chastain for a move he made late in the race that prevented Busch from winning, and instead helped his brother Kurt claim victory. 
After the race, in addition to criticizing Chastain, Busch trained his sights on Atlanta Motor Speedway officials and blasted them for the major reconfiguration of the track scheduled to be complete by 2022:
"I sure am glad to win the final Xfinity Series race on a real Atlanta racetrack, because the next one is just going to be a showpiece and it's going to be s—." 
Kyle Busch makes memory of a lifetime for one fan
It's undeniable Busch can be irritable and loud. That's the side that makes headlines. He also has a side that makes him so endearing to his fans, and he revealed it this week in Peoria, Illinois to an unsuspecting fan at a small go-kart track where he, his wife Samantha, and son Brexton, were visiting before heading out of town.  
Dylan Poulsen, a 16-year-old Busch fan, spotted the driver sitting in the stands and approached. 
"I never expected I was going to meet Kyle Busch," Poulsen told the Peoria Journal Star. "I asked him if it would be alright if I could get a picture with him. He said sure right away. So nice."
That could have been the end of it. But it wasn't. The story made the local paper. And then Busch gave Poulsen a shoutout on Twitter. 
"Nice meeting u Dylan. Thanks for being a #RowdyNation Day 1," Busch tweeted. 
Not surprisingly, numerous fans responded, including some who shared their personal experiences with Busch. 
"That young man will never forget the experience. It's not what you say but how you make someone feel," one fan wrote. "Kyle is a great dude. He was nice to me way back in the day as he stood around in the freezing cold. I'll never forget it," someone else replied.
Likes to have fun
In addition to his antagonistic and fan-friendly sides, Busch has another side that likes to let loose like he did a few weeks ago on vacation in the Bahamas. During that trip, Busch and several of his friends twerked on camera at the urging of their better halves. And they were just getting started.
The driver, who has won a couple of races this year, and those same friends also had a late night out on the town that included a pursuit by some type of law enforcement on golf carts. Busch posted the video on Instagram and later removed it. 
The next morning, he addressed the incident in a mock press conference, revealing that he also has a sense of humor.  
Kyle Busch rubs a lot of people the wrong way. But there's no denying the guy can be affable and fun-loving. Those two qualities, and the fact that he's one of the greatest drivers in NASCAR history, will keep his legion of fans loyal to him until the very end. 
Like Sportscasting on Facebook. Follow us on Twitter @sportscasting19.