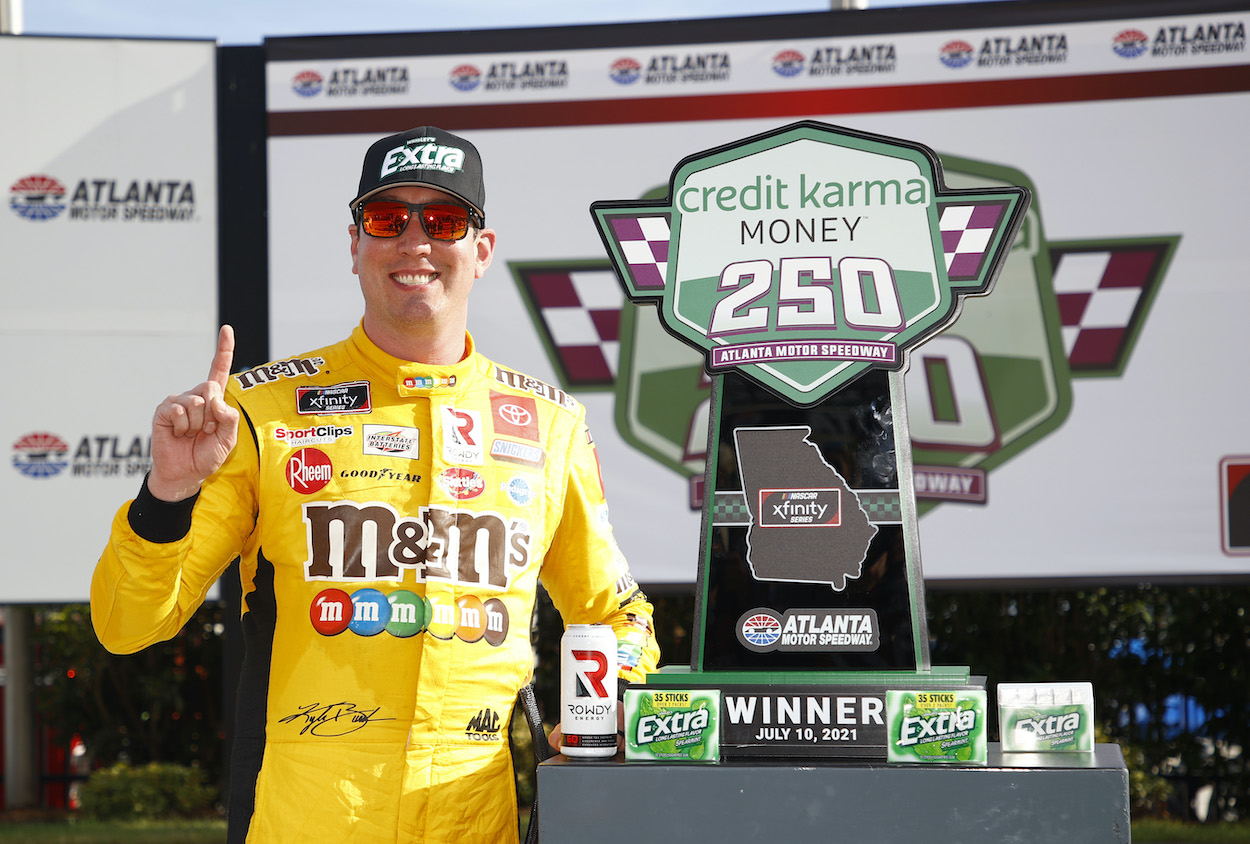 Kyle Busch Reveals New Video Project That His Fans Will Love and His Haters Will Love to Hate
Kyle Busch announced a new video project this week that will detail his Xfinity Series career.
Kyle Busch raced five times this year with the NASCAR Xfinity Series and added five more trophies to his collection. With his last win at Atlanta, Busch's career total reached 102. After the win, the all-time winningest Xfinity driver delivered a surprisingly somber victory speech, apologizing for wrecking his teammate Daniel Hemric late in the race. He didn't perform his standard bow. 
All of it appeared to confirm it was Busch's swan song with the Xfinity Series, which was something he had indicated earlier in the year would happen once he reached the 100-win milestone. This week, Busch took to Twitter and announced a new video project that appears to clarify his future with Xfinity. And because it's Busch, his fans will love it and his haters will love to hate it.
Kyle Busch delivers uncharacteristic victory speech after Atlanta win
After Kyle Busch won the Xfinity Series race at Atlanta, he was in no mood to celebrate. Busch repeatedly apologized for a late-race incident where he pushed his Joe Gibbs Racing teammate Daniel Hemric, who then got turned sideways and went into the wall, ending his chance at a first victory. 
"Yeah, obviously, I meant to push him. I wanted to hit him," Busch told NBC's Marty Snider. "I just wanted to hit him forward and straight, but I turned him sideways a little bit, and then I think he got more help on his right side. But just trying to help a teammate there. That's why I restarted behind him. 
"Just overall a great day for our No. 54 car, but the 18 was better and deserved this win. I'm sorry to Daniel and those guys. I hated that all that transpired. That's restarts in Atlanta I guess… You hate it when it does happen. That's why this win is a little more somber than some others have been."
Addresses final race in Xfinity Series
While the circumstances with Hemric at the end of the race were unfortunate, Busch's tone and general demeanor suggested it was more than just a single incident at the end of the race with a teammate. It appeared to be something much bigger, like a sense that it was, in fact, his final race in the Xfinity Series.
In the postrace interview, he went out of his way to not only thank his sponsors, but all the sponsors who have worked with the series through the years.
"Thanks to Joe Gibbs Racing, Toyota, Xfinity, Nationwide, Busch beer for the series and everything that they've done over the years," Busch told NBC's Marty Snider. "It's been awesome to run here and ride here. Certainly wish there were better circumstances to go out on, but, hey, that's racing."
"Is that indeed the last ride for you in the Xfinity Series, Kyle?" Snider asked.
"Yeah. Yeah. As far as I know. As far as what's going to happen right now, yeah. It's never say never, but yeah, this is it."
Kyle Busch teases video on his Xfinity Series career 
If Kyle Busch fans had any doubts whether or not he might race Xfinity next year, the two-time Cup Series champion posted a video on Twitter this week that appears to confirm his sole focus will be on the Cup Series going forward.
"My #XfinitySeries story. Coming soon," Busch tweeted. And it included a video. 
The minute-plus long video opens with Busch setting a new track record on his debut at Charlotte Motor Speedway in 2003. The video then intersperses highlights from Busch's Xfinity career, including his first and 100th wins, with shots of him sitting down for an interview to talk about his career.  
At the close of the video, the words appear: "Hear My Xfinity Series Story From Me."
Like Busch said, never say never. But all signs, including his latest project, indicate Busch's ride in the Xfinity Series is over. And what a ride it's been.
Like Sportscasting on Facebook. Follow us on Twitter @sportscasting19.