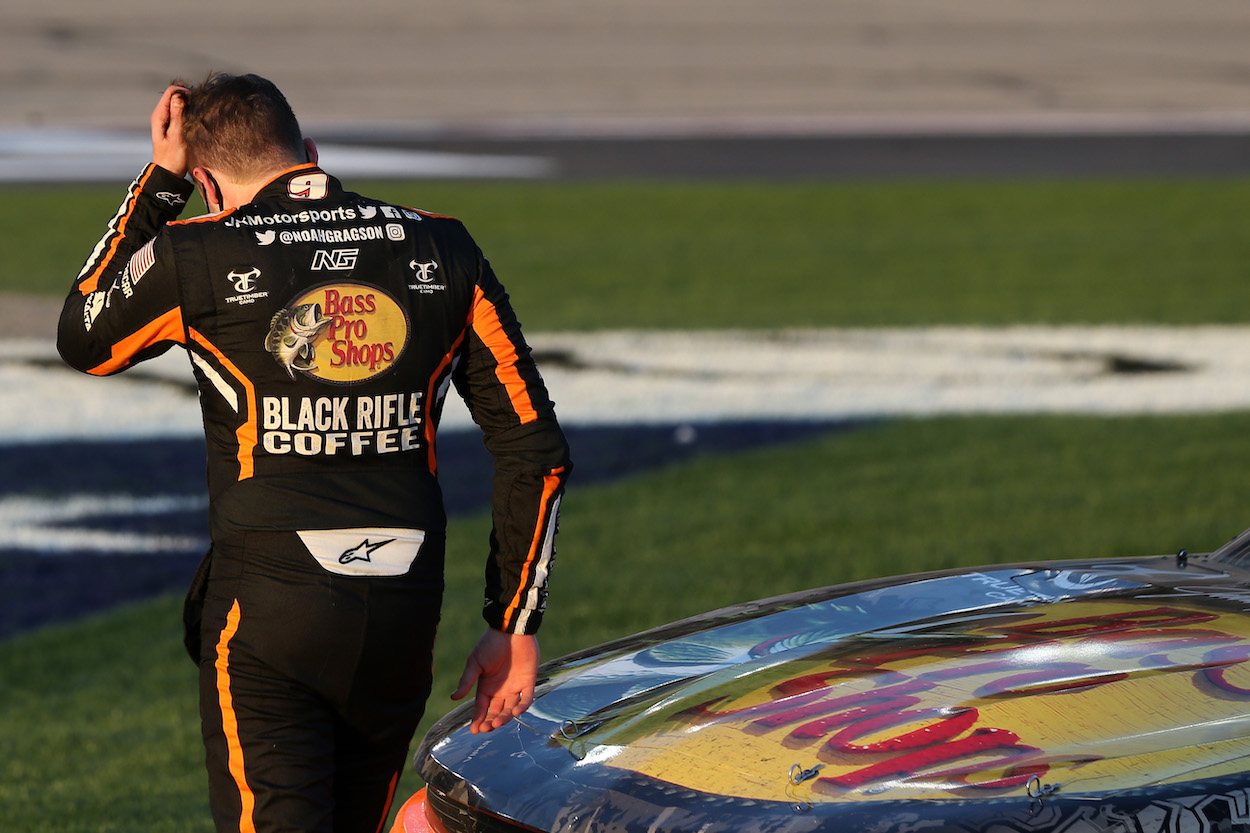 Punches Thrown on Pit Road by Dale Earnhardt Jr.'s Xfinity Driver Noah Gragson After JR Motorsports Earns First Win of 2021 Season
Dale Earnhardt Jr.'s JR Motorsports team has struggled to start the 2021 Xfinity Series season. On Saturday, the team got its first win but it was marred by Noah Gragson exchanging punches with Daniel Hemric after the race.
Dale Earnhardt Jr. has watched his JR Motorsports team struggle to start the 2021 Xfinity Series season. Adding insult to injury, Earnhardt has publicly scolded two of his drivers for their post-race behavior in separate races. On Saturday at Atlanta it was a mixed bag of news as Justin Allgaier earned the team's first win of the year but the celebration was marred by an ugly post-race incident on pit road where Noah Gragson found himself being confronted during an interview and exchanging punches with another driver. 
Dale Earnhardt Jr. expects Noah Gragson to show respect
Noah Gragson was undeniably the best car at Homestead early in the NASCAR Xfinity Series season. With just a couple of laps remaining and a sizeable lead, Gragson appeared primed to win his third career race and first win for Dale Earnhardt Jr. and JR Motorsports in 2021 when disaster struck, and he slammed into the back of veteran driver David Starr, who was running 12th and had corded a tire. 
After the race, Gragson called out the "dips**ts" in the post-race interview. Starr didn't respond, but team owner Carl Long did the next day on Facebook and fired a shot back at Gragson, calling him an "over-entitled mouthpiece" who makes statements that will "come back and cost him."
During an episode of the Dale Jr. Download podcast, Dale Earnhardt Jr. walked a tight rope trying to show respect for his relationship with Starr and Long while remaining loyal to his 22-year-old driver.
"I'm hoping through this experience, somehow or another, he can kind of get some appreciation for Carl and David," Dale Earnhardt Jr. said. "Not just what they're trying to do out there on the race track today, but kind of who they were and who they've been. The guys deserve a little respect. We know David through some other things we do off the race track. But I'm watching him. It'll be interesting to see how it goes."
Dale Earnhardt Jr. calls out Josh Berry for flipping off another driver
Two weeks after the Noah Gragson incident, Dale Earnhardt Jr. had a completely separate incident to address when JR Motorsports driver Josh Berry, who was running as high as third at Phoenix, got pushed into the outside wall late in the race by Santino Ferrucci. Following the incident, Berry showed his displeasure to Ferrucci as he drove by and flipped him the double-bird. 
In another episode of the Dale Jr. Download, Earnhardt expressed his disappointment with Berry.
"He had a great car and run up to third place in the race, but he gets out and flips the bird, two birds, whatever," an agitated Earnhardt said. "I told Josh, I said, 'Man, you've been wrecked before. You know how to act. And this ain't it.' Josh is trying to become imprinted in people's mind and he ran a great race. Had a lot of speed. Up to third place at one point. Yes, the result was bad but if he gets out of the car and walks away to regroup for the next race, all people will remember is man, what could have been. He was so fast. Now, all they remember is the double-bird and nothing at all really about the performance on the track."
Josh Berry dramatically crashes, Justin Allgaier wins, and Noah Gragson exchanges punches on pit road
At Atlanta, Dale Earnhardt Jr. had to be all smiles as all four of his Xfinity cars were in the top 10 at various points throughout the race. Unfortunately, Josh Berry's race came to an end late in the day when he got tapped, started to slide, and saved his car, only in time for the front of it to dig into the infield turf and send his front wheels airborne with an explosion of sod and dirt.
Berry's finish was the downer to an otherwise positive day for JR Motorsports, which finished with a Justin Allgaier win, followed by Noah Gragson in fourth, and Michael Annett in seventh. 
Things took a strange turn when Gragson was conducting a post-race interview and was confronted by Daniel Hemric about an earlier pit road incident where Gragson deliberately backed up his car into Hemric's pit box, which resulted in punching a hole in the nose of his car. Hemric later told Fox's Jamie Little after confronting Gragson, as far as he was concerned, things were settled. 
"There's a hole in the nose of my car and he got popped in the eye. Where I stand from, we're in pretty good shape."
Dale Earnhardt Jr. has to feel like a school principal and this week will have another student visiting his office for some type of disciplinary action. Should make for yet another entertaining podcast episode. 
Like Sportscasting on Facebook. Follow us on Twitter @sportscasting19.