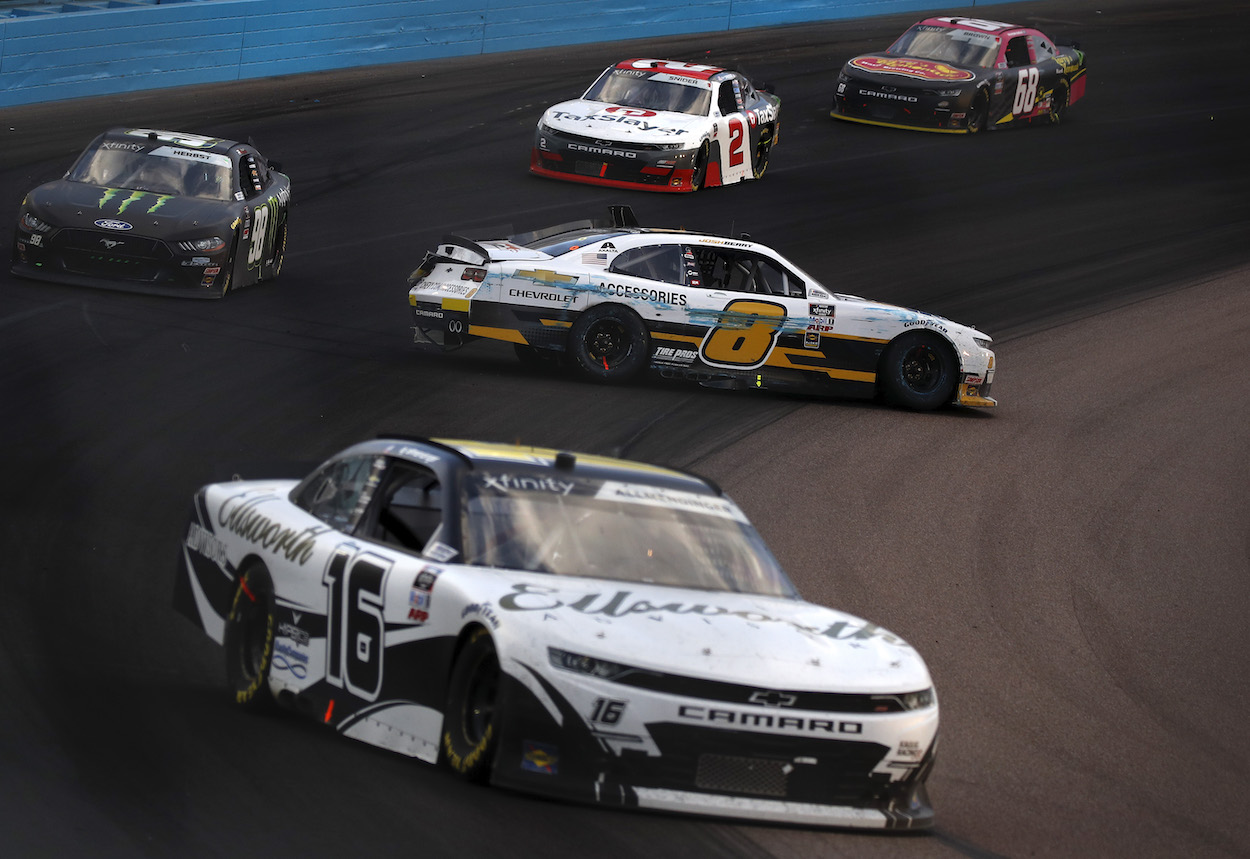 Agitated Dale Earnhardt Jr. Not Happy With Xfinity Driver Josh Berry for Flipping Double-Bird in Phoenix
Dale Earnhardt Jr. opened up about what he thought of Josh Berry giving the double-bird to Santino Ferrucci in Phoenix and he was not happy about it.
At any level of competition, athletes get frustrated when they don't succeed. NASCAR is no different. Dale Earnhardt Jr. got upset more than a few times during his racing career. This weekend, Josh Berry, who drives for Earnhardt and JR Motorsports on the Xfinity Series, let his frustration get the best of him during the race in Phoenix and gave a double-bird to Santino Ferrucci following an accident. During the Dale Jr. Download this week, Berry's boss was clearly not happy with his very public display of frustration. 
Josh Berry gets wrecked and flips off Santino Ferrucci
Josh Berry is feeling the pressure. He has a ride with the JR Motorsports Xfinity team through mid-June. If he doesn't perform well, he may not get another chance. 
During Saturday's Xfinity Series race in Phoenix and Berry's first time to ever see the track and drive on it with no practice, the 30-year-old performed well, running as high as third. However, late in the race Berry and Santino Ferrucci battled for position and Berry got pushed into the outside wall.
A few moments later Josh Berry exited the vehicle and gave a double middle-finger salute to Ferrucci when he drove by. The commentators joked about it. Berry fans posted about it on social media and loved it.
Dale Earnhardt Jr. not happy with Josh Berry's double-bird
During this week's episode of the Dale Jr. Download, Dale Earnhardt Jr. revisited the results of the JR Motorsports team from the desert on Saturday. He was impressed with Justin Allgaier's performance and specifically called him out for his great post-race interview. As for Josh Berry, Earnhardt was happy with what he did on the track. It's what happened just off the track that left the team co-owner less than pleased. 
"He had a great car and run up to third place in the race, but he gets out and flips the bird, two birds, whatever," a clearly perturbed Earnhardt said. "I told Josh, I said, 'Man, you've been wrecked before. You know how to act. And this ain't it.' I know a lot of people are like — you love the passion, get 'em, Team Josh, right? I get that, too. 
"But here's the thing, Josh is trying to become imprinted in people's mind and he ran a great race. Had a lot of speed. Up to third place at one point. Yes, the result was bad but if he gets out of the car and walks away to regroup for the next race, all people will remember is man, what could have been. He was so fast. Now, all they remember is the double-bird and nothing at all really about the performance on the track. I just don't want him to divert people's attention away from what's really important and that is that he is fast, that he can do this, and that given more opportunities, which we're trying to get for him, he could have great success."
Dale Earnhardt Jr. admits he's flipped off someone during race
Moments later on the podcast, show co-host Mike Davis questioned Dale Earnhardt Jr. whether or not he had any previous incidents where he gave somebody the bird. Earnhardt said he could remember a few, including an incident with a member of Robby Gordon's pit crew, but nothing like what he saw from Josh Berry. 
"Oh man, I've flipped people off, but I haven't gotten out of my car and standing clear damn on the middle of the race track and done it just right there in front of God and national television and everyone else. I've flipped people before but not on such a grand stage."
Berry made the media rounds on Wednesday and didn't specifically mention Dale Earnhardt Jr., but did address his behavior. 
"Ultimately, I'm human and make mistakes just like everybody else, Berry said on NASCAR.com. "Obviously I know that's not something that I can do. I had my talk with Wayne and the guys at NASCAR and it was straightforward and I've learned a lot, learn from my mistakes."
A lot of eyes will be watching Josh Berry to see how he performs and more importantly how he reacts to this weekend's race results in Atlanta, including his boss.