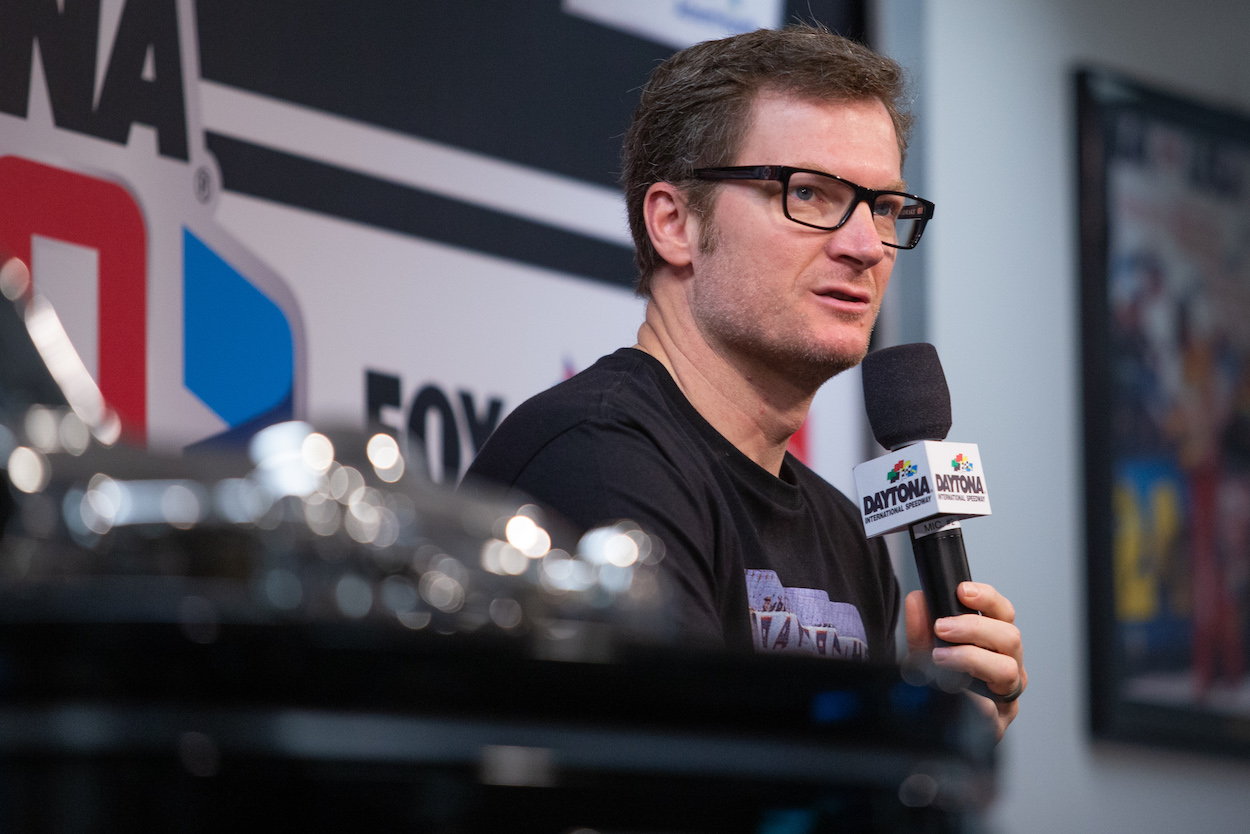 Dale Earnhardt Jr. Excited NASCAR Takes Major Step Toward Making a Longtime Dream of His and Many Fans Come True
Dale Earnhardt Jr. is excited about what he just personally witnessed as NASCAR took a major step in finally making a longtime dream of his and many seasoned fans come true.
Despite not racing a full-time Cup Series schedule since 2017, Dale Earnhardt Jr. is still very involved with NASCAR, serving as a co-owner of the JR Motorsports Xfinity Series team, working as a broadcaster for NBC and its coverage, as well as hosting a weekly podcast where he regularly interviews the biggest names in the sport. 
Earnhardt also works behind the scenes in various ways to help grow the sport. He recently announced how he signed on to work with the IndyCar Series and its Music City Grand Prix in Nashville to better understand the nuances of working with local government officials and how that knowledge would help benefit NASCAR and its potential of working with the city in the future. Last week, Dale Earnhardt Jr. was present when NASCAR and the city took a big step toward making that dream become a reality.
Dale Earnhardt Jr. joins IndyCar Series and Music City Grand Prix
In mid-February, Dale Earnhardt Jr. made a somewhat surprising announcement that he was trading in stock-car racing for open-wheel racing for one weekend in August. 
Earnhardt partnered with Trackhouse Racing co-owner Justin Marks and music superstar Justin Timberlake as part of the Music City Grand Prix ownership group. The race is part of the NTT IndyCar Series and will be run on August 8 through the streets of downtown Nashville. 
"I've been excited about the Music City Grand Prix since I first heard about it," Earnhardt said in a release." It will be an incredible event combining great music and racing in one of my all-time favorite cities. I'm excited to be part of the ownership group for this event and look forward to not only this year's inaugural event, but to great racing in Nashville for years to come."
Nashville Fairgrounds Speedway and its storied history
On the surface, it appears odd for Dale Earnhardt Jr. to cross over and work with the IndyCar series. However, on an episode of the Dale Jr. Download, he explained his motivations for the move and, not surprisingly, all roads, even those in an IndyCar through the streets of Nashville, lead back to NASCAR.
"I've been hoping that one day NASCAR can get to the Fairgrounds. We don't know whether we'll ever get to the Fairgrounds but a lot of people would like to see that, me included," Earnhardt admitted. "It was kind of a rising tide lifts all boats kind of thing. To kind of have an ear to the ground on how things are going to go for the IndyCar Series racing in town. How all that works with the governing officials and so forth and how everybody comes together to agree. It's a teaching moment for me to help me maybe further understand the hurdles and obstacles that are in front of NASCAR to get to the Fairgrounds."
The Nashville Fairgrounds Speedway is located near downtown and is the oldest continually operating track in the U.S. It hosted 42 Cup Series races from 1958 to 1984. The two-time Daytona 500 winner suggested he could see having a season-ending race at the Fairgrounds, followed by the NASCAR season-ending awards and accompanying festivities, which has been held there since 2019.
"I've always said wherever we celebrate the champion; where we celebrate that defining moment where we acknowledge all the things that happened in our sport throughout the year, plus giving away that trophy to the driver that's won it, I think we should race in that town. We should showcase our product in that same town that we do that celebrating in."
Dale Earnhardt Jr. in attendance as NASCAR and city take major step toward racing at Fairgrounds
Last week, Dale Earnhardt Jr., Marcus Smith of Speedway Motorsports, and Jerry Caldwell of Bristol Motor Speedway, met with Nashville Mayor John Cooper. At the meeting's conclusion, the mayor posted on Twitter that he had signed a letter of intent with Bristol Motor Speedway to renovate the Fairgrounds Speedway and "bring NASCAR back to Nashville."
"We will put this landmark back on the national stage," the mayor wrote.
Dale Earnhardt Jr. lauded the move. 
"The dream of Nascar returning to the historic Nashville Fairgrounds is another step closer to reality," he wrote.
It's a major step in bringing NASCAR back to the Nashville Fairgrounds and one that Earnhardt gladly played an important role in, even if it took signing up for IndyCar to do it.  
Like Sportscasting on Facebook. Follow us on Twitter @sportscasting19.