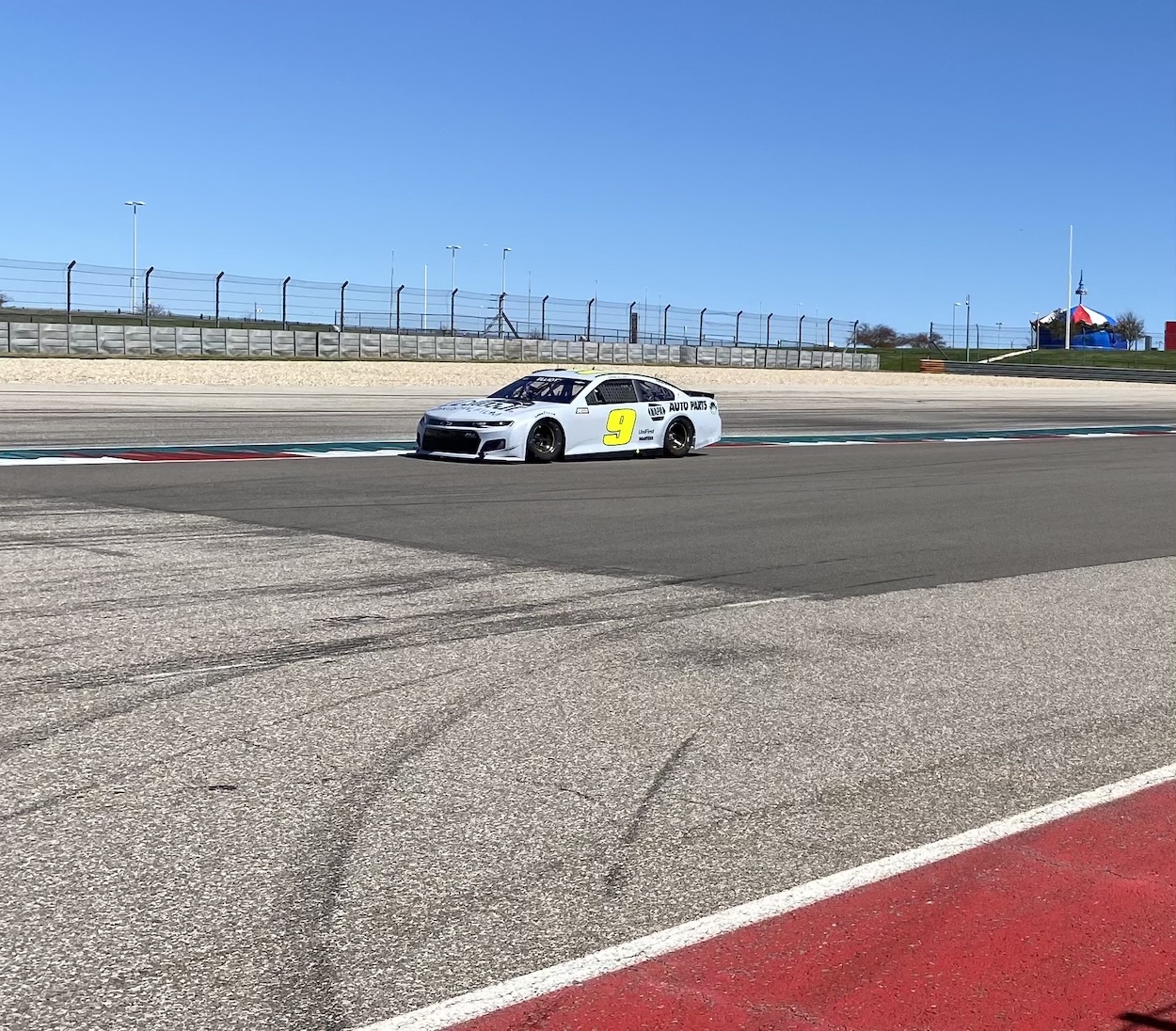 NASCAR at COTA Lives Up to Hype and Will Be Action-Packed Race in May, According to Chase Elliott, Martin Truex Jr., and Brad Keselowski
NASCAR at COTA has generated a special buzz since it was announced in November. On Tuesday, Chase Elliott, Martin Truex Jr., and Brad Keselowski all found out why.
There's been a special buzz about NASCAR at COTA since the race was announced back in November. Drivers are excited. Fans are as well. On Tuesday, after Chase Elliott, Martin Truex Jr., and Brad Keselowski ran laps around the 3.41-mile circuit in a tire test, the three Cup Series champions confirmed the track lived up to the hype, and will provide for an action-packed race on May 23.   
NASCAR at COTA features tire test with three Cup Series champions, including 2020 winner Chase Elliott
With seven road course races on the 2021 NASCAR schedule, drivers will have more than ample opportunity to show their skills in making more than left turns this year. With the Daytona road course in the rearview mirror, drivers have shifted their focus to NASCAR at COTA and May 23 for the second road course of the season at the EchoPark Texas Grand Prix.
Still several months out, NASCAR is in the final stages preparing for the first-time event. On Tuesday, the organization sent three of its best road course racers — each from a different manufacturer — to Austin to run laps around the track as part of a Goodyear tire test.
Current Cup Series champion Chase Elliott, who has won four of the last five road races for Hendrick Motorsports in a Chevrolet, joined four-time winner Martin Truex Jr. in the No. 19 Toyota with Joe Gibbs Racing and Brad Keselowski in the No. 2 Ford from Penske. 
Drivers share thoughts on NASCAR at COTA
Brad Keselowski admitted he had scouted out the track with several of his teammates a few weeks ago. During Tuesday's test, the 2012 Cup Series champion said having NASCAR at COTA is going to be a unique experience unlike any other road course test.
"It's different than a lot of the road courses we go to. Very high speed. We're about 185 miles an hour, which is pretty fast," Keselowski said. "And then you slow down to about 30. You know, 185 to 30, that's a heck of a ride. I know it would make my wife sick if she was riding with me."
While Keselowski had some familiarity with his NASCAR ride at COTA, it was the maiden voyage for Chase Elliott and Martin Truex Jr., who both agreed it was a steep learning curve. 
"Track has been fun. Anytime you go somewhere new, just to see a fresh road is refreshing for a race car driver. I've enjoyed the challenge," the reigning Cup Series champion said. 
Truex agreed.
"It's been a lot of fun. A unique experience. Definitely quite a different road course from what we've been on in NASCAR over the years. I didn't get any time in the simulator or on iRacing to learn the track. Coming here this morning, I had only watched videos of some in-car stuff yesterday. It was a big learning curve this morning."
Drivers agree start-finish line will feature a lot of action in May
Speaking of curves — all three drivers said the start-finish line and the sharp 133-foot climb in elevation that leads to a challenging hard left on the first turn should be exciting for the drivers and fans. 
"Turn one is designed as though a fan said, 'how can I have the most calamity in that corner at the start?'" Brad Keselowski joked. "There's a couple of things that are done to that corner that make it so unique. First of all, it's uphill, which helps the car stop. So it encourages the driver to try to out-brake another driver, which is big on a start or restart because the cars are already so close together.
"And the second thing is it's really wide on entry. It's almost impossible to block because there's more racetrack and you can just go find more racetrack. A very interesting layout to create some epic starts and I think you'll see that."
Martin Truex Jr. said NASCAR at COTA is a blend of Sonoma and Watkins Glen with fast and slow sections as well as the dramatic elevation change. He said drivers will be tested by all three elements right out of the gate. 
"The start of this race will probably be pretty cool because you've got that long front straightaway, and it's very, very wide, and you go into a very sharp slow corner. We have races at places like Pocono where we get five and six wide down the front stretch and there's a potential for that to happen here and then you've got to turn around and go back the other way. It could be pretty hairy."
NASCAR at COTA has been circled on the calendar for both drivers and fans since November. On Tuesday, three Cup Series champions and top road racers confirmed why. 
Like Sportscasting on Facebook. Follow us on Twitter @sportscasting19.