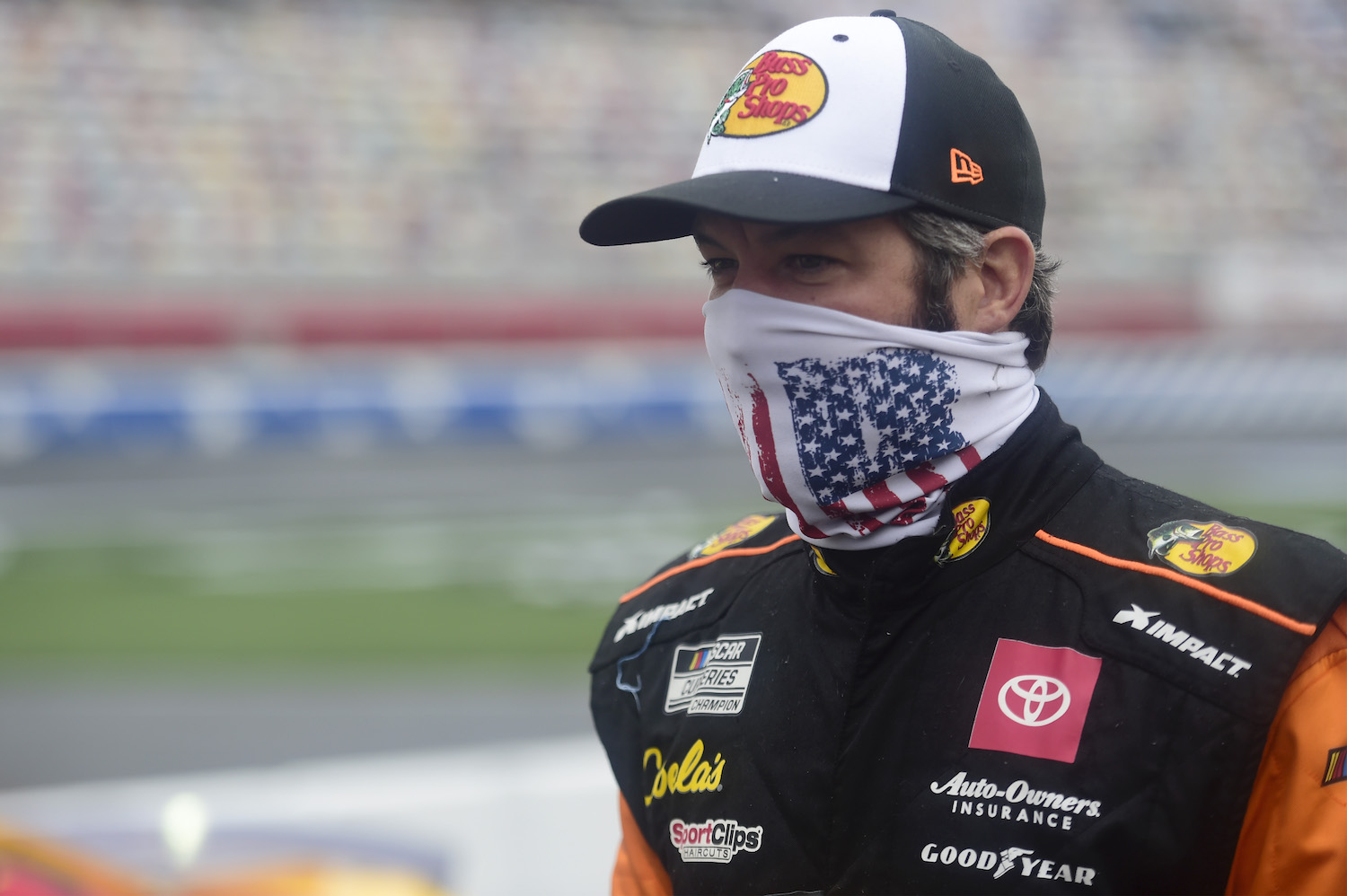 Martin Truex Jr.'s New Business Is Racing Against the Clock to Save Lives One at a Time
Martin Truex Jr. has written his legacy in NASCAR since 2001. This year, Truex's new aviation business is writing its own legacy saving lives on a regular basis.
Martin Truex Jr. has had a very successful career in NASCAR since he arrived in 2001. The height of his success came in 2017 when he won the Cup Series title. He has finished second the last two seasons. While his success in NASCAR is undeniable, what he's doing off the track with his new business is considerably more impressive as it's literally saving lives on a regular basis.
Martin Truex Jr.'s NASCAR career
Martin Truex Jr. started his racing career driving go-karts in New Jersey. In 1998, he moved to Modifieds before jumping to the NASCAR Busch Series in 2001. After five years, including two Series title wins in 2004 and 2005, Truex moved up to the Cup Series full-time driving for Dale Earnhardt Inc.
While Truex has driven for multiple teams since joining the Cup Series, he has remained consistently one of the best drivers at the top level of NASCAR. He has earned 19 poles, 225 top-ten finishes, and an impressive 27 wins.
In 2017, Truex earned eight of those career wins and won his first Cup Series title in dominating fashion, winning 20 of the 108 stages. Since his championship-winning season, Truex has been one of the top Cup drivers finishing second in both the 2018 and 2019 season.     
Truex starts charter plane service for NASCAR drivers
Back in 2014, Martin Truex Jr. bought his first plane and used it to travel to races around the nation. Last year, Truex decided to expand his business and start flying other NASCAR drivers/personnel to events. He increased his fleet to three planes and launched MTJ Aviation. 
His staff now includes 20 pilots, a director of maintenance, and is regularly looking to add more NASCAR drivers to its customer base. "I think based on what we've been able to deliver the options are there for us to really grow this on the NASCAR side," Truex told aviation website AINonline.com.
In addition to flying his NASCAR clients, the charter business also started to add corporate and leisure travelers. Then, a worldwide pandemic hit. Those clients dried up overnight. One of Truex's pilots informed him of another potential business opportunity. 
Business adds transporting organs and surgical teams
Martin Truex and MTJ Aviation worked out a deal with Transplant Coordinators of America (TCOA), a business that flies human organs and the surgical teams that retrieve them. 
Today, MTJ Aviation flies organ transplant trips on the East Coast and as far west as Texas. The company estimates it makes three to five organ trips a week and is hoping to increase those numbers in the future. "[Flying these organ missions] was a real blessing and it's been a great experience," Truex said. 
TCOA president and CEO Steve Pitzer said since MTJ Aviation arrived in the space, he's been impressed with their business and how well it's operated. "We do use a lot of other different vendors, but since MTJ called I've pretty much been using them exclusively unless we have too many flights going at the same time," Pitzer said.
While Martin Truex is happy with his aviation business transporting NASCAR drivers as well as organs and their surgical teams, he is planning for bigger things in the future and increasing the fleet up to 30 business jets in the next three to four years. 
Years from now, Martin Truex will be remembered by NASCAR fans for his successes on the track. Off the track, Truex's business won't get recognition due to its anonymous nature, but it will be remembered by those families whose lives it helped save and that is far and away better than any trip to victory lane.