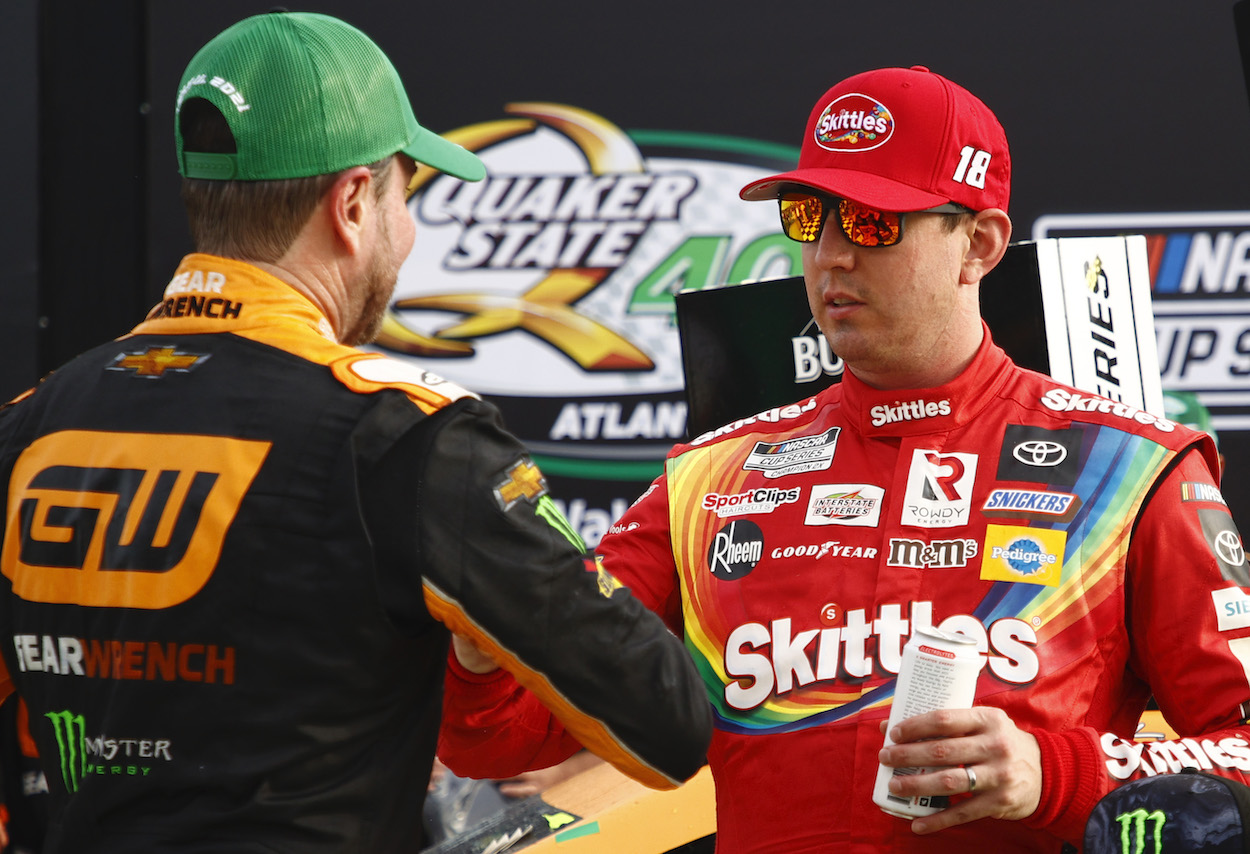 Kyle Busch Savagely Trolled by Atlanta Motor Speedway After Brother Kurt Wins Cup Series Race
Kyle Busch won the Xfinity Series race at Atlanta on Saturday and then proceeded to blast officials about upcoming changes. On Sunday, he finished second behind his brother Kurt and those officials got payback.
Kyle Busch won the Xfinity Series race at Atlanta on Saturday, asked for a piece of the track from "real Atlanta," and then proceeded to bash officials on the upcoming renovation. On Sunday, he finished second behind his brother, Kurt, in the Cup Series race, and those same track officials got payback and savagely trolled him by giving a large chunk of the track to his brother. 
Kyle Busch blasts Speedway Motorsports Inc. for changing Atlanta
Kyle Busch concluded his 2021 Xfinity Series season with a win on Saturday, the record 102nd victory of his career in the series. 
After the race, Busch took several shots at Atlanta Motor Speedway and Speedway Motorsports Inc., which manages the track, after this week's announcement that the track would undergo a major renovation following the Cup Series race on Sunday. Changes that would include narrowing the turns from 55 feet to 40 — something Denny Hamlin, Kyle Larson, and other drivers openly voiced their objection, indicating they had not been consulted on any of the decisions. 
At one point, Busch asked Speedway Motorsports executive Don Hawk for a chunk "of the real asphalt, so I can cherish what the real Atlanta is like."
In a post-race session with reporters, he didn't hold back. 
"Other than getting into my teammate Daniel Hemric and him crashing, I sure am glad to win the final Xfinity Series race on a real Atlanta racetrack," Busch said. "Because the next one is just going to be a showpiece, and it's going to be s—."
Kurt Busch beats Kyle in Cup race
Kyle Busch has unquestionably been a more successful driver than his older brother Kurt. The 36-year-old Busch has won 59 Cup races and a pair of Cup titles. The 42-year-old had 32 wins to his credit, coming into Sunday's race at Atlanta. He also won a single championship back in 2004.
This season has been a reflection of their respective careers. Kyle has earned 14 top-10s and a pair of wins. Kurt has earned half as many top-10s during that same time. On Sunday, he earned his first win of the season at Atlanta. His younger brother finished second. 
An unhappy Kyle congratulated his older brother in victory lane with what appeared to be a half-hearted hug following the race. 
"He did stop by victory lane and do the Kyle Busch Grumpy," Kurt acknowledged to the media after the race. 
Kurt given piece of asphalt from the track
Following the race, in addition to receiving the trophy, officials from Atlanta Motor Speedway presented Kurt Busch with a special gift in honor of the final race at the track — a piece of the speedway. 
Busch expressed his appreciation after receiving the chunk of asphalt. 
"Thank you so much. Wow! Yes!" Busch said excitedly. "Is this from over in the dogleg area? I'll take it. Looks like an Oreo cookie ready to go. Wow! Thank you."
Whether or not Busch had any idea that his younger brother had made that specific request of getting a piece of asphalt from the "real Atlanta" following his Xfinity Series win on Saturday is anyone's guess. But it's clear track officials thought the idea was a good one and handed out a piece of it on Sunday. And the fact that it just happened to be to Busch's brother made it all the more satisfying.
Like Sportscasting on Facebook. Follow us on Twitter @sportscasting19.