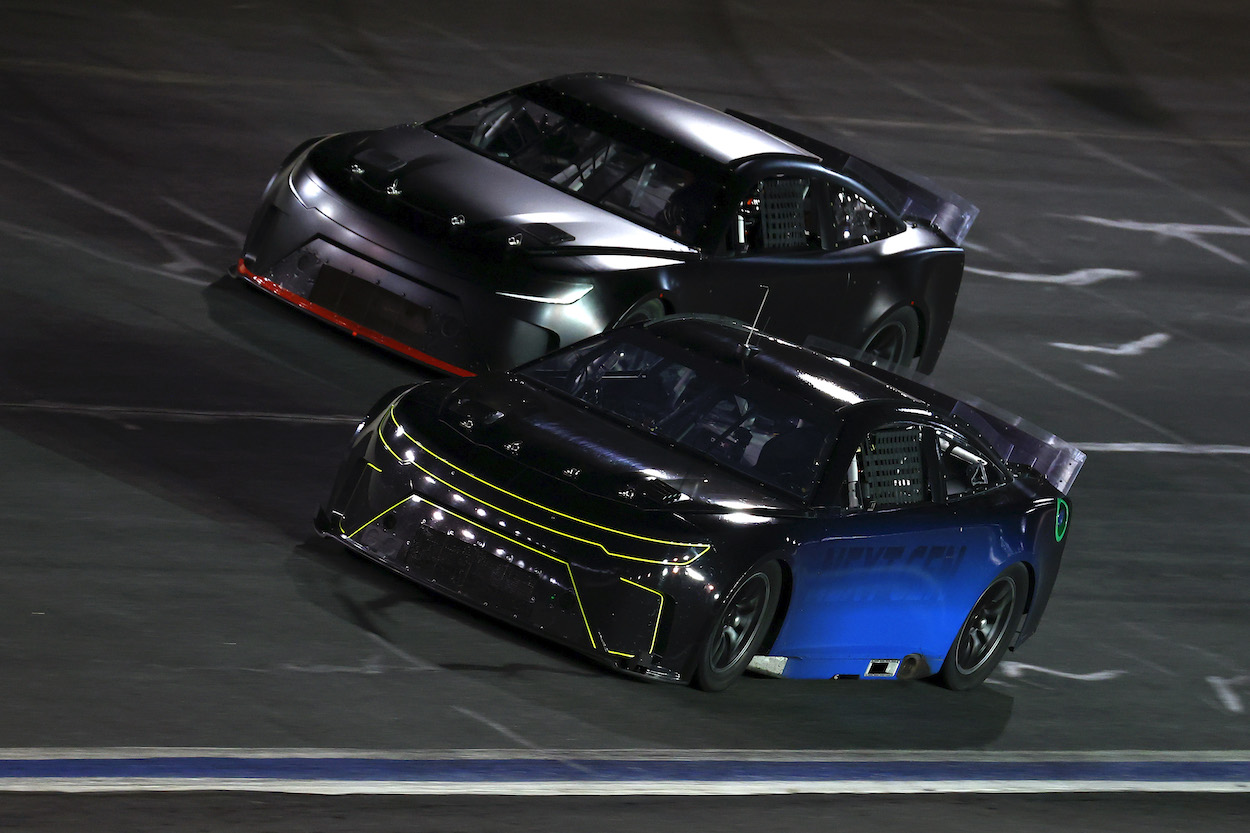 Scary Rumors About NASCAR Next Gen Car Crash Test Results Gain Traction After Cup Series Driver Mysteriously Deletes His Comment on Subject
Rumors about NASCAR's Next Gen car crash test results have been swirling lately and a Cup Series driver deleting his comment on the matter only raised more red flags on the potential issue.
Scary rumors are rampantly swirling in NASCAR circles about poor results in the Next Gen car crash tests, with some reports indicating the test dummies sometimes suffered what would be considered fatal injuries. On Thursday, the rumors appeared to strangely gain traction on Reddit because of a mysteriously deleted comment by Cup Series driver Chase Briscoe. On Friday, Ryan Blaney admitted he didn't have any clear answers on what was going on with the tests.
Rumors swirling about poor results in Next Gen car crash tests
On Wednesday, after several drivers, including Kyle Larson and Denny Hamlin, were vocal about not being consulted on the reconfiguration of Atlanta Motor Speedway, a video surfaced on Twitter that featured Kyle Petty interviewing Tony Stewart. In the clip, the three-time Cup Series champion talked about a meeting in the last six years where 20 drivers met with NASCAR and shared ideas that they thought would "make the sport better." Stewart said a person with NASCAR suggested that the ideas were "180 degrees backwards."
Former Cup Series team owner Bob Leavine replied to the tweet and said that one person is a "cookie cutter copy" of the remaining executives in NASCAR. And that's when things got interesting. 
Steve Hmiel, who is a former NASCAR crew chief and competition director for Dale Earnhardt Inc., offered an eye-opening response.
"So painful to watch the development of the new car," Hmiel wrote. "The engineers could really use a real world guy to temper some of their ideas. Have seen photos of a wrecked car and hearing rumors of sled tests killing the dummy, the car may be too stiff with too few crush zones."
Chase Briscoe comments on Next Gen car crash tests results and then surprisingly deletes remark
The entire Twitter exchange made it over to the NASCAR Reddit page, and a vigorous discussion ensued. As of this writing, there have been more than 600 comments, with others providing their own "insider" perspective on the Next Gen car crash tests. With so many different thoughts on the sensitive matter flying around, one person wanted clarity on what was being said and posed a question.
"Based on his tweet it sounds like if the test accidents occurred in real life they would likely be fatal? Am I getting that right," the person asked.
Cup Series driver Chase Briscoe, who is a Reddit aficionado, responded with a simple one-word answer.
"Correct," he wrote. 
Briscoe's comment appeared to validate the whole conversation. Then, something strange happened. Briscoe deleted the comment a short time later, which raised even more red flags on the situation. 
Ryan Blaney talks about Next Gen car crash tests
Briscoe hasn't publicly talked about the matter anymore, but on a Friday call with reporters, Ryan Blaney was asked his thoughts on the developing situation. Blaney said all the drivers met with NASCAR prior to the Coca-Cola 600 in late May at the R&D Center, where they went through a lot of things on the Next Gen Car. 
"I think since then they've crash-tested it. We didn't have a ton of information back then about it. I don't have a great answer on that," Blaney admitted. "I'm sure they'll come out with that whenever they get some good numbers and things like that. I know there's rumors going around and stuff like that, but as far as that goes, I don't think there's enough information out there to have truthful rumors. We'll see where it stacks up, but I don't have a lot for you on that side of it right now. Sorry." 
Blaney's lack of an answer combined with Briscoe's deleted comment haven't done anything to dispel the rumors. In fact, they've actually fanned the flames. The coming weeks and months should be interesting to see whether or not NASCAR, at the very least, addresses the situation with the drivers. And the fans will be left to speculate. 
Like Sportscasting on Facebook. Follow us on Twitter @sportscasting19.