How Many NASCAR Cup Series Drivers Have Won 4 Races in a Row and Will Kyle Larson Be Next?
To say Kyle Larson has been on fire this season would be a study in understatement. Larson has won four races in 17 starts this season, the most on the NASCAR Cup Series. He's been particularly good of late, with wins in his last three points races. Larson threw in a victory in the non-points NASCAR All-Star Race just for good measure.
While he trails Denny Hamlin in the current Cup Series standings, Larson has cut that gap to a mere 10 points as they have pulled away from the field. The next-closest driver in the standings is William Byron, and he's 81 points behind Hamlin.
With a doubleheader of races set for Pocono Raceway in Pennsylvania, Larson has an opportunity to enter the NASCAR record books. He would tie a modern-era record with a win in Saturday's Pocono Organics CBD 325. Should Larson pull off a doubleheader weekend by taking the checkered flag in Sunday's Pocono Mountains 350, he'd stand alone.
Who has the most consecutive NASCAR wins?
Who won the most consecutive races on NASCAR's Cup Series is a more complicated question than it would appear at first glance. NASCAR shortened its schedule from 48 races to 31 in 1972, launching what is known as its "modern era." That means there are two recognized record holders for the most consecutive wins on the Cup Series.
Richard Petty won 10 races in a row in 1967, a standard that will likely stand alone. Petty, not coincidentally, is NASCAR's all-time leader with 200 wins overall and was the first to win seven championships. Dale Earnhardt and Jimmie Johnson have since matched that record.
Johnson carved his niche in the history books with an unprecedented five championships in a row from 2006–10. He also is one of the drivers who share the modern-era record Kyle Larson is chasing.
With a win in the Pocono Organics CBD 325, Kyle Larson enters a select group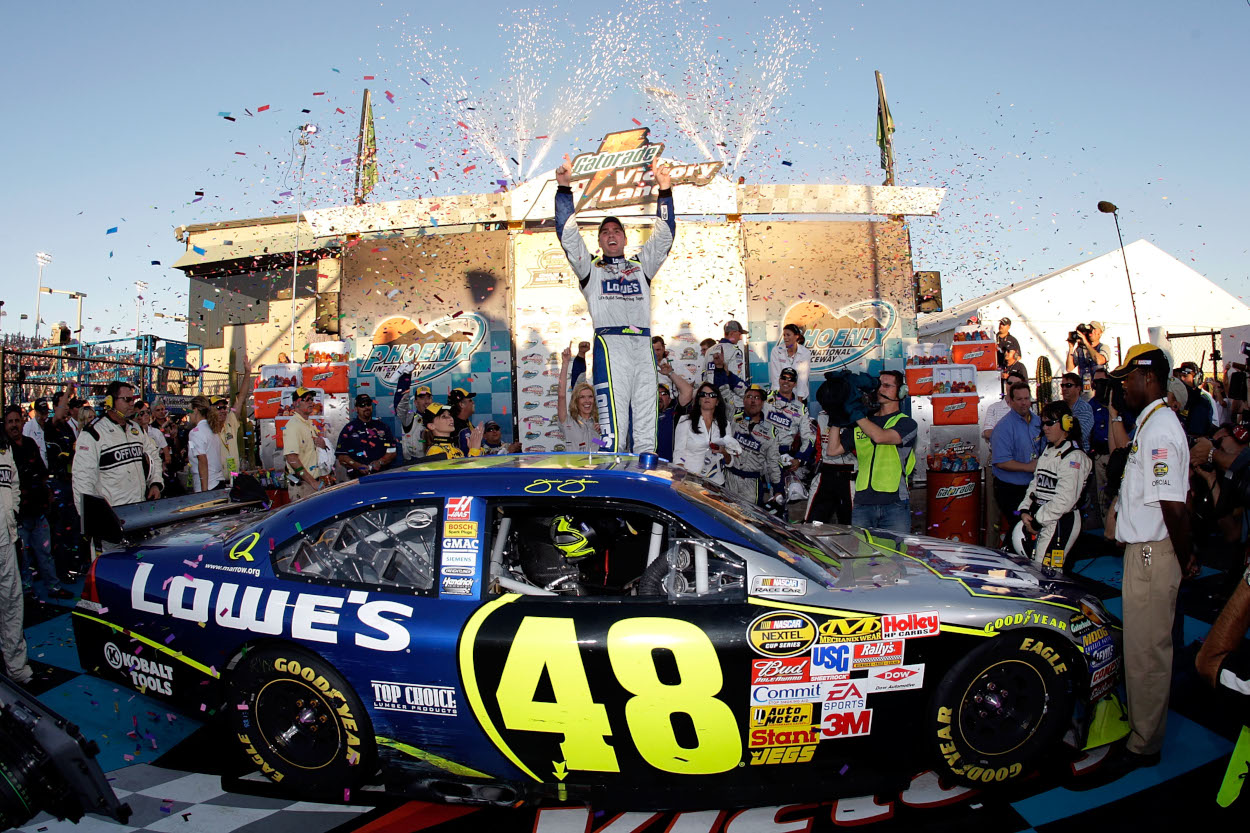 Kyle Larson sped to victory at the prestigious Coca-Cola 600 at Charlotte on May 30 and followed it up with a win at Sonoma in the Toyota Save Mart 350. That is an impressive double; Larson went from an oval to a road course and won both within seven days.
After NASCAR's All-Star Weekend at Texas Motor Speedway, Larson got back to business by winning the first Cup Series race in Nashville since 1984. His victory at the Ally 400 got him to three straight wins.
A win Saturday makes Larson just the ninth driver to win four straight races on the NASCAR Cup Series and the second since the turn of the century. Johnson is the last driver to pull off a quadruple, winning at Martinsville, Atlanta, Texas, and Phoenix en route to his second Cup championship in 2007.
The first modern-era driver to win four straight was Cale Yarborough in 1976. He fueled his push to a Cup with his consecutive wins at Richmond, Dover, Martinsville, and North Wilkesboro.
The other drivers to pull off the feat include:
Darrell Waltrip, 1981 (Martinsville, North Wilkesboro, Charlotte, Rockingham)
Dale Earnhardt, 1987 (Darlington, North Wilkesboro, Bristol, Martinsville)
Harry Gant, 1991 (Darlington, Richmond, Dover, Martinsville)
Bill Elliott, 1992 (Rockingham, Richmond, Atlanta, Darlington)
Mark Martin, 1993 (Watkins Glen, Michigan, Bristol, Darlington)
Jeff Gordon, 1998 (Pocono, Indianapolis, Watkins Glen, Michigan)
Besides Johnson and Yarborough, Waltrip, Earnhardt, and Gordon were Cup champions the year they put together four straight race wins.
What are Kyle Larson's chances?
If Kyle Larson is to join the most elite company, he will have to do something he hasn't done in 12 career NASCAR Cup Series starts at Pocono Raceway — win the race.
Larson last raced at Pocono in 2019. His best career finish was in 2018 when he finished behind Martin Truex Jr. in the Pocono 400. Larson has two other top-five finishes at Pocono, finishing fifth in the 2014 Pocono 500 and the 2019 Gander RV 400.
He missed last year's doubleheader at Pocono due to a suspension that cost him most of the 2020 campaign. He was reinstated in October 2020 and has made up for lost time with a terrific first half of the season.
Beyond that, he's also bounced back from his controversial use of a racial slur during an iRacing event. Larson's involvement with a youth racing school for urban kids based in Philadelphia goes back to 2018. When confronted head-on by a former student about his slur use, Larson didn't duck the question.
Kyle Larson rewarded the faith shown in him by Hendrick Motorsports with four wins already this season. A little more than a year removed from an ugly controversy, now he has a chance to join an exclusive club.
Historical data courtesy of NASCAR.com and Racing-Reference.