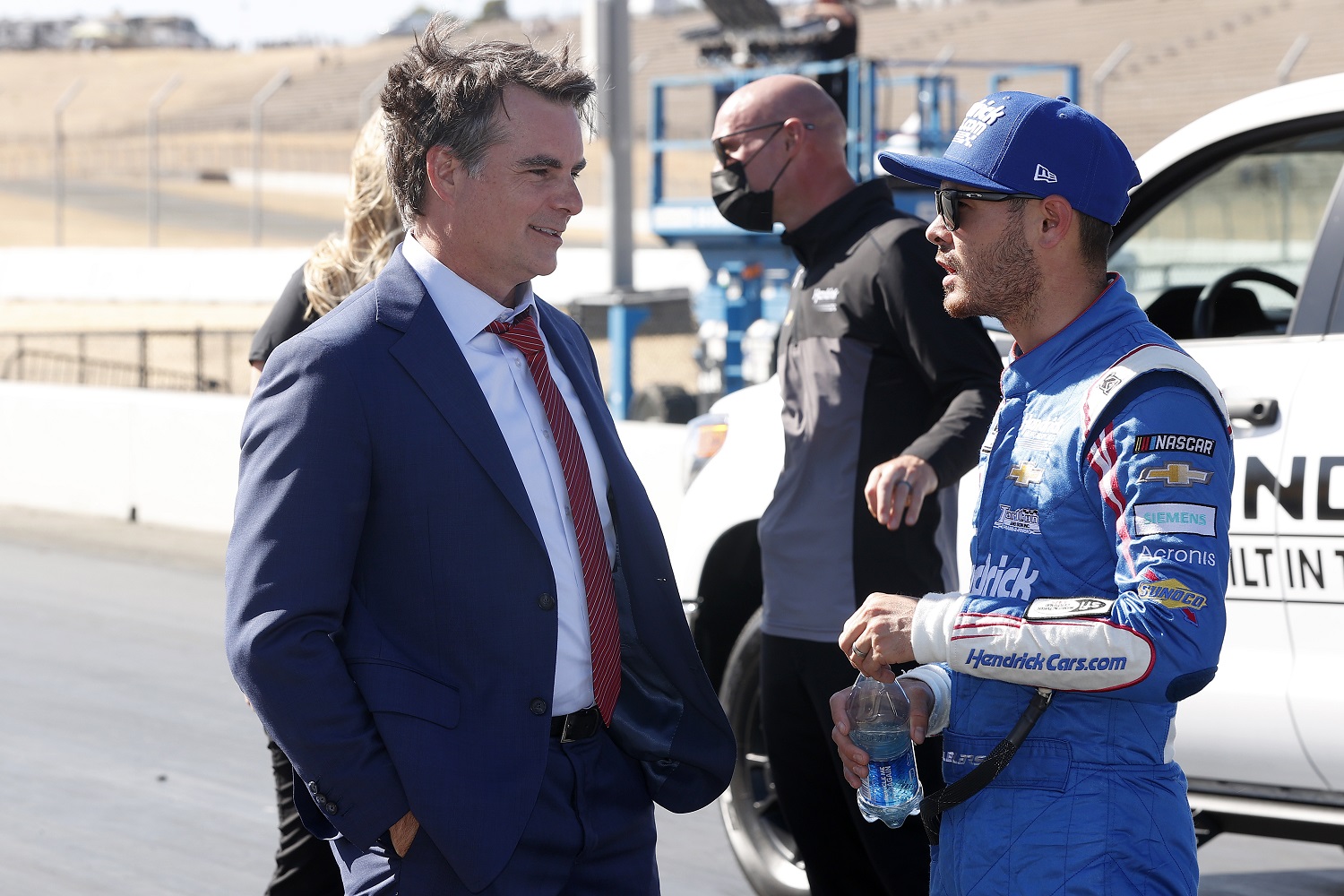 Kyle Larson vs. Jeff Gordon: Who Was More Dominant Over Half a Season?
The start of Jeff Gordon's 1998 NASCAR Cup Series season was remarkably similar to how Kyle Larson has performed midway through 2021.
Two words strike fear into NASCAR Cup Series teams this season: "Kyle Larson," though "Hendrick Motorsports" is also in the running.
"It feels like running second to the Hendrick cars right now is an accomplishment," Brad Keselowski said after his own strong showing at the recent All-Star Race. "They are just stupid fast. I had (Larson) off turn 4 but they just have so much speed. He just motored right back by me. (I'm) like, 'Damn!'"
Larson pieced together a commendable start to the season. His work since has been nothing short of spectacular, drawing comparisons to what Jeff Gordon accomplished in 1998.
Jeff Gordon's 1998 NASCAR season started impressively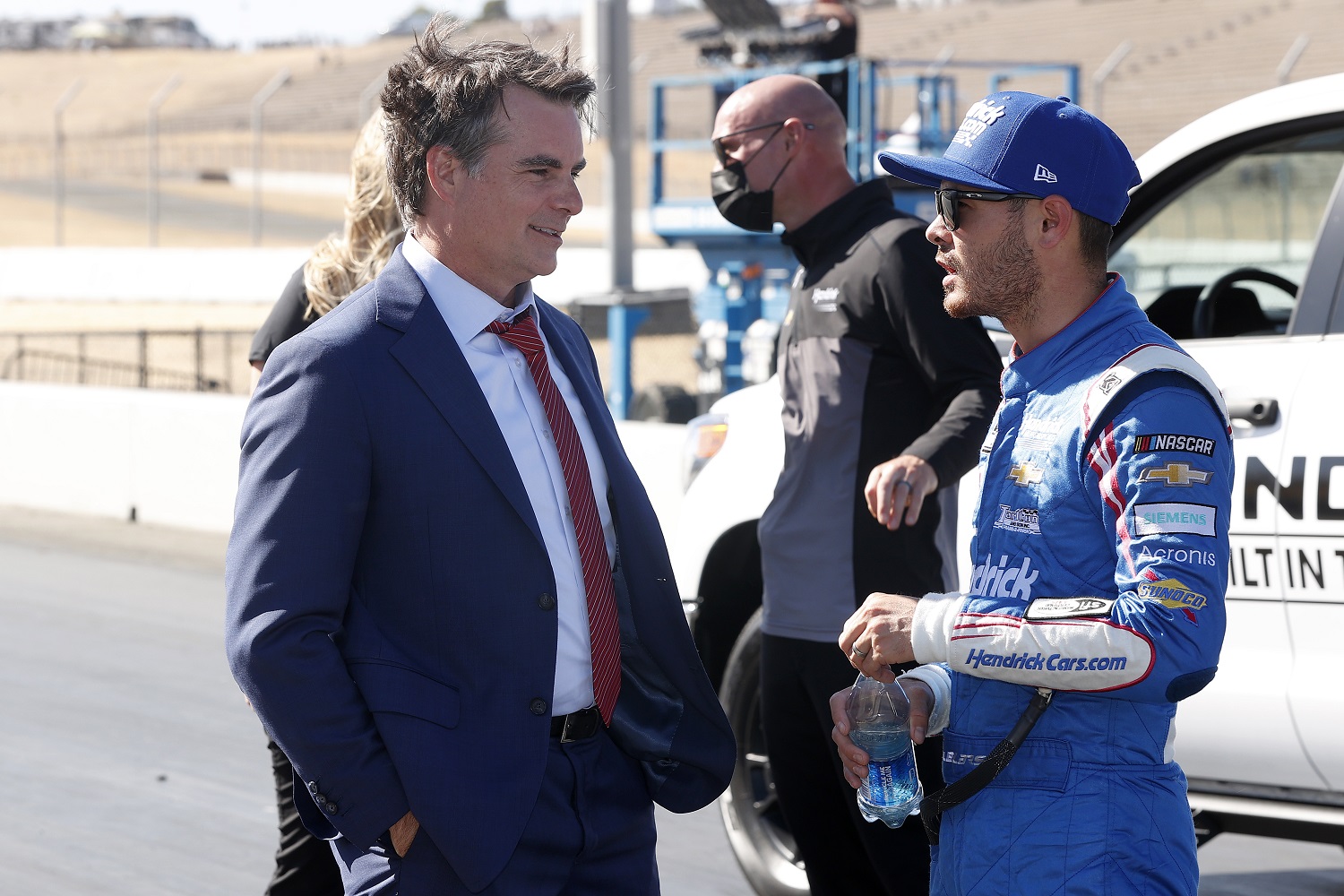 Dale Earnhardt and Darrell Waltrip made good runs at it in the interim, but it took until Gordon in 1998 to match Richard Petty's 13 victories in the 1975 season. That wasn't remotely close to Petty's NASCAR Cup Series record (27 in 1971) but was still a dominant body of work.
Larson's resume as NASCAR reaches the midpoint of its 2021 schedule has revived memories of Gordon's big season and caused observers to make comparisons. The numbers are eerily similar for the moment. Here's what we're talking about:
The 2021 NASCAR Cup Series schedule hits its midpoint this weekend at Pocono. Through 17 points races, Larson has won points races, finished in the top 10 a dozen times, and landed outside the top 30 twice.
Here's how Gordon's record looked through 17 races in 1998 as part of the Hendrick Motorsports team: Four victories, a dozen finishes in the top 10, and two finishes outside the top 30.
You can't get any closer than that. That makes Gordon vs. Larson a draw.
Here's why Larson needs a spectacular finish to the season
Comparing the first half of Larson's current season to how Gordon started in 1998 is interesting. Still, it ignores the real story of that magic year and explains why a better Larson-Gordon comparison is in order.
Gordon and his No. 24 Chevy went on a tear to open the homestretch that season. Beginning with his 18th race, the Pennsylvania 500 at Pocono, he won six times in seven starts, with a fifth-place finish at Bristol thrown in.
Gordon followed up with three straight second-place showings, and he won three more times late in the season. He finished the year with 13 checkered flags and the third of his four season championships.
Larson is on a run comparable to Gordon's midseason rampage. Beginning with Darlington, he placed second three races in a row. Then, he triumphed at Charlotte, Sonoma, and Nashville. Throw in the All-Star Race, which doesn't count in the points standings, and he has finished first his last four times out.
Gordon won 10 of the final 18 points races back in '98. Larson would have to win nine of the last 19 to match his 13 victories. As good as the 28-year-old California native is, winning that often is a tall task – and it wouldn't necessarily hand him the season title that teammate Chase Elliott earned in 2020.
Kyle Larson does have one interesting advantage over Jeff Gordon
Though Gordon won 13 races in a season, it's not as though he was invincible in all those races. Gordon led a seemingly impossible 375 of 400 laps at Dover but still placed third. Only two victories came in races that he led for more than 100 laps.
Larson has already finished second twice in races that he led for more than 260 laps apiece. But two of his recent victories have been at Charlotte, where he led for 327 out of 400 laps, and Nashville, where he held the lead for 264 out of 300.
Those were pulverizing performances that left no doubt which team had the better car and driver.
With half a season to go, Larson has already led 1,426 laps. Gordon's total for the entire 1998 schedule was only 1,717. With the way he's been running, Larson could blow past that total by the July 4 weekend.
In doing so, he would add another dimension to the question of which driver had the better season.
All stats courtesy of Racing Reference.