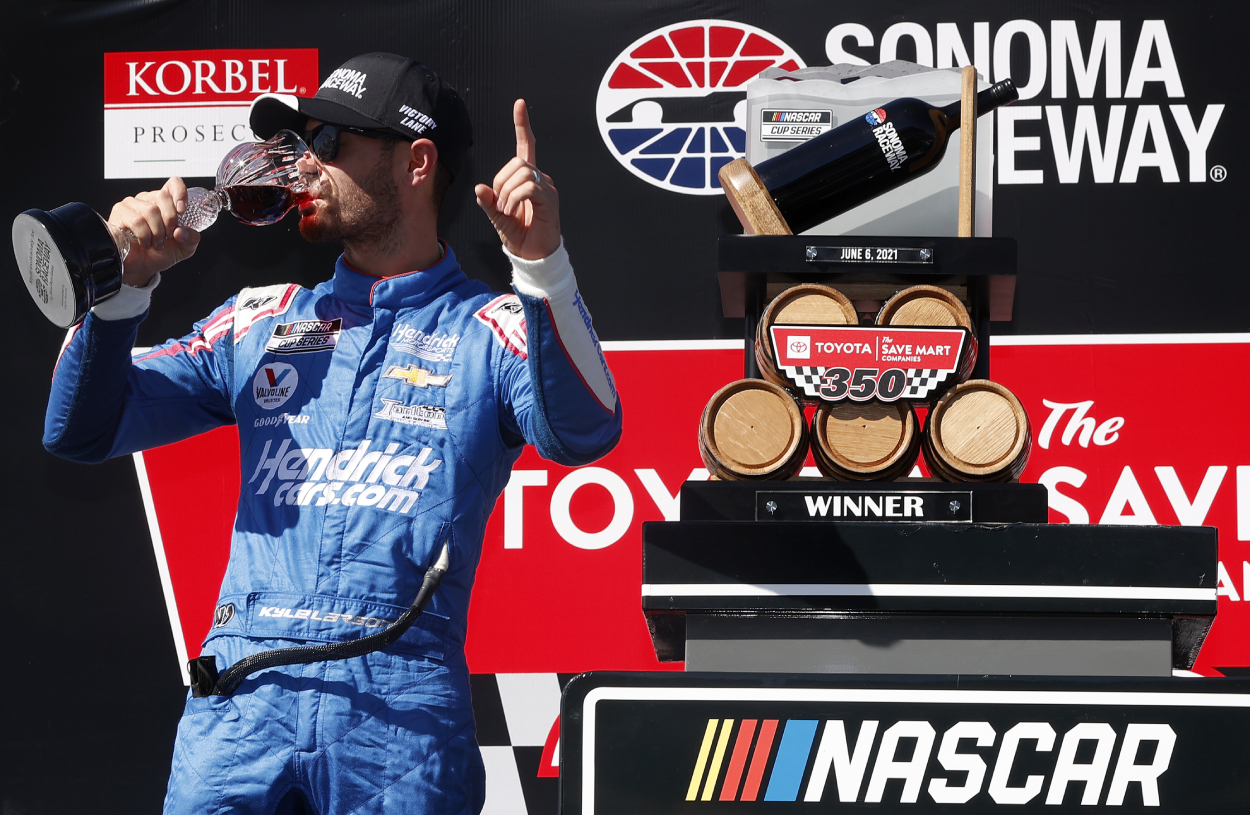 Kyle Larson Viewed as Hero, Not Racist, to Urban Youth Racing School Students
Kyle Larson is red hot, winning his last two NASCAR races.
In April of 2020, Kyle Larson screwed up. He used a racial slur during an iRacing event and paid the price. Chip Ganassi Racing fired him and he lost his relationship with Chevrolet. Larson earned a suspension from NASCAR, which also forced him to take sensitivity training. Students at the Urban Youth Racing School in Philadelphia, however, see another side of Larson.
Kyle Larson bouncing back after his NASCAR suspension
With one word, Larson's life changed. He was fired and was unable to participate in NASCAR races for seven months due to his suspension. He immediately took to Twitter and issued an apology, saying in part "I made a mistake and said the word that should never, ever be said and there's no excuse for that."
Chip Ganassi Racing severed ties with Larson, issuing a statement two days after he used the slur. "After much consideration, Chip Ganassi Racing has determined that it will end its relationship with driver Kyle Larson," the company wrote. "As we said before, the comments that Kyle made were both offensive and unacceptable especially given the values of our organization. As we continued to evaluate the situation with all the relevant parties, it became obvious that this was the only appropriate course of action to take."
Larson applied for reinstatement in October. NASCAR reinstated him effective Jan. 1, 2021. Hendrick Motorsports signed Larson to a deal. In his fourth start with his new team, he captured a Cup Series win at Las Vegas. He claimed his second win of the season at the Coca Cola 600 and then won for the second straight week, capturing the Toyota/Save Mart 350 at Sonoma.
Kyle Larson making a huge impact with Urban Youth Racing School students
While Larson has been winning on the tracks, he's had a lot of success off them as well. Philadelphia's Urban Youth Racing School was founded in 1998 to introduce minority students to motorsports. Larson's connection to the school dates back to 2018 and he's been a favorite of the students ever since. He's also been available to them.
"When I tell you (Larson) is intimately involved in the school, he is intimately involved in the racing school," Anthony Martin, the school's founder, said to NBC Sports.
When a student at the school was recently having some trouble with his lap times on one of the school's simulators, the school called Larson. "He picked the phone right up," Martin said. "Kyle talked to him about how to negotiate the turns at that particular track."
Larson has donated two simulators to the school. He interacts with students through Zoom calls. "The students absolutely love him," Martin said. "A lot of the urban, inner-city kids are into basketball and football and things like that. So we equate (Larson speaking to the them) almost like a James Harden or a LeBron James. The fact that we can pick up the phone and call Kyle and he'll answer the phone and answer the questions, that's very, very powerful."
Students see Larson as a hero or mentor, not a racist
Jysir Fisher, a graduate of the Urban Youth Racing School was crushed when he learned of Larson's racial slur. "When it happened, and it just had me thinking, like, as an African American male… a lot of people in America see me as that word," Fisher said to CBS News. "And, like, for somebody like him to say that, it was, like, nothing less than heartbreaking."
"When this happened, Kyle came to the racing school and Jysir Fisher came in to meet with him," Martin said. "Jysir Fisher asked Kyle straight forward, 'Why did you say it?'" That started a dialogue between the two which gave Fisher "reassurance" he could "still look up to (Larson) and trust him."
Martin believes Larson is looked at as a mentor or a hero, not a racist, by his students. "I don't think they looked at Kyle as a potential racist," Martin said. "I didn't get that from one student here at the racing school. Because of the culture we're in, the music and things like that, I think that because Kyle — of him working with them and seeing how accessible that he was — I think they knew he made a mistake. I think that they were accepting he made a mistake."
Martin said Larson will continue his work with the school. He already has plans to take part in a go-kart fund-raiser in August.