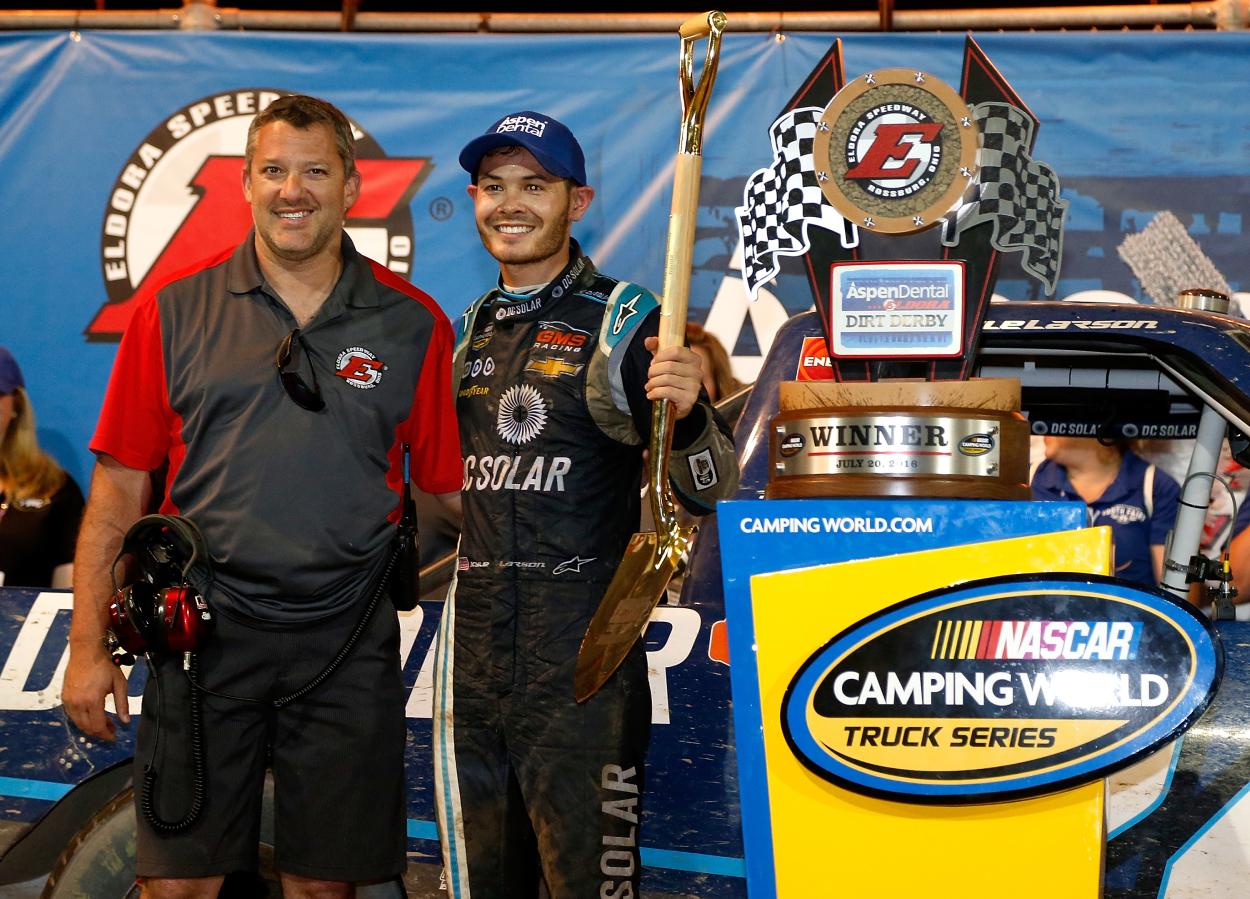 NASCAR Legend Tony Stewart Makes Shocking Statement About Kyle Larson
How good is Kyle Larson? Tony Stewart had a surprising comment about the young star.
Tony Stewart is one of the best and most versatile drivers in the motorsports world. He's a NASCAR Hall of Famer (Class of 2020) and has claimed three Cup Series titles. He's also an IRL IndyCar champion, winning in 1997. Kyle Larson is 28 years old and one of the hottest NASCAR drivers today, even after sitting seven months after being suspended for using a racial slur in April of 2020. He bounced back nicely this year, and Stewart recently stunned many with his comment about the young star.
How good was Tony Stewart?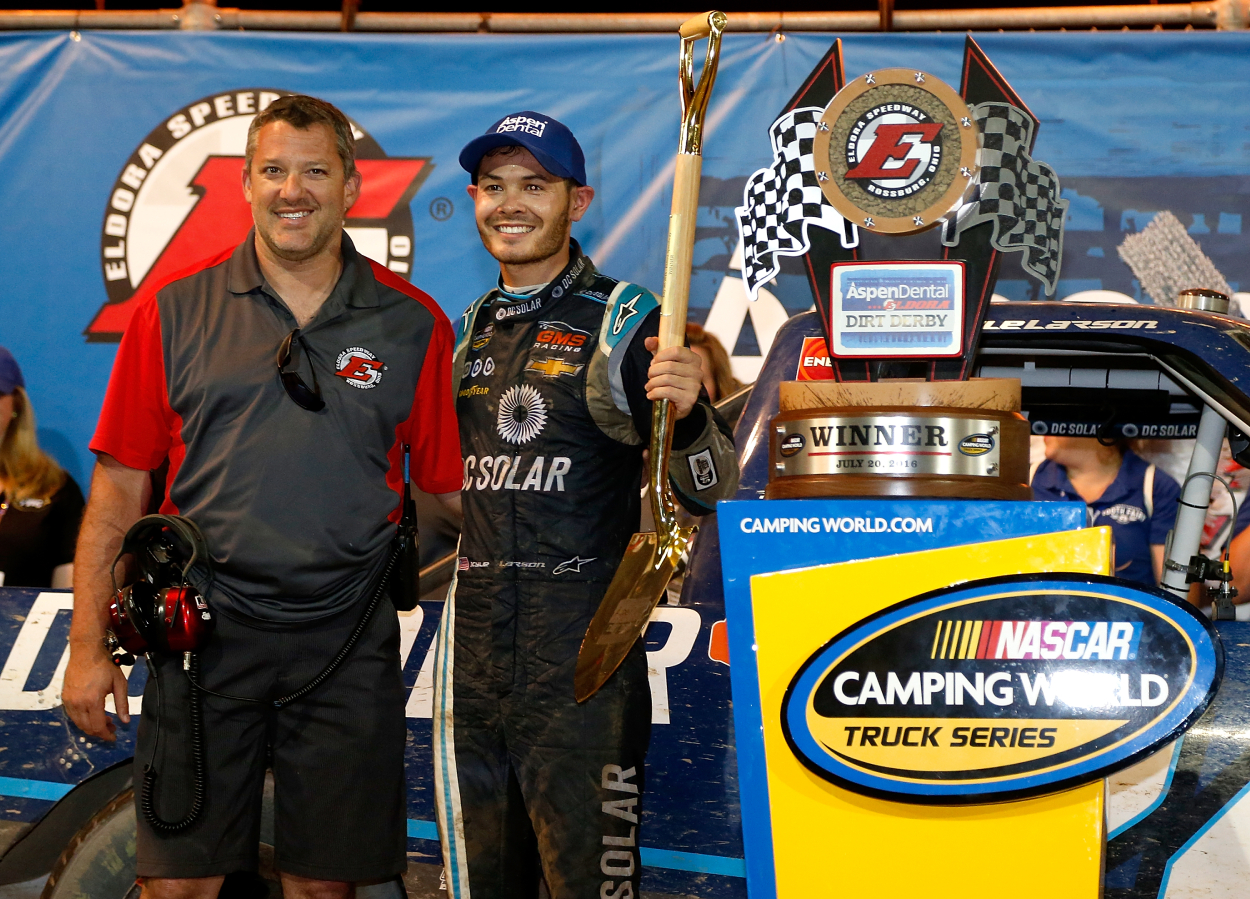 It didn't matter what type of car Stewart was driving. He was a winner. He's put together quite the extensive racing resume that led to multiple championships and several Hall-of-Fame inductions.
In 1985, while racing in the United States Auto Club series, Stewart earned championships in all three of the USAC's major divisions – National Midget, Sprint, and Silver Crown. Two years later, he was the IndyCar champion.
Stewart began his NASCAR Cup Series career in 1999 and won the first of his three championships in 2002, narrowly defeating Mark Martin. He earned two more titles in 2005 and 2011. He finished his Cup Series career with 49 victories and 308 top-10 finishes.
Stewart is a member of four different Halls of Fame. He was inducted into the National Midget Auto Racing Hall of Fame in 2001. In 2018, he was inducted into the Indianapolis Motor Speedway Hall of fame, followed by the Motorsports Hall of Fame in 2019 and the NASCAR Hall of Fame in 2020.
Stewart makes stunning comment about Kyle Larson
Stewart is considered one of the best all-around drivers ever. He shocked many racing fans with his comment during a pre-race show for the Dirt Late Model Dream at Eldora Speedway. He was asked if Larson was the greatest raw talent since he raced.
"Kyle Larson is better than I was," Stewart said, according to Autoweek. "I honestly believe that."
Stewart elaborated on his statement.
"I remember watching him during the first time he ran the 4-Crown Nationals, and won all three races, in his first time racing here," he said. "This isn't the easiest place to come to for your first time and for him to take a Midget, and a Sprint car, and a Silver Crown and just dominate in the fashion that he did."
Larson is the hottest NASCAR driver at the moment
There's nobody hotter in NASCAR than Larson at the moment. He won the last two Cup Series races, giving him three this year. This comes after missing seven months of racing when NASCAR suspended him for using a racial slur during an iRacing event in April of 2020. He bounced back with Hendrick Motorsports after Chip Ganassi Racing severed ties with him.
Larson not only hasn't missed a beat but he's gotten better. He won his fourth start with Hendrick and hasn't looked back. Stewart said it doesn't matter what type of car Larson drives. He'll figure things out and find a way to win.
"To see him come here in a Winged Sprint Car and now a Late Model, anything he gets in, he wins in," Stewart said. "The incredible thing about Kyle is that most drivers have to really think about what they're doing as they do it. Kyle? He's plug and play, man. You just plug him in the car, send him off, and he'll figure it out very naturally.
"In an era where technology is better, the competition is much closer than it's ever been, and for him to dominate in so many different cars, that's hard to do."
But is he really better than Stewart? The man said so himself, so it has to be true.