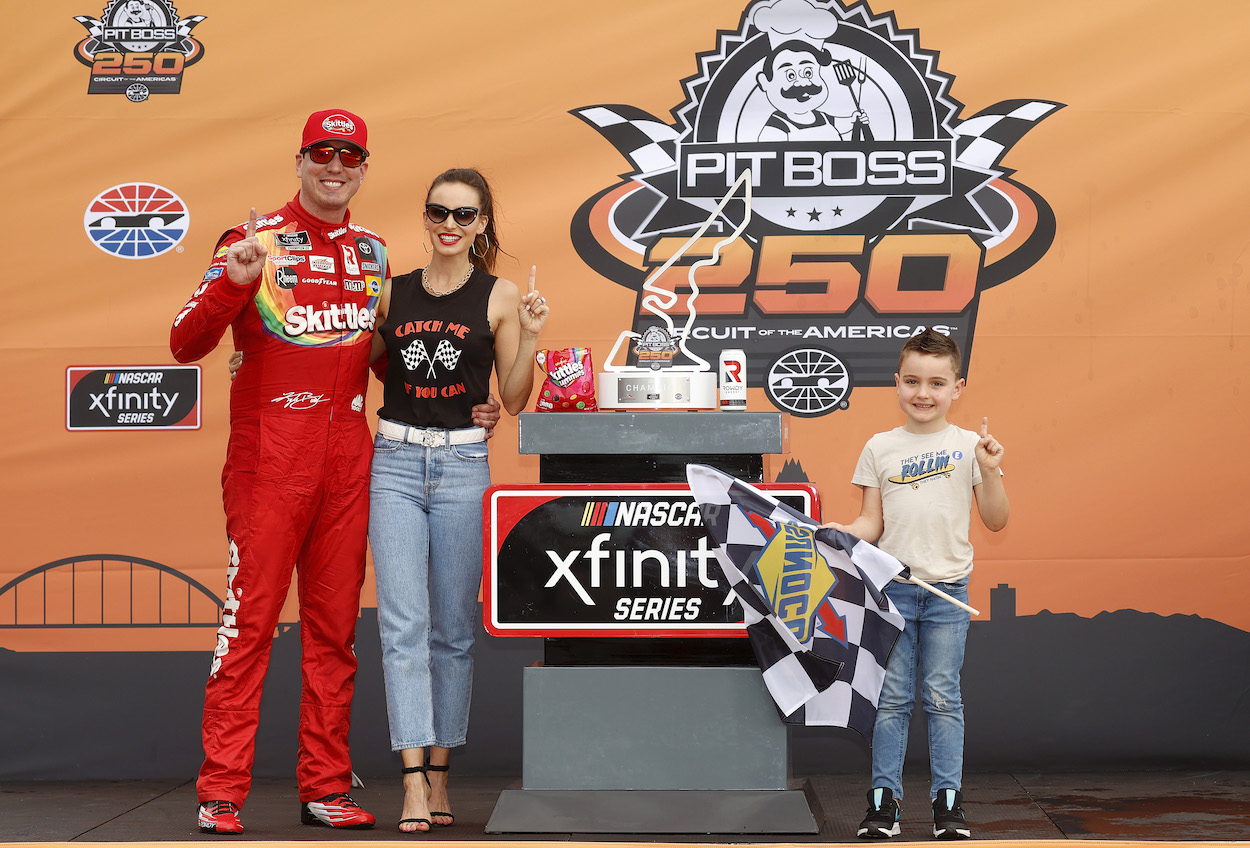 Kyle Busch's Son Brexton Following in Father's Footsteps and Already Impressing Others, Including Dale Earnhardt Jr.
Kyle Busch's son Brexton has impressed in his young career and one day could end up racing against his father.
Kyle Busch is destined for the NASCAR Hall of Fame whenever he retires. He's already in the top 10 for all-time career Cup Series wins with 59. He holds the Xfinity Series record with 101 victories. Now 36, if he races for a dozen or more years, Kyle Busch might just find himself racing against his son Brexton, who is already impressing on the track at the young age of six.
Kyle Busch launches son's racing career
Kyle Busch began driving at age six in a makeshift go-kart in the cul-de-sac by his house. So it comes as no surprise that Busch introduced his son to racing at a similar age.
Last year, five-year-old Brexton Busch made his debut in the Beginner Box Stock car series, which features young drivers ages 5 to 8. It didn't take long before he found himself in his father's familiar territory and victory lane. His father was understandably proud.  
"What a great family night at the track! @brextonbusch won his first race So proud of him!" Busch tweeted.
The youngster has replicated that effort multiple times since, including his most recent race on Saturday. While his father was winning the Xfinity Series race at Road America, Brexton won his race at Millbridge Speedway in North Carolina.  
Landed big sponsors and races top equipment
As one of the top drivers in the NASCAR Cup Series as well as one of the most successful team owners in the Truck Series, Kyle Busch knows what it takes to win. And he's providing his son with all the tools on and off the track to do just that.
If anyone doubted how serious Busch was about his son competing, it didn't take long to figure out when Brexton landed two big sponsors right out of the gate. Within months after starting his career, the younger Busch had SERVPRO and Far Out Toys as co-primary sponsors of his No. 18b kart.  
And as any race car driver will tell you, sponsorship money expands a driver's toolbox. For the younger Busch, that means, in addition to having a teacher who is one of the best drivers in the business, he also drives the best equipment.  
Clint Bowyer, whose son Cash competes against Brexton, joked about Busch's setup and the tools he has at his disposal on a recent episode of the Dale Jr. Download.
"This Kyle has more s— on his kart. Telemetry. Throttle. Brakes. The whole thing," Bowyer said laughing. "They're in there, like an engineer already. I'm like, 'Kyle, what are you doing, man?' Damn, he's lifting. Look at this data right here. This data? This kid is six." 
Kyle Busch's son impressed Dale Earnhardt Jr.
Kyle Busch is active on social media. So is Brexton. He keeps his fans up to date on Instagram, which currently has more than 38,000 followers.
While it's easy to criticize the younger Busch for having a presence on social media at all, not to mention his equipment, Dale Earnhardt Jr. said it's obvious the kid has talent. 
"I went two weeks ago and Brexton ran and I texted Kyle and went, 'Dude! He's damn good.' He run good," Earnhardt told Bowyer. 
A dozen years from now Brexton Busch will be 18, the minimum age to race in NASCAR. If he continues on his current trajectory and his father hangs around long enough, they could find themselves racing against each other. And for the elder Busch, despite all of his many achievements, that would easily be one of the highlights of his Hall of Fame career. 
Like Sportscasting on Facebook. Follow us on Twitter @sportscasting19.