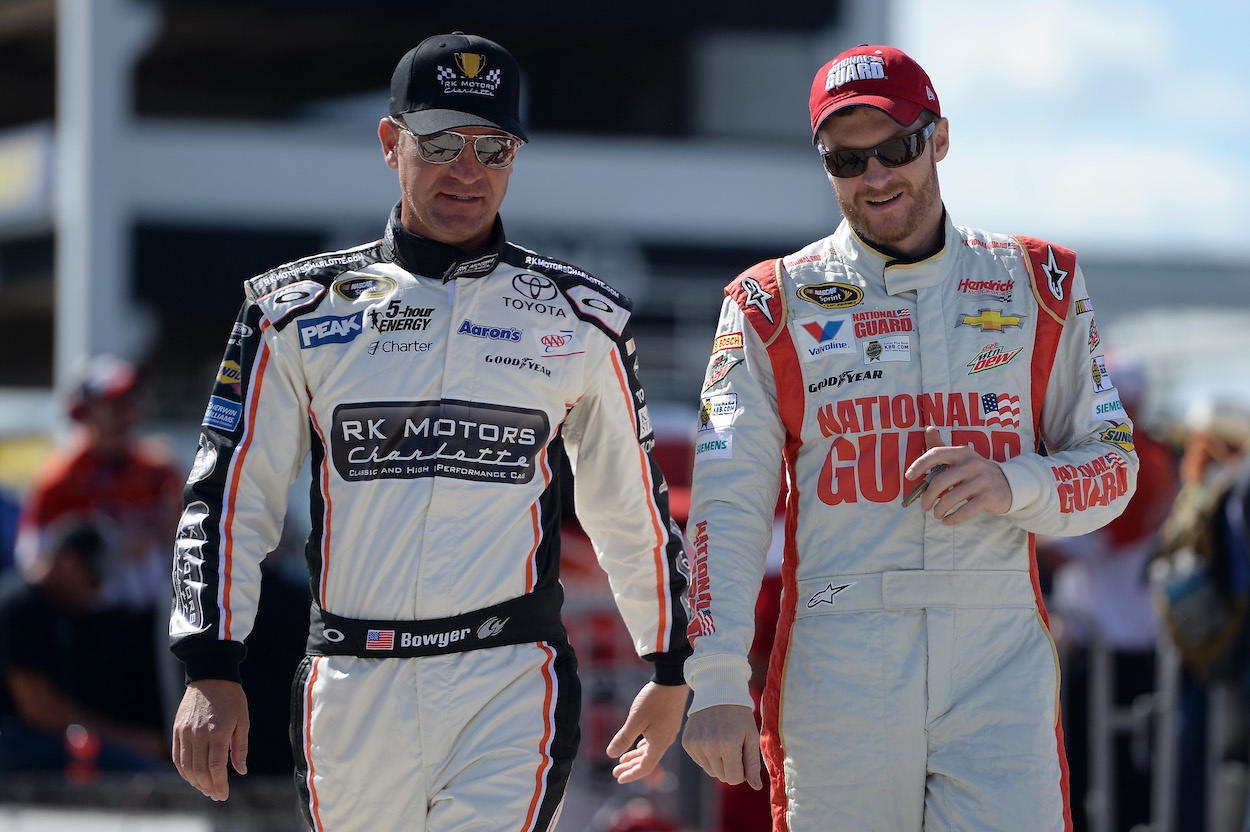 Clint Bowyer Candidly Admits Fox Made Mistake Snubbing Dale Earnhardt Jr. When He Paced the Field in Dad's Nova During Throwback Weekend at Darlington
Clint Bowyer admitted to Dale Earnhardt Jr. on the Dale Jr. Download that Fox made a mistake not showing Earnhardt drive his dad's Chevy Nova during the pace laps at Darlington.
Clint Bowyer was the butt of many jokes during his first year working with Fox and its coverage of the NASCAR Cup Series. The rookie broadcaster also made more than his share of on-air blunders. Check out any footage of Bowyer attempting to pronounce Matt DiBenedetto for a good laugh. 
On the latest episode of the Dale Jr. Download, Bowyer talked about his first year with Fox, including one mistake the network made during the Xfinity Series race at Darlington. It was during that broadcast when the network barely showed Dale Earnhardt Jr. pacing the field in his dad's restored Chevy Nova — something he had worked on for years and had been promoting for months. 
The fans and many in Earnhardt's camp weren't happy and let Fox know about it on social media. According to Bowyer, they were heard loud and clear. 
Clint Bowyer entertaining with Jeff Gordon during first year at Fox
Clint Bowyer working with Jeff Gordon in the broadcast booth had built-in storylines from the start. The pair's feud back in 2012, along with the huge disparity in wins between the two, regularly made its way into the weekly skits featuring the two former drivers.
Starting at the season opener in Daytona, Gordon and Bowyer raced around the road course in a pair of rental cars, a la Days of Thunder. The two also traveled to Las Vegas, where they had a few too many drinks and shared their true feelings from the past about one another.
In addition to the prerace skits, the two provided interesting perspectives during the races, frequently taking countering viewpoints. Mixed in with the race commentary, the former drivers would regularly take shots at each other — Gordon making fun of Bowyer's number of wins while Bowyer mocked Gordon's poor vision and age. And it worked.
Dale Earnhardt Jr. gets snubbed by Fox
In June 2019, Dale Earnhardt Jr. started documenting the restoration of his father's Chevrolet Nova racer on social media. In March of this year, he announced after all the hard work, he would be pacing the field before the Xfinity Series race at Darlington on Throwback Weekend. 
From the time of his March announcement until the race, Earnhardt regularly promoted his appearance at Darlington on his podcast. On the day of the race, Earnhardt fans tuned in to FS1 to watch him drive the car and lead the Xfinity Series field around the track. It was a disappointment, to say the least, as the broadcast showed just a couple of quick shots of Earnhardt and the Nova but never offered any details on the backstory.
After the race, Kelley Earnhardt-Miller took to Twitter and voiced the disappointment of many fans. 
"I want to clarify that I appreciate pre race @NASCARONFOX for talking about Dale and the car," she tweeted. "My whole disappointment was not actually seeing it on television since they never showed it. That's it. I wanted to actually see it happen on TV!"
Earnhardt's longtime business partner and podcast co-host Mike Davis called out FS1 as well:
"Let's give TV a break. Hard to see Dale Earnhardt's big, black, shiny, silver-and-black, trimmed-out, bulky Chevrolet Nova leading the field on a beautiful, clear, sunny throwback-themed weekend." 
Clint Bowyer admits Fox messed up not covering Earnhardt at Darlington
During Clint Bowyer's recent appearance on the Dale Jr. Download, Davis brought up the subject of armchair quarterbacks who criticize a broadcast and admitted that he and others in the Earnhardt camp were openly critical of Fox's coverage at Darlington. 
"I saw her (Kelley) tweet something, and I looked at it, and I was like, 'She's right. Why didn't we do that?'" Bowyer admitted. He said that he immediately called the producer of the broadcast, who explained that they had featured Earnhardt on the prerace before the broadcast and "thought we had done a good job." 
"People miss the ball every now and then," Bowyer acknowledged. "They thought they did good and was really excited about it. And you get back and you're like, 'Oh no! We didn't mean to do that.' You do miss every now and then and you're focused on something else."
While Fox missed on that Saturday in Darlington, it didn't miss in hiring Bowyer. His work, despite his blunders, is entertaining. And that's why fans tune in every weekend.
Like Sportscasting on Facebook. Follow us on Twitter @sportscasting19.