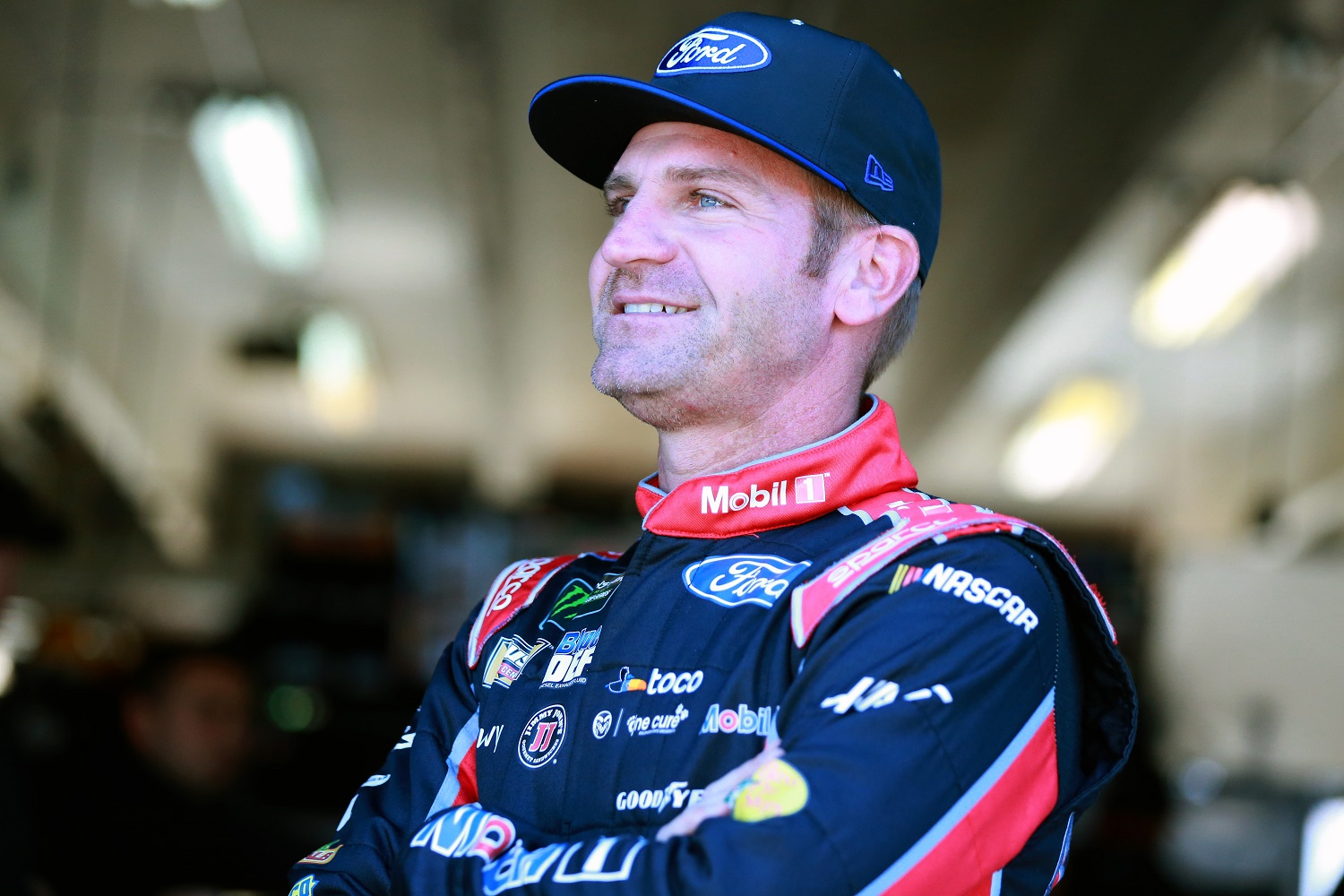 Clint Bowyer Quit NASCAR Just in Time to Dodge a Disaster
Clint Bowyer is grateful to be analyzing races for Fox Sports this season rather than continuing at Stewart-Haas Racing, which is experiencing a frustrating season.
With his first season of broadcasting officially in the books once the checkered flag comes down on the NASCAR All-Star Race, Clint Bowyer can put his first year as a former driver in the win column.
Bowyer joined the Fox Sports broadcast booth this season alongside Jeff Gordon and Mike Joy, earning favorable reviews for his analysis of Cup Series races. He brought insight and humor to telecasts while going through a bit of withdrawal after 15 years as a full-time driver in NASCAR's top series.
Luckily for him, he got the urge to move into TV work last fall.
Clint Bowyer walked away from Stewart-Haas Racing just in time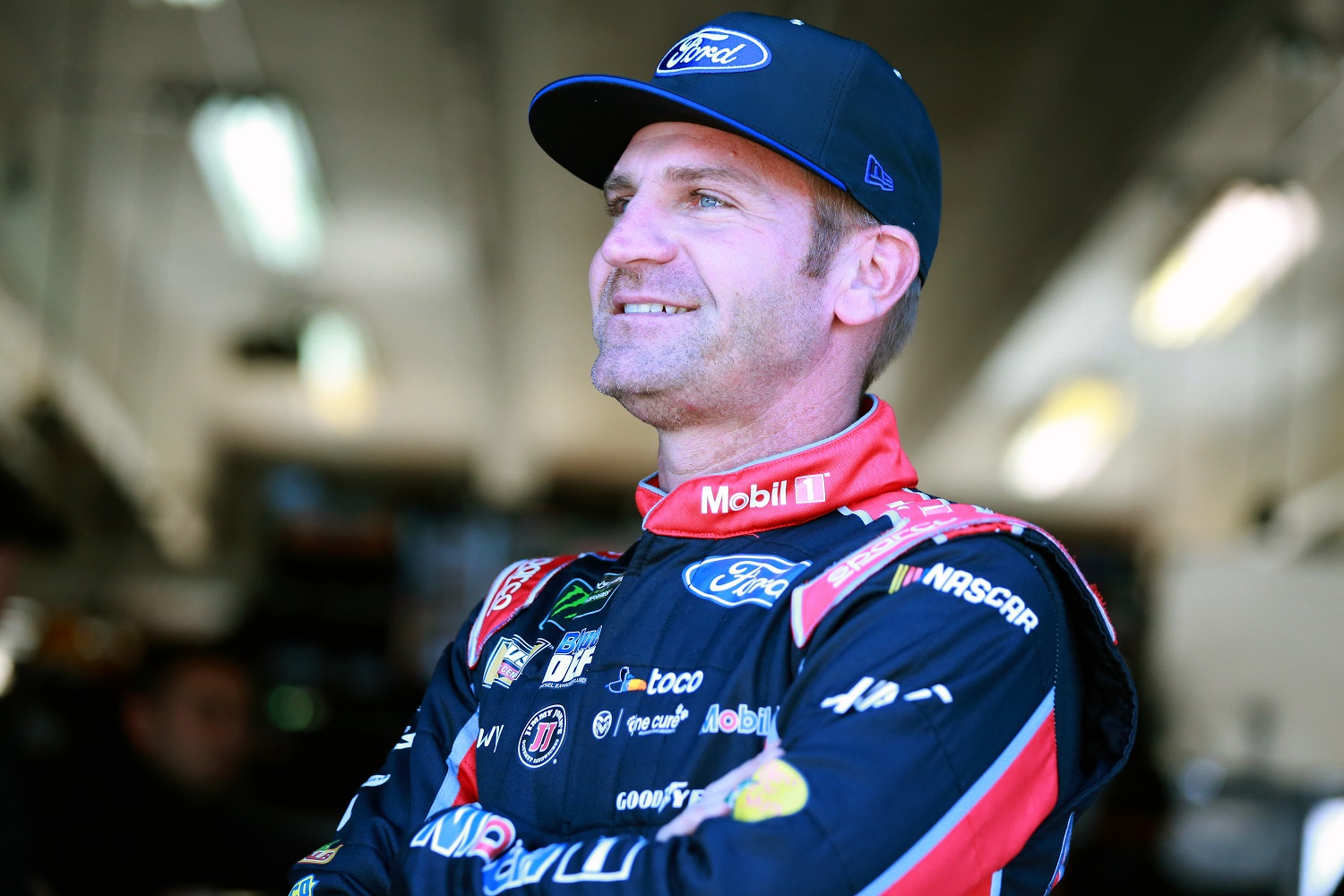 Bowyer didn't set the racing world on fire in the NASCAR Cup Series, but he did win 10 races and finish in the top five another 72 times. He spent his last four seasons driving for Stewart-Haas Racing, winning twice in 2018.
Bowyer placed 18th, 12th, ninth, and 12th in the driver standings with SHR. Those numbers aren't great, but they would qualify him as the Tom Brady (or at least Peyton Manning) of his old team right about now.
Kevin Harvick has registered four top-five finishes in 2021 to sit ninth in the points standings, potentially positioning him for the NASCAR playoffs in the final 10 weeks of the season. However, Chase Briscoe is 26th, Cole Custer 27th, and Aric Almirola 28th in points. Combined, the three have posted four top-10 finishes but none in the top five.
If Bowyer had any thoughts about climbing back in a car, those numbers put an end to the idea.
"Looking over my shoulder and seeing how bad those Stewart-Haas cars are running this year, that's certainly helped. I don't mean that negatively; I'm just telling the truth," Bowyer told NASCAR.com. "I would have been miserable if I was in that car this year.
"I was already not running the way I wanted to, and we made the playoffs and had a little bit of fun. But running for 25th every week, I would have been completely miserable."
Still, Bowyer could have been competitive if he stayed
As horrible as the season has been for Stewart-Haas Racing, Bowyer likely could have squeezed more out of the No. 14 Ford than Briscoe has managed as his replacement.
Bowyer finished eighth and 10th in the two road-course races a year ago, continuing a history of success away from the ovals. The Cup Series has already visited three road courses this season and will go to four more before the end of the year. Given his history, those could all have been top-10 showings for Bowyer.
However, Bowyer traded it in to join Fox Sports, which handles the first half of the NASCAR Cup Series season and then hands off to NBC for the remainder of the schedule.
"I don't care where I'm at right now," Bowyer said. "I love NASCAR. I love the sport. I love the fans and I want to make a difference. If that was in the car, that's what I wanted to do. If that's in the broadcast booth, that's what I wanted to do. I wanted to leave a race track knowing I possibly made a difference in the outcome of something. When you do that, you're already happy."
What does the future hold?
With the Fox Sports NASCAR schedule complete, Bowyer suddenly has five months on his hands during which he doesn't have to remain focused on racing.
"The only thing that scares me now is, we're done here and you've got a second half of the season and I honestly don't know what to do with myself," he admitted. "I've got to figure it out because I've never had time off. I think that sounds fun, but it's going to be short-lived and I'm going to be looking for something to do and something I can make a difference in again."
There has been speculation recently that Gordon, who retired from driving in 2015 and joined the booth in 2016, is ready to move on so that he can focus on responsibilities at Hendrick Motorsports, where he is a part-owner. On the other hand, Joy has been doing play-by-play since 2001.
The Athletic asked Bowyer how long he sees himself working in TV.
"I have no idea," Bowyer admitted. "I think our Fox broadcast is really good, and I think there's a good team behind it. And they got a good game plan going into each weekend and knocking it out of the park. And it seems for the most part people are liking what we're doing and what I'm doing. And as long as that is that that way and you can be an asset to the sport I love, I'll do it as long as people want me to do that. I enjoy it.
It beats battling for 25th place each week in a Stewart-Haas Racing car.
All stats courtesy of Racing Reference.