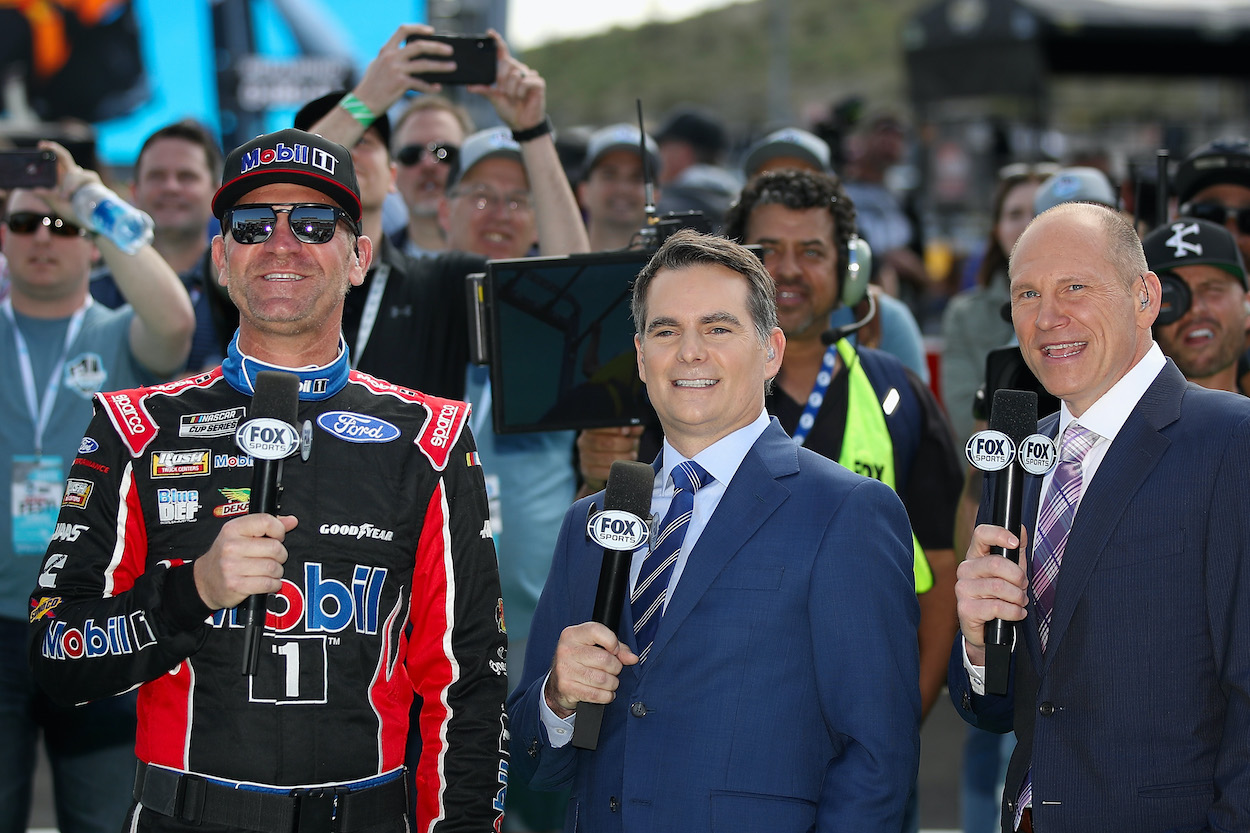 Jeff Gordon's Future Calling NASCAR Races for Fox Reportedly in Serious Doubt
Jeff Gordon has been calling NASCAR races for five years, but he's reportedly considering walking away to focus his time on Hendrick Motorsports.
Jeff Gordon has been a staple of Fox Sports' NASCAR race day coverage since 2016, but he could be walking away from the booth soon to get closer to the action once again. Gordon is reportedly considering a departure from Fox Sports after the 2021 season to pursue a larger role with Hendrick Motorsports, the racing team he already holds an ownership stake in.
Could Sunday's All-Star race be the last we see of Gordon in the broadcast booth?
Jeff Gordon's broadcasting career with Fox Sports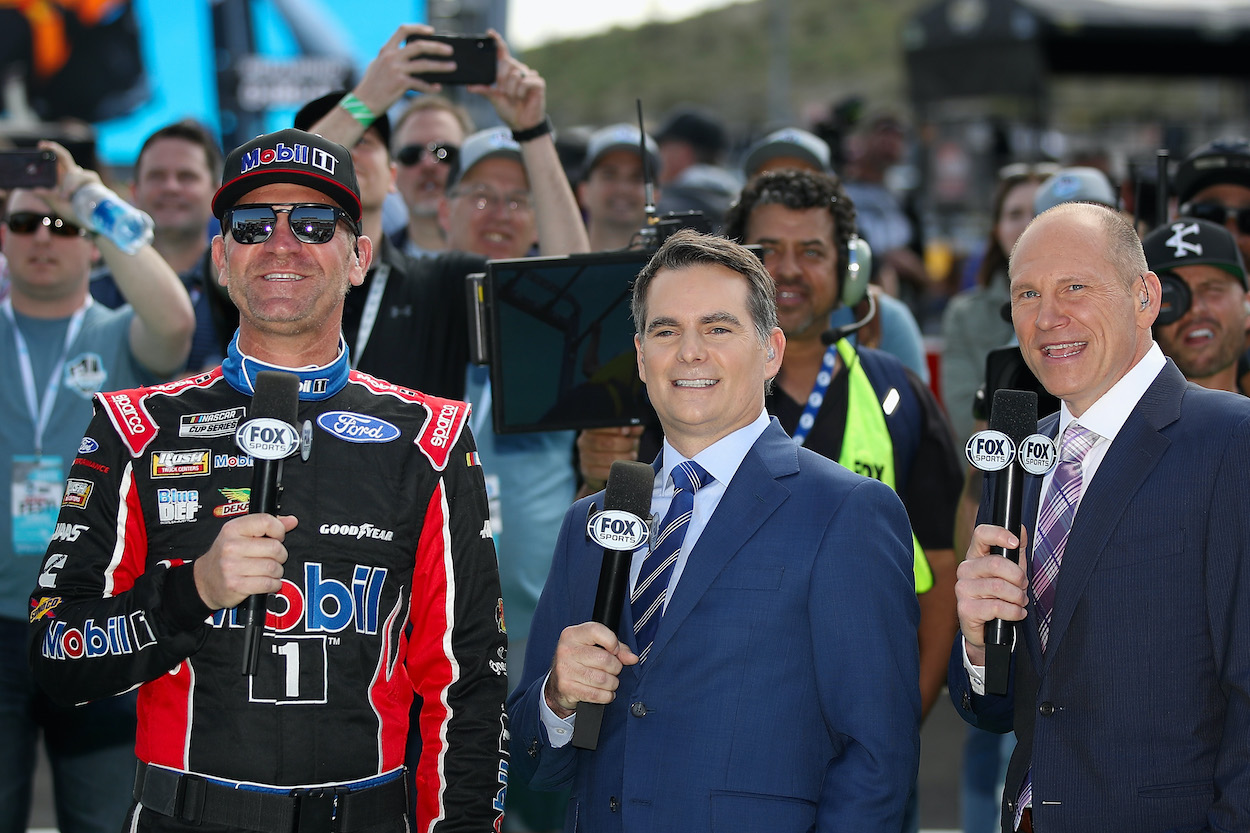 There was no secret as to what Gordon wanted to do with his life after he stepped away from the racetrack. After he retired from the NASCAR Cup Series following the 2015 season, he joined the Fox Sports broadcast booth as a full-time analyst just a year later.
Gordon spent his first few years with Fox Sports calling races alongside Mike Joy and Darrell Waltrip. He immediately fell in love with the rush that comes with the broadcast booth, so he signed a multiyear contract extension with the network in 2019.
"It was a no-brainer for me, even more so this time around," Gordon told Jim Utter of Motorsport.com after inking his deal. "The first time, I didn't exactly know what I was getting myself into. I didn't know whether I was going to be any good at it, if I was going to enjoy it.
"I've enjoyed it a lot. I think it's a great transition out of driving the car and what comes along with the competition and the teamwork that goes into being a driver. It's a great transition because you work with a team of people, the competition is probably you yourself and trying to push yourself to get better."
Gordon continued to serve as an analyst alongside Joy for the 2020 season after Waltrip retired. Clint Bowyer came on board prior to the 2021 season to make up the current three-man booth you hear every Sunday.
Although Gordon called the decision to sign a contract extension a "no-brainer" in 2019, he might already have one foot out the door just two years later.
Future with Fox Sports reportedly in doubt
Gordon is one of the most famous voices in NASCAR today, but he might not be for much longer. The Hall of Famer will be "weighing his future" with Fox Sports once the network's coverage of the Cup Series ends after this weekend's All-Star race, as first reported by Adam Stern of Sports Business Journal.
If Gordon does decide to jump ship after this season, Stern reports that he'll be looking to increase his role at Hendrick Motorsports. The four-time Cup Series champion already holds a minority stake in the racing team, but he could be next in line to take over the reins.
Rick Hendrick is grooming Gordon to take over Hendrick Motorsports
Maybe Gordon is getting tired of watching NASCAR races from the sidelines. Maybe he misses the camaraderie that comes with a racing team. Maybe he just wants to give himself a new challenge.
Whatever the case may be, Gordon will be next in line to take over Hendrick Motorsports if or when he decides to walk away from the Fox Sports booth.
Just ask Rick Hendrick himself.
"That's the way we're going," Hendrick told Autoweek back in 2018. "Whenever I finally step away, it'll be Jeff Gordon in my place."
Hendrick is inching closer and closer to retirement at 71 years of age. On the day he does decide to leave the team, his open spot will be Gordon's if he wants it. Leaving Fox Sports to focus more of his time on HMS might just be the first domino to fall in that master plan.