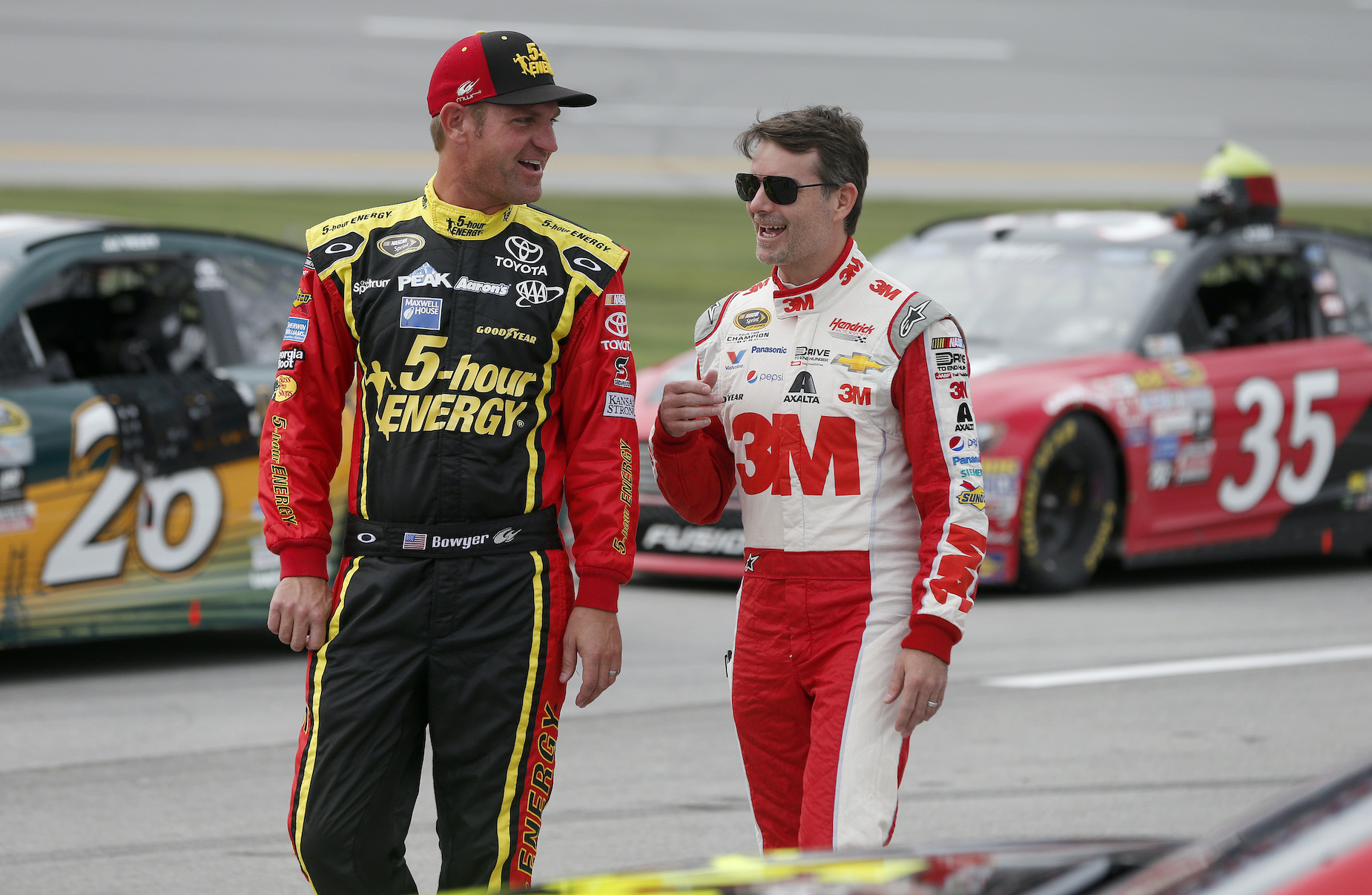 Clint Bowyer Once Pulled a Revenge Prank on Jeff Gordon With an Assist From Guy Fieri
With a hand from Guy Fieri, Clint Bowyer got his revenge on Jeff Gordon during a trip to the tropics.
While all professional athletes, including those who earn a living in the world of motorsports, are incredibly competitive, there's still room for everyone to have a good time. Locker rooms and team buses are often the perfect place for pranks. Former NASCAR driver Clint Bowyer, however, got his revenge on Jeff Gordon in different circumstances.
Bowyer and Gordan famously clashed during the 2012 NASCAR campaign and, shortly after the incident in Phoenix, the former man found himself in St. Barts. There, with an assist from Food Network star Guy Fieri, he slipped onto Diddy's boat to play a prank on his racing rival.
Clint Bowyer and Jeff Gordon famously fell out at Phoenix Raceway in 2012
In any high-stakes sport, tensions will occasionally boil over. For Bowyer and Gordon, that took place during the 2012 NASCAR campaign.
During a Cup Series event at Phoenix Raceway, Gordon got a bit too close to Bowyer's car and sent it skidding into the wall. That crash turned out to be pretty significant, as the Kansas-native was chasing a championship. Being knocked out of the running that day essentially ended his chance of claiming the title.
Unsurprisingly, Bowyer's crew wasn't happy, and a fracas broke out in the pits. When the driver got word of what was taking place, he climbed out of his car and started running toward the action. Race officials intervened, though, and a confrontation between the two drivers never took place.
That didn't mean they simply buried the hatchet, though. According to a 2016 Sporting News story, Bowyer still wasn't over the incident at the time and even compared his relationship with Gordon to a "divorce."
Pulling a revenge prank with an assist from Guy Fieri
Bowyer isn't one to let a feud stop him from having a good time, though. According to a story he shared on an old episode of the Dale Jr. Download, he's usually willing to check things at the door and have a good time.
During the podcast, the conversation turned to NASCAR drivers partying, and Earnhardt Jr. explained that peers can still enjoy an evening together even if there's an on-track rivalry. Bowyer agreed and provided an anecdote about Jeff Gordon as an example.
"I remember Jeff Gordon," Bowyer explained in a video clip shared on NASCAR on NBC's Facebook page. "I mean, this is recent, right after that deal happened in Phoenix. Kevin Harvick and I, and Guy Fieri, we walk on this huge massive boat down in St. Barts. It's P. Diddy's boat. Guy, thank god Guy has crazy, terrible, god-awful hair, they recognized him. Didn't recognize Harvick and I, but they recognized the cooking guy."
After Fieri had gotten him into the party, Bowyer noticed Gordon was also in attendance and decided to pull a revenge prank on his racing rival.
"I go over and grab him in a headlock and start acting like I'm punching him," Bowyer continued. "And Ingrid's [Vandebosch, Gordon's wife] flipping out. Even Gordon is like, 'Oh, dude, what are you doing? I didn't mean it.' And I'm like, 'Dude, I'm just kidding. Let's have some fun, but I'm gonna go back to hating you tomorrow.'"
These days, Clint Bowyer and Jeff Gordon spend Sundays together for Fox
Despite having some fun that night in St. Barts, Bowyer and Gordon's racing rivalry continued. These days, though, the two men find themselves spending a decent amount of time together.
Gordon joined Fox's NASCAR coverage after he retired from racing in 2015. Bowyer followed suit and, after calling it a career, headed upstairs to the booth for the 2021 season. With that move, the two former rivals officially became coworkers.
Time heals all wounds, though, and the two men have at least been able to rebuild a working relationship. Bowyer and Gordon even revisited the infamous events of the 2012 Advocare 500, albeit with the benefit of some alcohol, and attempted to get to the bottom of what happened on that fateful day. While there were some swears thrown back and forth, the discussion presumably helped the two men continue to turn the page.
If nothing else, Bowyer and Gordon could always call in Guy Fieri to help patch things up. If his television persona is to be believed, the Mayor of Flavortown is always ready to show up and lend a hand.