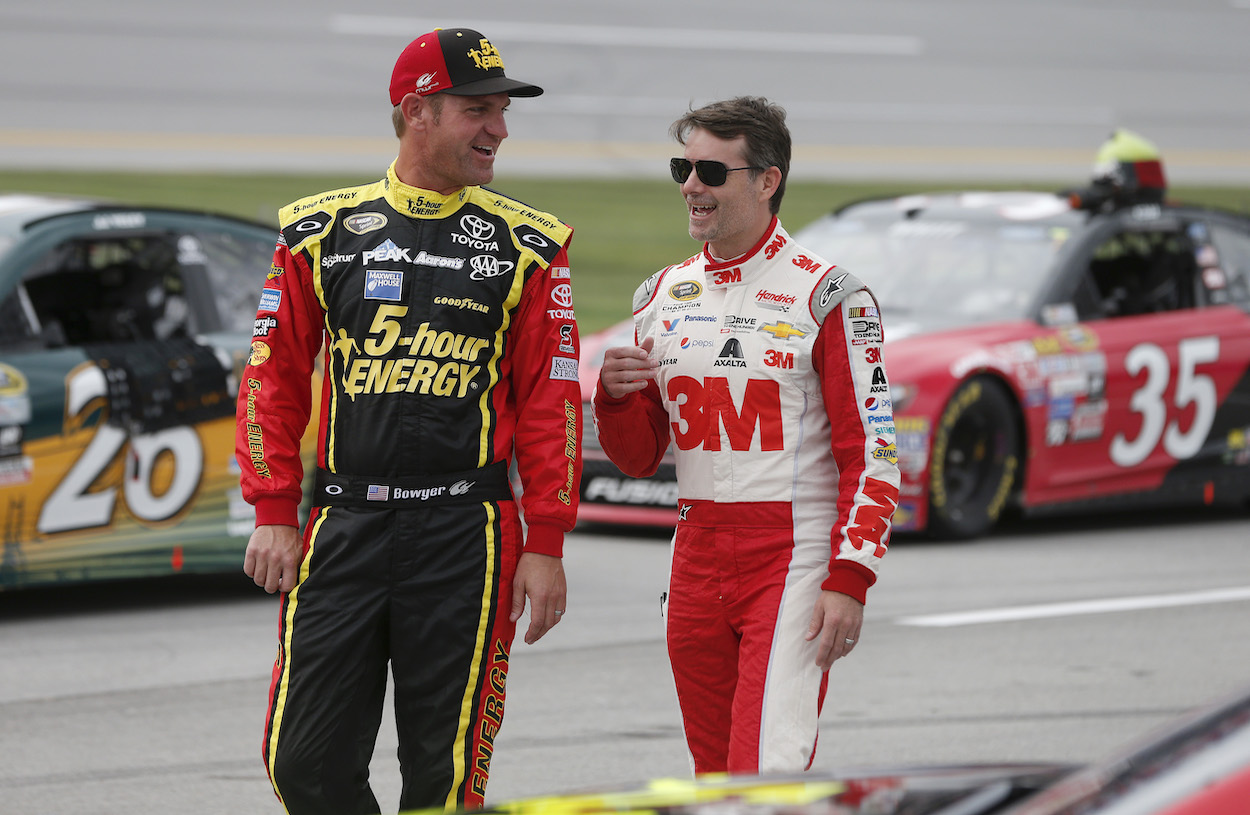 Jeff Gordon and Clint Bowyer Work Together on Fox Just a Few Years After Ugly On-Track Feud and 'Divorce' in Friendship
Jeff Gordon and Clint Bowyer are now working together at Fox covering NASCAR but it was just a few years ago the pair had a fierce rivalry that included an all-out brawl between their teams after a race.
Today, Jeff Gordon and Clint Bowyer will stand beside each other for hours in their first Fox broadcast of the 2021 NASCAR season at the Daytona 500. It's a far cry from where the pair stood with each other just a few short years ago. Back then, it was one of NASCAR's fiercest rivalries, and at its hottest point, culminated in a nasty all-out brawl between the two crews after a race.  
Jeff Gordon and Clint Bowyer feud escalates to an all-out brawl
It started earlier in the 2012 NASCAR season at Martinsville when with just two laps to go on a green-white-checkered restart, Clint Bowyer took out Jimmie Johnson and Jeff Gordon, in first and second place, respectively. The first shot had been fired.
With the season coming to a close and Bowyer in third place and vying for a championship, tempers overheated in Phoenix. On lap 305, Bowyer cut one of Gordon's tires and sent him into the wall. A few laps later, Gordon got his revenge when he got into Bowyer's right rear, sending him up the track into the wall, collecting Gordon and Joey Logano in the process. That moment effectively ended Bowyer's chance at the championship.
After the race was over, Jeff Gordon pulled his car in the pit road area and exited. Upon getting out of the car, someone from Clint Bowyer's pit crew shoved Gordon, and then all hell broke loose. 
Both pit crews brawled for several minutes. When Bowyer pulled up to his pit area and realized no one from his team was there, he sprinted to where the action was. By the time he arrived, NASCAR officials had intervened. While Bowyer and Gordon never came to fisticuffs themselves, the damage was done. 
Friendship falls apart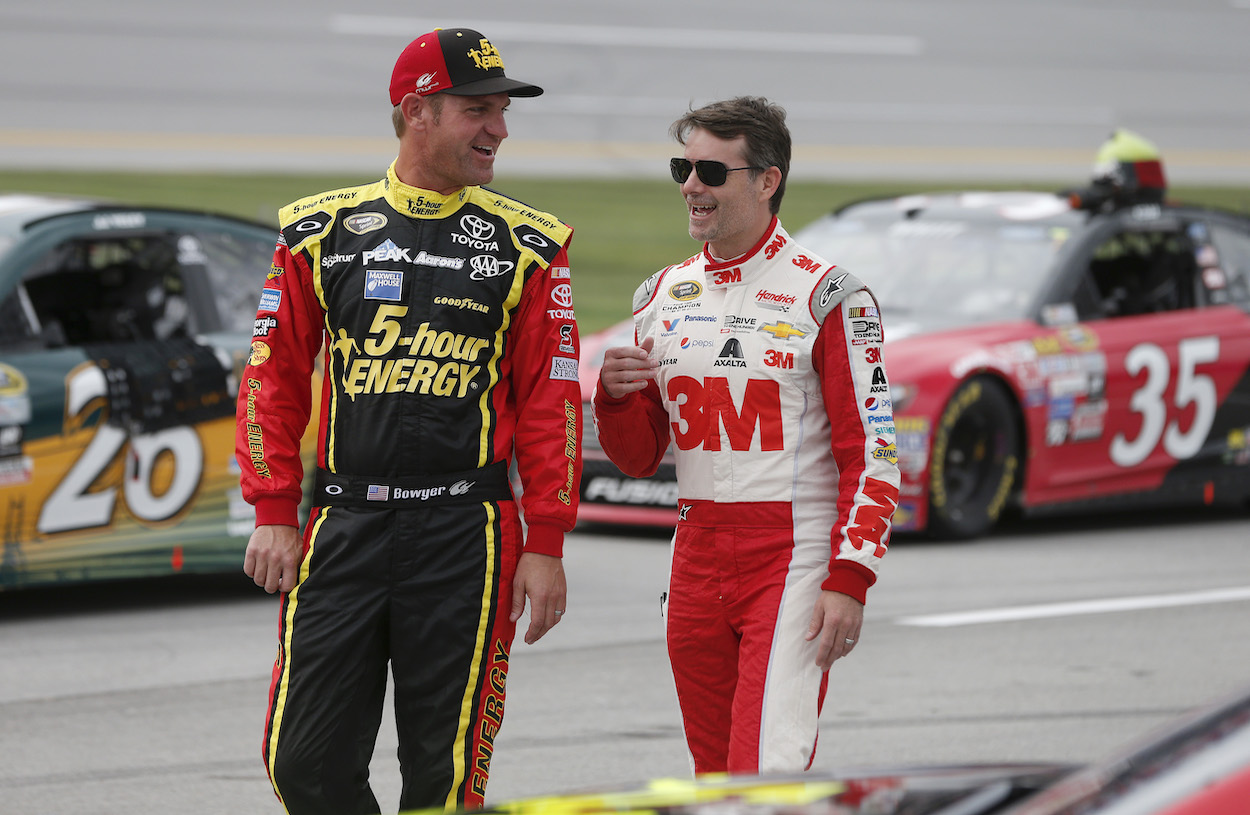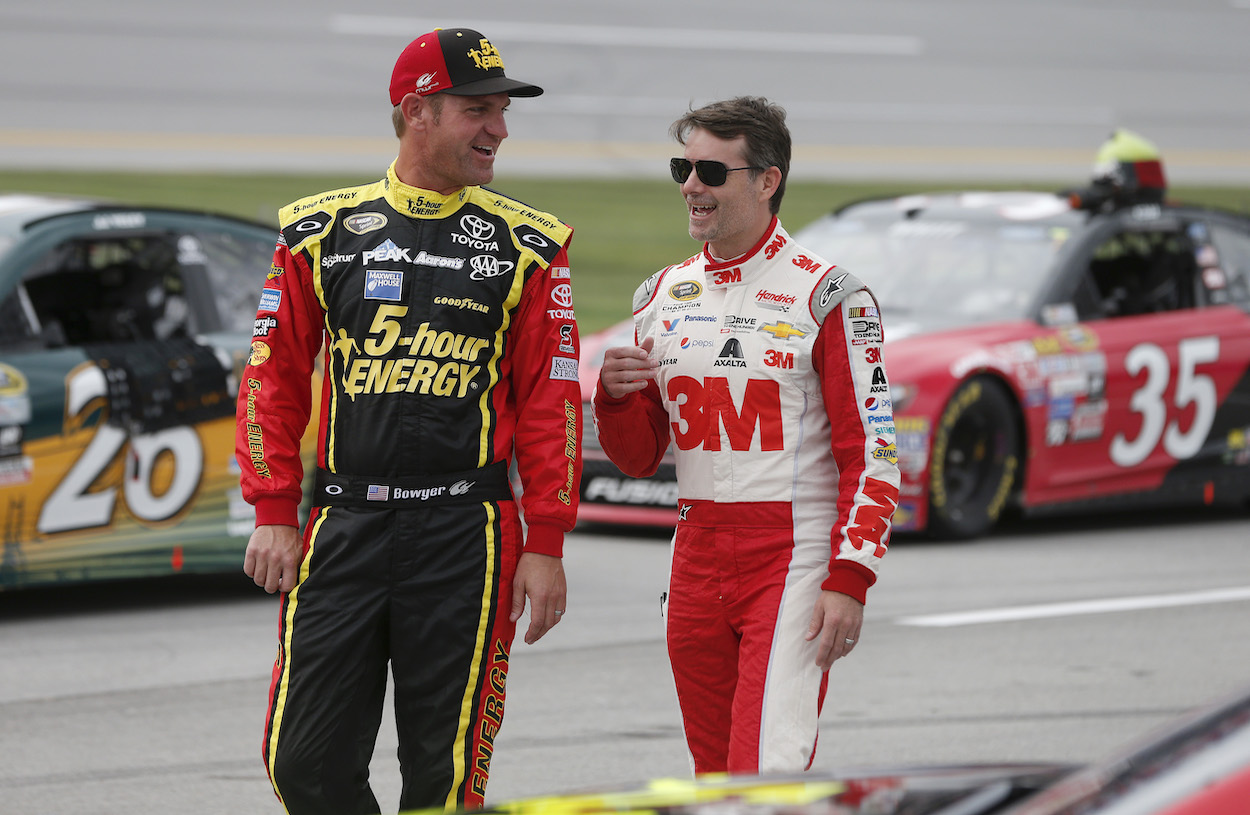 Several years later, when Jeff Gordon announced his retirement would follow the 2015 NASCAR season, and he went on a farewell tour, Clint Bowyer was asked about his thoughts on his rival's departure from the sport. 
"Obviously for me, the smartass reaction is always my first reaction, but the true reaction is that it's going to be a huge void for all of us to try to pick up and fill," Bowyer told The Sporting News. "Gosh, the guy has been doing it for so long and he (was close) to making it (to a fifth championship) last year. He's paved the way for all of us. Everybody knows that and everybody appreciates what he's done. I've certainly had a pretty s—– moment with him, but it doesn't change the fact that he's been the man for a long time and will go out being that."
While Bowyer lauded Gordon with praise, he said what happened between them isn't something you forget, and it irreparably harmed their relationship. 
"You're never good with somebody when it got that ugly," he said.
"We had a lot of fun together. Jeff and I hit it off right off the bat and away from the track, at the banquets and things like that, really enjoyed one another. And even during the offseason we had a couple of boating trips where I really had fun with Jeff. But it's kinda like a divorce. You may appreciate them from time to time, but at the end of the day, you don't like them anymore."
Clint Bowyer and Jeff Gordon work together at Fox 
With the heat of competition behind them both following Clint Bowyer's retirement after 2020, Jeff Gordon and Bowyer finally put aside their differences and rekindled their old relationship. Now, they're working side-by-side analyzing NASCAR action for Fox.  
"Here's one of the funniest things about our rivalry or lack thereof. People really think there's more there than there ever was. We had a couple run-ins in a year where it sucked, but I can tell you that we were always having fun off the racetrack at the year-end events at the playoff banquets and things like that," Bowyer said back in October 2020 when it was announced he was joining Fox in 2021.
"It's a neat situation to overcome everything that we have and line up right against one another again in that booth is gonna be something that's pretty special. The biggest things that are fun that I'm looking forward to is something happens on that racetrack between drivers. There's always both sides of a viewpoint and we're certainly gonna have different views and sometimes we'll agree and hopefully a lot of times we'll disagree and that banter is gonna be a lot of fun."
Jeff Gordon and Clint Bowyer disagreeing in the booth should be fun to watch. Not quite as entertaining as watching two pit crews brawl, but fun nonetheless.