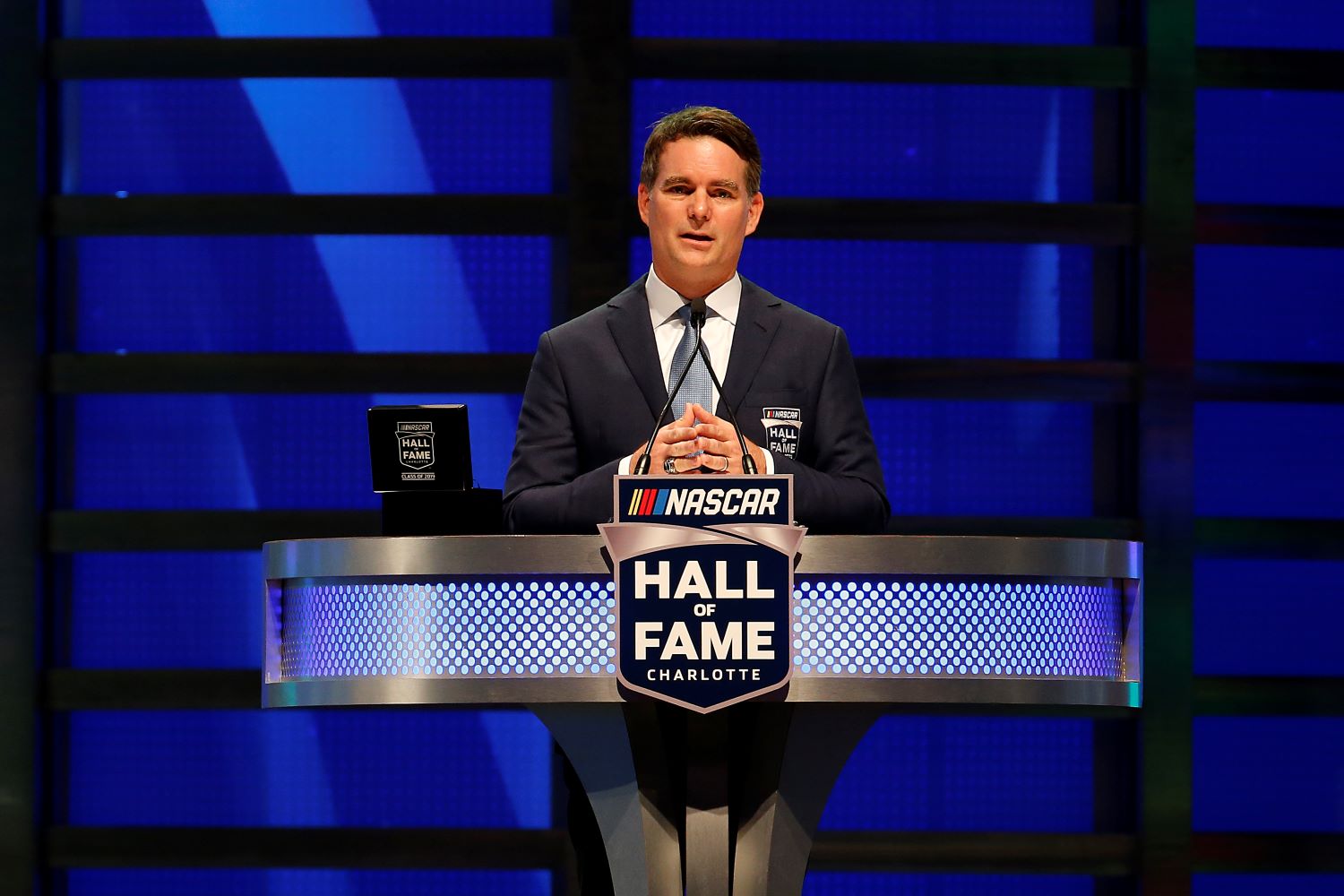 A Death Row Inmate's Final Words Included a Controversial Reference to NASCAR Legend Jeff Gordon
Before he got put to death, Joseph Mitchell Parsons used his final words to make a controversial reference to NASCAR legend Jeff Gordon.
Jeff Gordon made hundreds of millions of dollars and earned widespread respect from NASCAR fans for his skills on the racetrack.
Shockingly, one of his fans was a death row inmate who committed a brutal murder several years before Gordon turned pro.
And just before he got executed, Joseph Mitchell Parsons made sure that his final words included a controversial reference to his favorite NASCAR driver.
Jeff Gordon became a NASCAR legend thanks to his skills behind the wheel
Jeff Gordon established a reputation as NASCAR's biggest star during a career that spanned across multiple decades.
He started to hone his skills as a child before he turned pro, and it didn't take long for the California native to prove he belonged with the big boys of racing. Gordon took home 1993 Winston Cup Series Rookie of the Year honors, and at just 24 years old, he became the youngest driver in NASCAR history to win a title.
That simply set the stage for even more success on the speedway.
During his time on the track, Gordon racked up 93 victories and 477 top-10 finishes. He took home four Winston Cup Series championships and won the Daytona 500 three times. In total, he completed three Grand Slams, which entails winning all of the NASCAR Cup Series majors in a calendar year.
Gordon competed on a full-time basis from 1993 to 2015 before he finally decided to get out of the driver's seat and get behind the TV cameras. His work as an announcer has allowed him to share his passion and knowledge with millions of motorsports fans across the world.
But just a few years into his NASCAR career, Gordon lost one fan for good.
Joseph Mitchell Parsons got sentenced to death for a brutal murder
Joseph Mitchell Parsons found himself on death row for a crime he committed several years before Jeff Gordon became a known figure in the NASCAR world.
According to Deseret News, Parsons got arrested and charged with the killing of California motorist Richard Ernest near Cedar City, Utah, in 1987.
What began as an act of kindness for a hitchhiker turned into a fatal mistake.
On Aug. 31, a Utah Highway Patrol officer found Parsons—who was out on parole at the time—sleeping inside Ernest's car in a nearby county. Although he tried to claim he was Ernest himself, authorities soon discovered the actual whereabouts of the vehicle owner.
A day later, his body was found covered with a sleeping bag about a mile north of a rest stop where Ernest and Parsons had stopped to sleep.
He had been stabbed nine times, including once in the heart.
Parsons pleaded guilty to motor vehicle theft, aggravated robbery, and first-degree murder charges a few weeks later.
His final words included a controversial reference to Jeff Gordon
After a jury of six men and six women sentenced Joseph Mitchell Parsons to death in February 1988, he spent more than a decade trying to win an appeal.
But after his efforts proved fruitless, he gave up on the process.
Instead, he said he wanted to die.
And to the surprise of many, Parsons elected to have his life ended via lethal injection.
But before he got put to death in the early hours of Oct. 15, 1999, the convicted murderer used his final words to make a controversial reference to one of NASCAR's biggest stars.
According to the Associated Press, Parsons said, "My love to my family and friends. And Woody, the Rainbow Warrior rules!"
Initially, many believed the comment referred to a warrior who killed a homosexual.
However, prison spokesman Jack Ford later clarified what Parsons meant with his final words.
Ford said eight of Parsons' fellow death row inmates came forward to say the comment actually referred to Jeff Gordon, who famously drove a brightly-colored car dubbed "Rainbow Warrior."
Parsons and fellow death row inmate Doug "Woody" Lovell reportedly used to bet candy bars on Winston Cup races, and the former always bet on Gordon.
Prison spokesman Jesse Gallegos said Parsons also had a photo of the NASCAR star in his cell as he waited on death row.
Like Sportscasting on Facebook. Follow us on Twitter @sportscasting19.