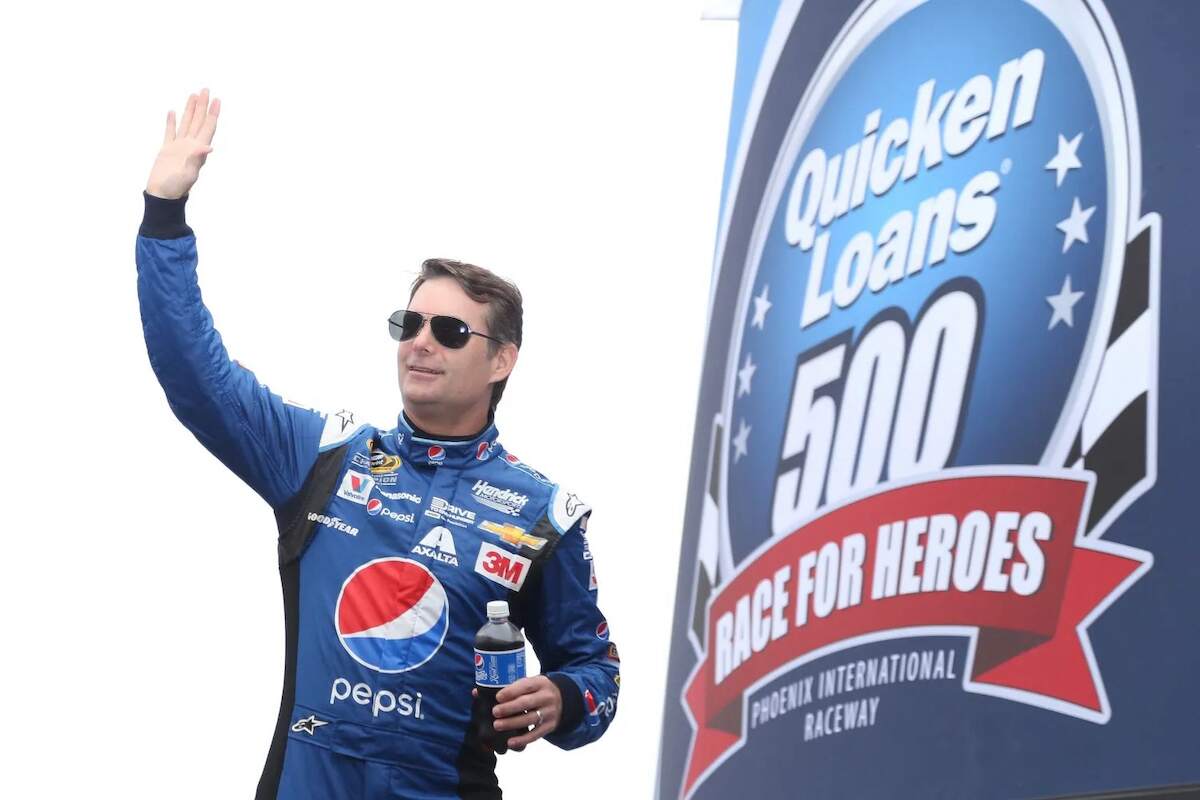 NASCAR Legend Jeff Gordon Took 5 Trips to the Bathroom Before Asking the Most Important Question of His Life
NASCAR legend Jeff Gordon was so nervous about asking a life-changing question that he had to make a few trips to the bathroom first.
Jeff Gordon didn't become the most popular driver in NASCAR history by taking his time. After all, when your success depends on finishing ahead of everyone else, you can't afford to hesitate for a single moment.
Off the track, though, the motorsports legend can afford to take things slower. In fact, Gordon delayed asking the most important question of his life by taking a few trips to the bathroom.
Unfortunately for the former professional driver, the answer he received would eventually come back to bite him.
Jeff Gordon showed no hesitation in defeating his opponents on the racetrack
A California native, Jeff Gordon began racing cars at an age when most kids are playing with toys and watching cartoons. By the time he finally called it quits on being a pro driver, he had established a reputation as one of the most popular and successful figures ever to grace the sport of NASCAR.
The 2019 Hall of Fame inductee competed from 1993 to 2015. He won four Cup Series championships and three Daytona 500 races. At just 24 years old, Gordon became the youngest driver in history to win a NASCAR title.
He walked away from the sport after a career that included more than 800 races. In total, Gordon amassed 93 victories and 477 top-10 finishes.
His driving skills not only made him one of the most respected drivers in NASCAR history, but they also helped him become quite wealthy. Gordon's fame opened the doorway for plenty of endorsement deals that have helped him amass an estimated net worth of $200 million.
Yet, for someone who made a living by going fast, Gordon surprisingly didn't take that approach off the track. As it turns out, the NASCAR legend had to make a few pit stops before popping the biggest question of his life.
The NASCAR legend had to contain his nerves before asking the most important question of his life
Back in the early days of Jeff Gordon's NASCAR career, he began dating Brooke Sealey. "He came up to me at Daytona, and he asked me to go eat lunch," she told USA Weekend Magazine in 1997. "His voice was quivering. He was real nervous."
However, because she worked as a Miss Winston Cup Model, the couple had to keep the relationship hidden. After all, Gordon had violated an unwritten rule by dating Sealey. But after the two took their relationship public at a NASCAR awards banquet, they could finally move forward without the veil of secrecy.
It didn't take long for Gordon to formulate a plan to make the former model his wife. Before the 1994 Daytona 500, he reserved a private banquet room at a French Restaurant in Daytona Beach, Fla. However, before asking the biggest question of his life, Gordon took a pit stop … several times.
"I was so nervous that I went to the bathroom five times," he told USA Weekend Magazine. "I was trying to get the ring just right. It was in my pocket."
Ultimately, the proposal ended with Sealey saying yes. The couple married on Nov. 26, 1994. Less than a decade later, Gordon's first wife filed divorce papers.
Jeff Gordon lost a ton of money after divorcing his first wife
Despite being widely viewed as NASCAR's perfect couple, Jeff Gordon and his first wife split up less than 10 years after getting married.
According to The Orlando Sentinel, in Sealey's divorce filing, she claimed the marriage was "irretrievably broken as a result of the husband's marital misconduct."
The public battle over finances waged on. Sealey reportedly sought alimony, two luxury cars, the use of Gordon's private jet, and the exclusive use of their $9 million oceanfront property in Highland Beach, Fla. Ultimately, the divorce cost the NASCAR legend a sizable chunk of his career earnings.
Despite most reports listing his divorce settlement at $15.3 million, Gordon later told the Arizona Central that the total "was actually way more than double that."
Ultimately, he suffered a serious blow to his bank account due to his divorce. Then again, he would have never been in that predicament if he hadn't asked the most important question of his life first. Maybe a sixth trip to the bathroom might have convinced Gordon to make an uncharacteristic U-turn.
Like Sportscasting on Facebook. Follow us on Twitter @sportscasting19.