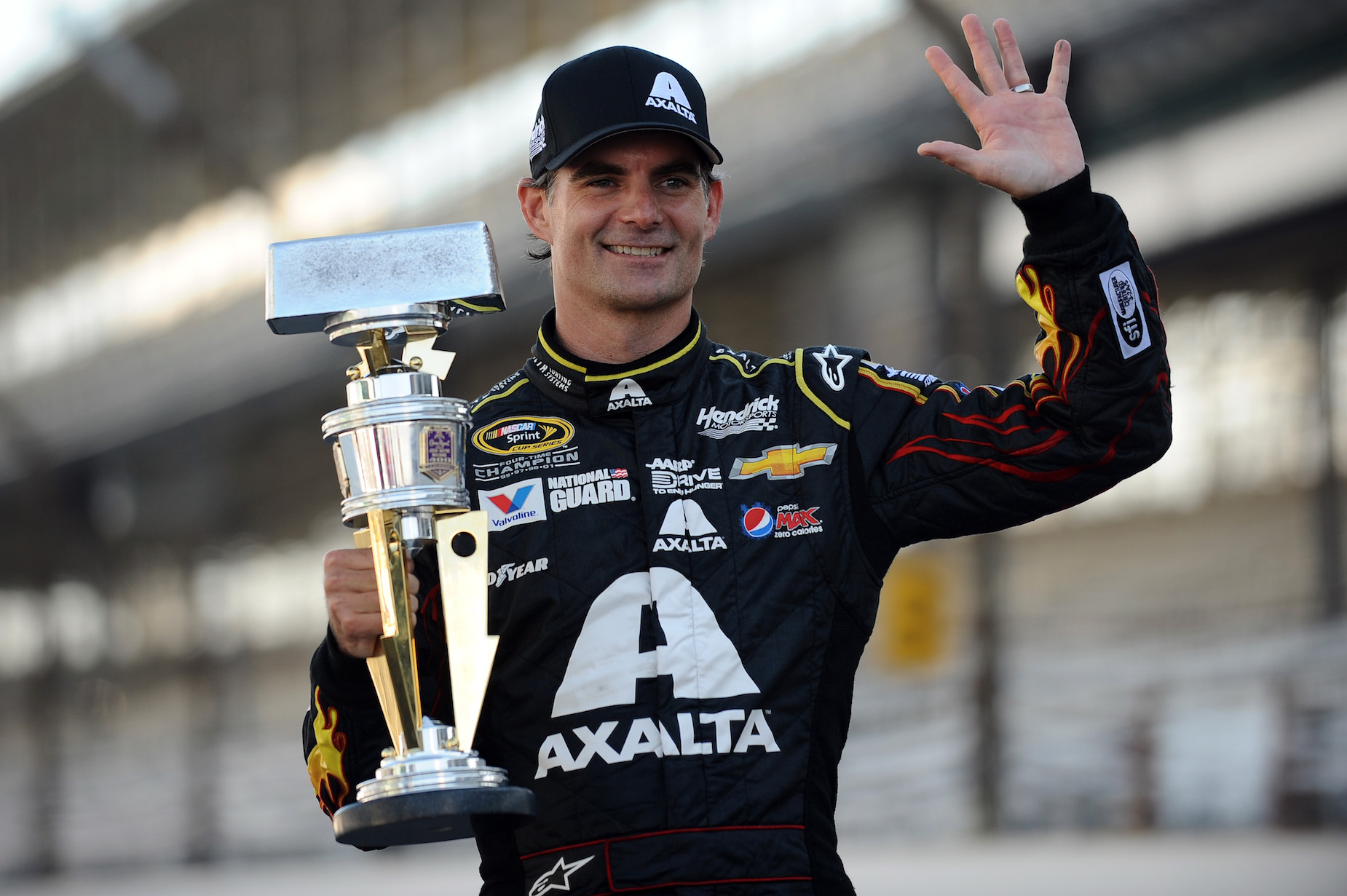 Jeff Gordon's NASCAR and Business Success Started With the Same Philosophy: 'Drivers Seize Opportunities'
Jeff Gordon found plenty of success, both as a NASCAR driver and as a business man. In both areas, he knew how to identify and seize an opportunity.
Even if you're not the biggest NASCAR fan, you probably remember the name Jeff Gordon. During his time on the track, the driver became one of the biggest names in motorsports; even in retirement, he's still finding plenty of success.
All of that success, however, can be traced to one simple concept. According to Jeff Gordon, drivers know how to seize an opportunity, whether they're sitting behind the wheel of a race car or wearing a suit in the boardroom.
Jeff Gordon was an incredibly successful NASCAR driver
During his time on the track, Jeff Gordon was never the most popular driver in NASCAR. Despite that reality, though, he still built up an impressive resume over the years.
Like many other drivers, Gordon started out driving go-karts before moving up to the sprint car circuit. While he looked into opportunities in IndyCar and open-wheel racing, the driver decided that NASCAR represented the best route forward.
That decision turned out to be a stroke of genius. Gordon found immediate success in NASCAR, claiming the Busch Series Rookie of the Year crown in 1991; four years later, he was crowned 1995's Winston Cup champion. He followed that up with titles in 1997,1998, and 2001.
While results tailed off a bit after that spell of dominance, Gordon still retired with one of the best track records in NASCAR history. In total, he piled up an eye-popping 94 Cup Series victories, 477 top-ten finishes, and four overall championships, making him one of the biggest winners in modern motorsports history.
Finding success in the business world, too
Jeff Gordon's impressive resume isn't limited to sports, though. He's also found success in the business world and built up a sizable fortune along the way.
Based on a 2017 Forbes report, Gordon took home more than $525 million in total earnings; that stemmed from both on-track winnings and plenty of big-time endorsements. He's also a member of Fox's NASCAR broadcast team and, as explained by motorsports.com, has a lifetime agreement as "an equity partner in the ownership of his No. 24 DuPont Automotive Finishes Chevrolet team."
Gordon's earning power, however, isn't limited to motorsports, though. As explained by Jeff Hayden of Inc., the driver also "owns a Chevrolet dealership and a winery, is an equity owner and executive at Hendrick Motorsports, [and] founded a charitable foundation."
Jeff Gordon's success stems from seizing opportunities
Both as a driver and a businessman, Jeff Gordon has had plenty of success during his life. In his estimation, though, that stems, at least in part, from his ability to identify and seize an opportunity.
During his conversation with Gordon, Jeff Hayden remarked that it seemed like the driver had a pretty concrete plan when he entered into the wine industry. The NASCAR veteran explained that, like on the track, he simply saw an opening and went for it.
"No [I didn't have a plan], that's just the race car driver in me," Gordon explained. "Drivers seize opportunities. You try to win races and figure out where that can take you: Win a race and you hope to get a call from someone who wants to sponsor you. Or wants to put you in a better car, or in a higher-level series. That's basically the way my businesses have worked. There are certain times we pursue opportunities, but most of the time opportunities come from people who reach out and say, "What do you think about this…?"
While going into things without a plan might not sound like the best idea, Jeff Gordon certainly knows a thing or two about how to achieve success.