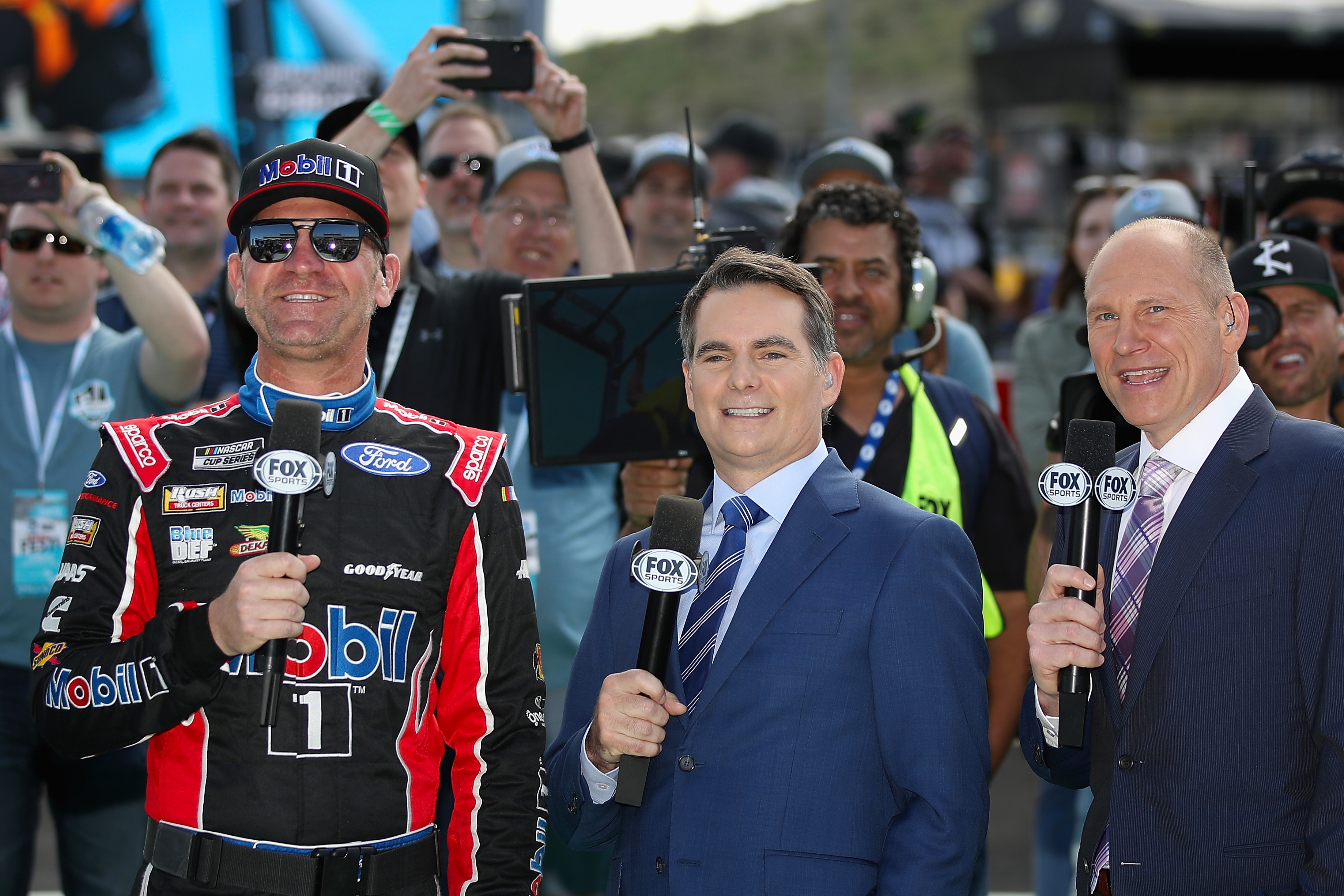 Will Jeff Gordon Really Make Clint Bowyer Pay at the Daytona 500?
Will NASCAR Hall of Famer Jeff Gordon really force Clint Bowyer to pay up inside the booth this weekend at the Daytona 500?
There will be a lot of storylines heading into Sunday's Daytona 500. The first will likely be Denny Hamlin heading for his motorsports three-peat. The race also marks 20 years since the death of Dale Earnhardt during the 2001 Daytona 500. One of the storylines that's bound to be buried at the bottom of the list is will Jeff Gordon push the issue and make Clint Bowyer pay up?
Daytona 500 storylines headed by Denny Hamlin
There's certainly a lot to talk about when it comes to Sunday's running of the Daytona 500. Denny Hamlin tops the list as he shoots for his third straight Daytona victory. Hamlin, who also won the race in 2016, looks to become the first driver to win three straight Daytona 500 races. Hamlin said making history is what's motivating him.
"I just hope to give myself that opportunity at the end of the race," Hamlin said, according to USA Today. "I hope that I'm around, that I give myself a chance to make history because ultimately, that's what I'm here for. Making history, doing something that no one else has ever done, that's what motivates me to want to get this one."
Jeff Gordon, Dale Jarrett, and Bobby Allison have three Daytona wins. If Hamlin wins, he will vault into a tie for second all-time with Cale Yarborough. Richard Petty has the most Daytona 500 victories with seven. If Hamlin does win, he admits it would likely be the sweetest. "It would probably be the most significant win of them all," he said.
Jeff Gordon, Clint Bowyer hitting the broadcast booth
The recently retired Clint Bowyer will be heading into the Fox broadcast booth to team with Jeff Gordon as analysts for Sunday's Daytona 500. Bowyer and Gordon will be teaming with Mike Joy, who will be handling the play-by-play. Joy is covering his 42nd Daytona 500 for either television or radio.
According to NASCAR.com, Gordon and Bowyer have developed a rapport during broadcasts of eNASCAR iRacing Pro Invitational Series last season. The two developed that chemistry when NASCAR was put on hold due to the pandemic. Fox is eager to bring the duo together for its NASCAR broadcasts and Bowyer will make his debut Sunday.
Gordon is a NASCAR Hall of Famer and has three Daytona 500 victories under his belt. Bowyer is recently retired from racing and has 10 Cup Series wins in his 16 years of racing. He has 226 top-10 finishes in 541 career Cup races.
Will Jeff Gordon press the issue and make Clint Bowyer pay up?
If you see Clint Bowyer wearing a Tampa Bay Buccaneers jersey Sunday, Jeff Gordon may have pushed the issue. Although Gordon wasn't directly involved, he may have something to say. Bowyer is a huge Kansas City Chiefs fan and he had a bet with driver Aric Almirola. On Twitter, Almirola wrote, "The Almirola household has our Buccaneers beating your Chiefs on Sunday. How 'bout a friendly wager? We win, you have to do something in the booth. You win, I'll do something at the track. You in?"
Bowyer was quick to respond. "Easy peasy…You're on," Bowyer wrote. "When the Chiefs win you have to wear a Chiefs jersey in an interview. If for some crazy stupid reason they were to lose I guess I'd have to wear a Bucs jersey during said interview."
Jeff Gordon, a San Francisco 49ers fan, then chimed in, directing a tweet at Almirola. "It still hurts that I lost a similar bet when the Chiefs beat my 49ers. I'm picking Chiefs this year, but if Clint Bowyer lost this bet & had to wear a Buccaneers jersey in the NASCARONFOX booth for the Daytona 500, I'm OK with that." The Buccaneers crushed Bowyer's Chiefs. The big question now is will Gordon let Bowyer off the hook while they're in the booth together?