Jeff Gordon Takes Swipe at Clint Bowyer for Emotional Reason During Race Preview Show at Martinsville
After years battling against each other on the track, Jeff Gordon and Clint Bowyer have become a solid broadcast duo working together up in the booth alongside Mike Joy in covering the 2021 NASCAR Cup Series season for Fox.
While the pair have developed a notable chemistry, that doesn't mean they aren't willing to take a few cracks at each other. They do so with regularity. On Saturday night before the race at Martinsville, it was Gordon who delivered a zinger at Bowyer's expense.    
Jeff Gordon and Clint Bowyer both won at Martinsville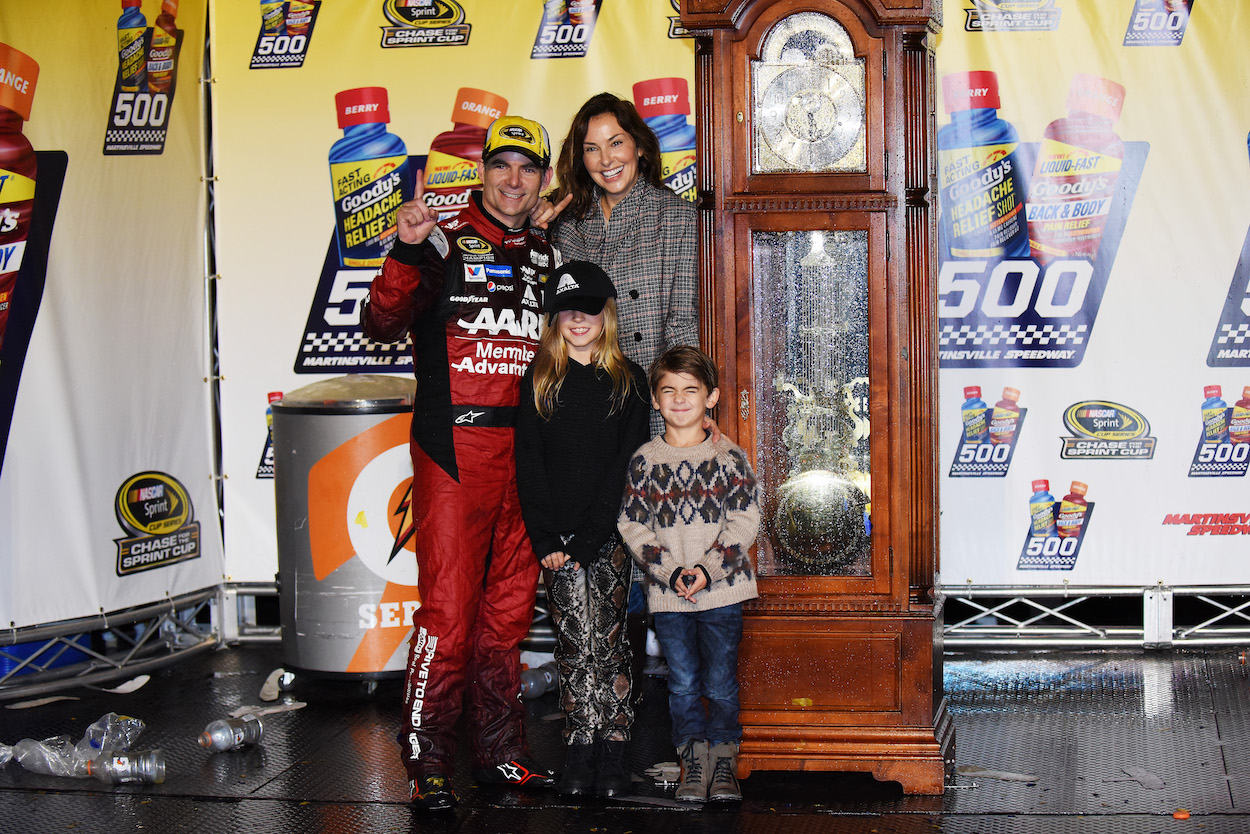 NASCAR Cup Series drivers love Martinsville Speedway. The short track, known as "The Paperclip," has proven to be a track that rewards quality through the years. Richard Petty is the king with 15 wins, Darrell Waltrip won 11 times, and Jeff Gordon is tied for third-most at nine with former Hendrick teammate Jimmie Johnson.
Gordon's last win on the Cup Series came at Martinsville in November of his final season racing in 2015. Fast-forward to 2018. Clint Bowyer won twice that year, his first at Martinsville in March. 
After the race, an adorable video showed Bowyer's young son Cash racing toward him with outstretched arms on the front stretch of the track.  
Jeff Gordon takes a swipe at Clint Bowyer for emotional reasons
During Fox's prerace show before this year's race at Martinsville, Jeff Gordon and Clint Bowyer talked about their love of the track and how special it was to win and share that moment with their families. During the segment, it showed Gordon with his wife and family standing near the large grandfather clock awarded to the winner. It also included the picture of little Cash Bowyer running to his dad. 
"But right here, that's to me the lasting impression that I'll remember forever is being able to share this special win with my family," Bowyer said about his win in 2018.
Fox's Mike Joy commented on the sweetness of the emotional moment, suggesting it would make a grown man cry when Bowyer interrupted. 
"Whoa Whoa Whoa, Mike. I used to make fun of this guy (Gordon) next to me. He cried everywhere. Win a championship, hand him millions of dollars worth of checks, and he'd cry for crying out loud. That moment right there, that got some tears out of me. Not even going to try and lie about that."
"Mike, he just needs a few more moments like that," Gordon said, pointing out how Bowyer didn't win enough times to share very many emotional moments.
Pairing almost didn't happen this week 
Jeff Gordon's shot at Clint Bowyer is just the latest between the two former drivers who have made mocking each other a routine part of the weekly broadcast. Earlier in the season, Bowyer mocked Gordon's age and his inability to read small lettering.
The fact that Gordon was up in the booth in the first place is actually fortunate, considering he announced this week that he tested positive for COVID-19 during NASCAR's week off for Easter break.
"I can't say my off-week was great, unfortunately, because I tested positive for COVID last week," he told SiriusXM NASCAR Radio's On Track show. "I've been in quarantine, but the good news is it was smooth, and I had minimal symptoms and good to go for Martinsville this weekend."
Clearly Jeff Gordon is feeling better. He's making fun of Clint Bowyer. All is right in the world of NASCAR.
Like Sportscasting on Facebook. Follow us on Twitter @sportscasting19.