Clint Bowyer's Parties Were So Wild That Taxi Drivers and Pizza Delivery Guys Couldn't Resist Joining the Action
While motorsports is a big business with plenty of sponsorship money flying around, there's still some room to have some fun at the race track. Fans sitting in the bleachers or camping out in the infield aren't the only ones who get to enjoy a cold one, though. Drivers like Clint Bowyer also know how to have a good time.
During his time on the NASCAR circuit, Bowyer's parties were nothing short of legendary. If fact, even pizza delivery guys and taxi drivers couldn't resist getting in on the fun.
Clint Bowyer certainly knows how to have a good time
As the cliche says, all work and no play makes Johnny a dull boy. Bowyer never had trouble striking the right balance, though.
While he might not have reached the heights of someone like Dale Earnhardt Sr. or Richard Petty, Bowyer still found success on the NASCAR circuit, winning 18 races across the Cup and Xfinity Series. Those on-track results, however, are only a part of his legacy.
Bowyer also earned himself a reputation as someone who knew how to have a good time. In ForTheWin's  2017 NASCAR superlatives, for example, he earned the title of "the most fun at parties." On the whole, the Kansas-native simply appreciates enjoying himself and sharing the moment with others.
"Oh man, just people," Bowyer once explained in a FanSided interview when asked what makes him happy. "Hanging out with people and going to the lake. I like going to the lake. I have a lake house in Missouri and just going over there because it's all about people. You go out on a boat, you know, next thing you know, you're eating lunch somewhere, and you've made friends with somebody and his family and those are friends for life. That's what's so cool about life in general. It's all about friends, and relationships, and family, and getting the most out of it."
Partying with taxi drivers and pizza guys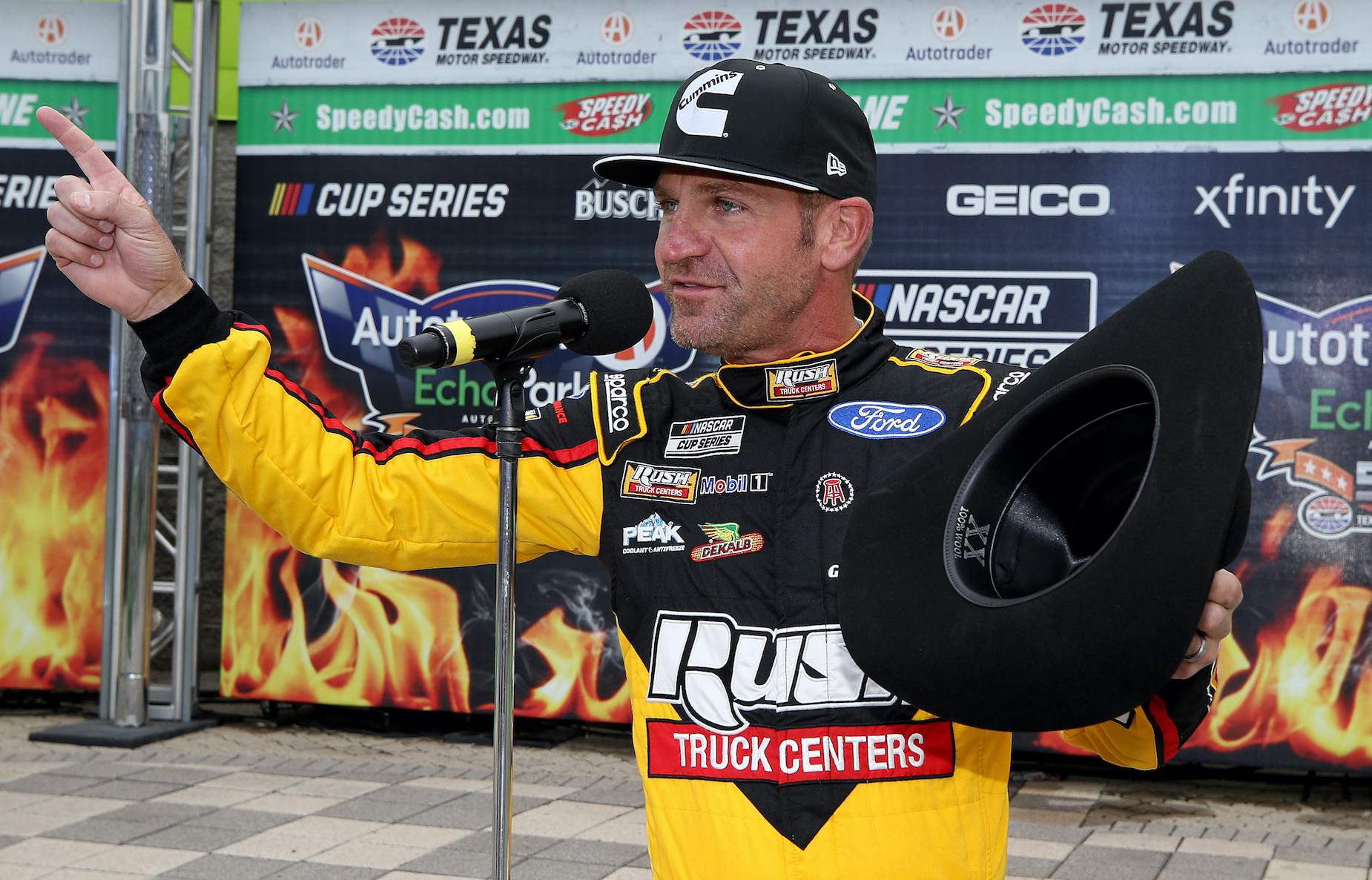 As mentioned in that FanSide conversation, Bowyer has no problem striking up a conversation and making friends with strangers. That reality, it seems, also comes into play at his parties.
During an NBC Sports segment with Dale Earnhardt Jr. and Steve Letarte, Bowyer shared some stories from his past parties. On at least two occasions, strangers were so impressed by the scene that they couldn't help but join in on the fun.
"[A taxi driver] showed up," Bowyer explained. "The cab driver comes up, goes inside, decides that he's going to clock out and stay at the party. [The fare] is in the car waiting on him. He's still inside partying. So somebody [else] got in the cab and made several laps on the go-kart track that night."
The taxi driver wasn't the only unexpected guest, though. On one occasion—it's not clear if it was the same night or during another party—a pizza man decided to join the action.
"We called pizzas at whatever time," Bowyer continued. "Pizza guy shows up, says, 'Hey, you guys are having a good time. I think I'm going to stay.' We thought that was the coolest thing ever. He delivered, just quit, whatever, and stayed."
Clint Bowyer also had a unique party experience at Dale Earnhardt Jr.'s house
Based on those stories, it's safe to assume that Bowyer knows how to throw an epic party. Even when he's a guest rather than the host, though, the driver can still have some fun.
During an appearance on the Dale Jr. Download, Bowyer explained that he once headed to the Earnhardt compound for a night of fun but eventually found himself in a sticky situation. After heading down to the basement, he couldn't unlock the door to get out.
"I run out of people to talk to [and Earnhardt] disappeared. You can't disappear at most people's houses," Bowyer recalled. "When I say disappear, I mean this man is just gone. And I am stuck in this basement, looking around. … This is not like being at our houses, right? This is being trapped, and when I mean trapped, I mean the doors no longer open."
According to Junior, the door did have an electronic keypad; he still insisted, though, that Bowyer wasn't truly locked in. Either way, though, the guest ended up spending the night in the basement until a landscaper opened a door from the outside the following morning.
If nothing else, there's never a dull moment with Clint Bowyer around.