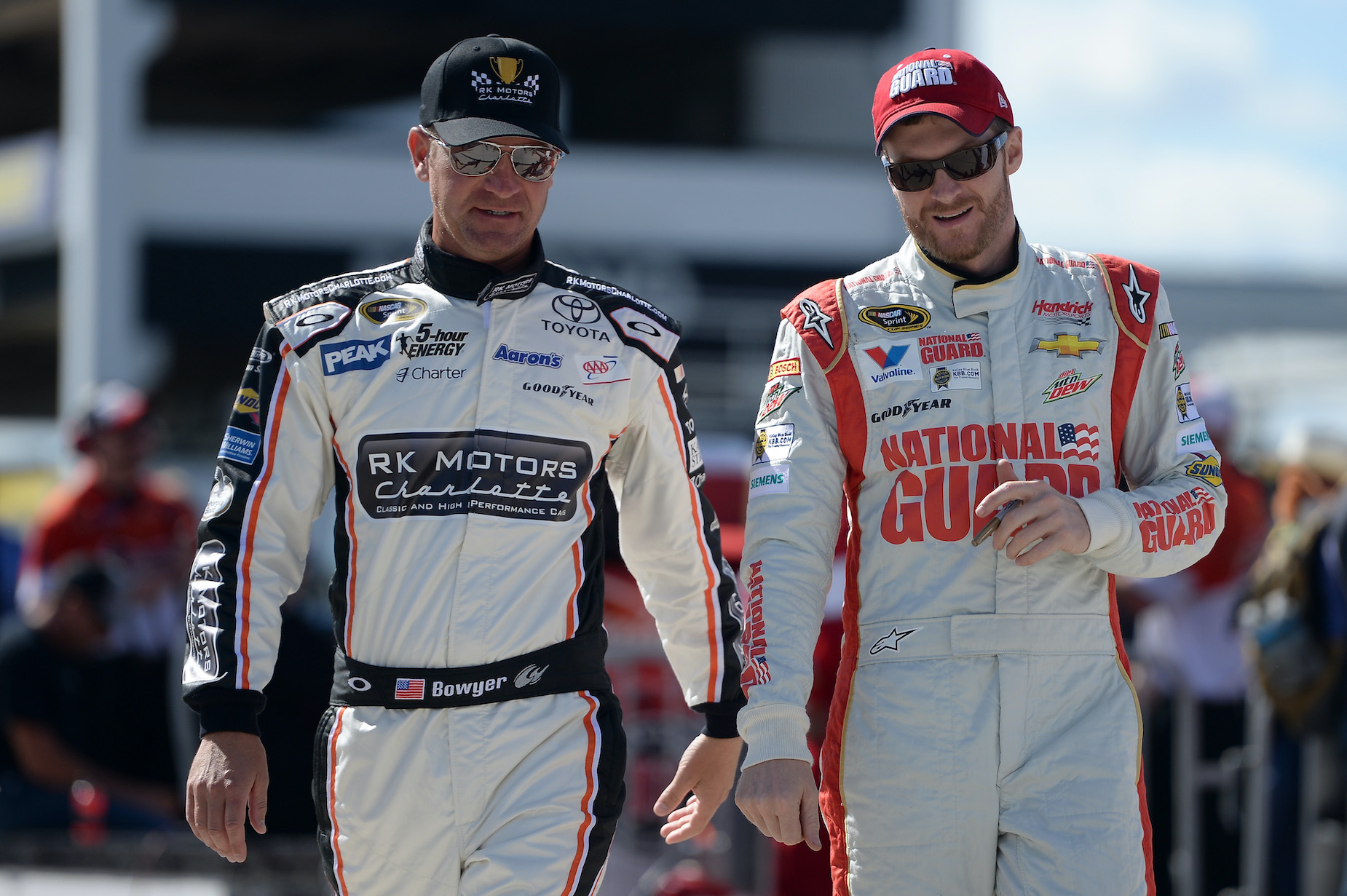 Clint Bowyer Once Found Himself 'Trapped' in Dale Earnhardt Jr.'s Basement After a Night of Partying: 'It's Like Fort Knox Locked Me In'
While Clint Bowyer knows a thing or two about partying, one night of revelry ended with the NASCAR driver trapped in Dale Earnhardt Jr.'s basement.
During his time in the world of motorsports, Clint Bowyer has seen just about everything possible. As a driver, he spent 15 years on the Cup Series circuit; in retirement, he's moved upstairs into the broadcast booth. Some of his more unique experiences, however, took place away from the track. Take, for example, an evening at Dale Earnhardt Jr.'s house.
While both Clint Bowyer and Dale Earnhardt Jr. know a thing or two about partying, this get-together took an unexpected turn. When it came to call it a night, Bowyer found himself trapped and unable to leave the premises.
Clint Bowyer earned a reputation as someone who knew how to have a good time
During his time on NASCAR's Cup Series, Clint Bowyer captured 10 checkered flags and secured 226 top-10 finishes. The Kansas-native, however, was known for something more than his on-track success.
While stock car racing has seen plenty of big personalities over the years, Bowyer's is one of the biggest. As NASCAR pushed more and more into the mainstream, the driver proved to be somewhat of a throwback; he'd always speak his mind and had no problem having fun.
In a 2017 edition of ForTheWin's NASCAR superlatives, for example, Bowyer took the crown as the driver who's "the most fun at parties." He's also unafraid of shotgunning beers on Twitter and, as noted by NBC Sports, will cut loose with everyone from cab drivers to his motorsports peers.
"Oh man, just people," Bowyer once explained in a FanSided interview when asked what makes him happy. "Hanging out with people and going to the lake. I like going to the lake. I have a lake house in Missouri and just going over there because it's all about people. You go out on a boat, you know, next thing you know, you're eating lunch somewhere, and you've made friends with somebody and his family and those are friends for life. That's what's so cool about life in general. It's all about friends, and relationships, and family, and getting the most out of it.
Dale Earnhardt Jr. also has plenty of partying experience
Clint Bowyer, however, isn't the only NASCAR veteran who's been known to enjoy himself. Dale Earnhardt Jr. also had plenty of fun, especially during the early years of his career.
"It's documented, and I'll admit, in the Bud years, we had a lot of fun," Earnhardt Jr. told Graham Bensinger. "I mean, we raised hell. We'd go and party and, when we did Bud appearances, we were in bars, you know, signing autographs for fans at a bar. And if there wasn't no racing the next day, we would have beers and hang out. And when I'd come home, we had a ritual that we'd go to the bar every Tuesday. We'd go every Wednesday. We'd do back-to-back nights every week. … And when [the bar] closed, we'd come home and party."
Even as he matured, Dale Jr. still knew how to cut loose and enjoy himself. One night of partying, however, ended with Clint Bowyer in a less than ideal situation.
Clint Bowyer got 'trapped' in Dale Earnhardt Jr.'s house after a night of partying
Sometimes a party is so good that the guests simply don't want to leave. Clint Bowyer, however, had a different experience at Dale Earnhardt Jr.'s place.
"I run out of people to talk to [and Earnhardt] disappeared. You can't disappear at most people's houses," Bowyer explained on the Dale Jr. Download. "When I say disappear, I mean this man is just gone. And I am stuck in this basement, looking around. … This is not like being at our houses, right? This is being trapped, and when I mean trapped, I mean the doors no longer open."
"You have to have the keypad [code] to go upstairs," Earnhardt interjected. "But you weren't locked in."
Regardless of whether he could have actually left or not, Bowyer spent the night in Dale Jr.'s home theater. The next morning, his escape attempt resumed.
"It wasn't just the alcohol," Bowyer continued. "I am stuck. … I'm out knocking on the upstairs door, that's not normal," Bowyer said. "People don't have a door to block off the house. It's like Fort Knox locked me in. So I'm in jail."
Eventually, a landscaper happened to pass by; the trapped NASCAR driver was able to knock on the window and get him to come open the door.
Over the years, Clint Bowyer has had plenty of memorable experiences. Getting trapped in Dale Earnhardt Jr.'s house after a party, however, has to be near the top of his list.