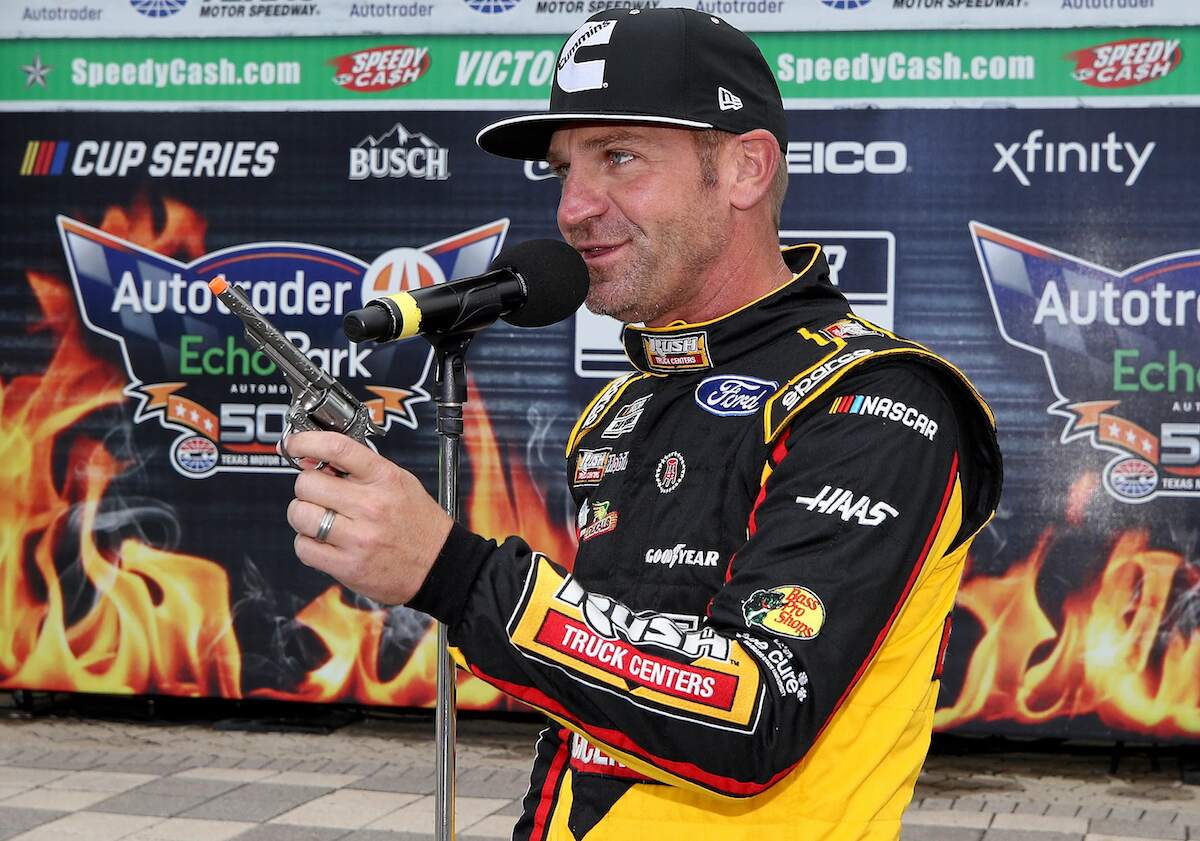 Clint Bowyer Devised a Crazy Plan for His Final NASCAR Race to Pay Back Every Driver Who Had Wrecked Him
Clint Bowyer had one crazy plan for his final race. He wanted to pay all the drivers back who had wrecked him during his career.
Clint Bowyer had a plan for the final race of his NASCAR career. He never followed through. It's probably a good thing because things could've gotten pretty ugly at NASCAR's 2020 Season Finale 500 in Phoenix.
Clint Bowyer's racing career
Clint Bowyer was already in racing mode at age 5. He was into motocross as a child, winning more than 200 races until he was 13. He began racing street stocks in 1996 and won the Modified championship at Thunderhill Speedway in Kansas in 2000.
In his first ARCA start in 2003, he drew the attention of Richard Childress after finishing second in his debut. Childress called Bowyer to offer him a job, and Bowyer nearly hung up on him, thinking someone was playing a joke.
Bowyer made his Nextel Cup debut in 2005 in the Subway Fresh 500, finishing 22nd. That rookie season, Bowyer finished with 11 top-10 finishes. He was 68 points behind Denny Hamlin for Rookie of the Year. In 2012, Bowyer left Richard Childress Racing for Michael Waltrip Racing.
Bowyer had his best season in 2012, finishing a career-best second place in the Cup standings. For his career, Bowyer ran 541 races over 16 years. He finished with 10 victories and had 226 top-10 finishes.
Bowyer jumps from the car into the TV booth
Clint Bowyer retired from racing at the end of the 2020 season. The finishing touches were put on his racing career when Fox came calling with a television job. Fox offered him a job alongside Jeff Gordon and Mike Joy, and it was an opportunity he couldn't pass up.
"I didn't want to just retire," Bowyer said, according to Yahoo!. "If this opportunity with Fox didn't come to the table, I was going to be in a car somewhere somehow. I wasn't gonna just quit and run off into the sunset because I like this sport, and I wanted to find my way and a future within it, and luckily this happened."
Bowyer said it was a perfect way for him to remain tied to the sport he loves. "It was an opportunity of a lifetime, an opportunity to stay a part of this sport for many years to come, and that's the coolest thing about it," Bowyer said.
"Was I getting close to being ready to get out of the car and start thinking about it anyways? Yes. Was there a lot of things that happened this year in the schedule and things like that, where I was away from my family doing this on my own that kind of made that decision a little easier yet? Yes. There were a lot of those things, but the fans, the event of a race weekend is something that you just can't do without."
Clint Bowyer had a wild plan for his final race
Freddie Kraft, who worked as a spotter for Bubba Watson in 2020, said he had gone out to dinner with Clint Bowyer the night before Bowyer's final race. Bowyer was about to call it quits at Phoenix Speedway, ending a 16-year NASCAR career. Kraft said Bowyer was thinking about going out in style with tons of payback.
On the Door Bumper Clear podcast, Kraft told the story that at dinner, Bowyer said, "I think I'm just going to pull the pin tomorrow and just wreck everybody that I owe a wreck to. And as I wreck them, call it out, like 'yea, that was '08 Martinsville right there, bud, you're welcome."
Kraft said Bowyer was a guy who never forgot anything. He could remember who wrecked him and he rattled them all off at dinner. Kraft said it would've been "epic" had he followed through, but he ran a clean race, finishing 14th.