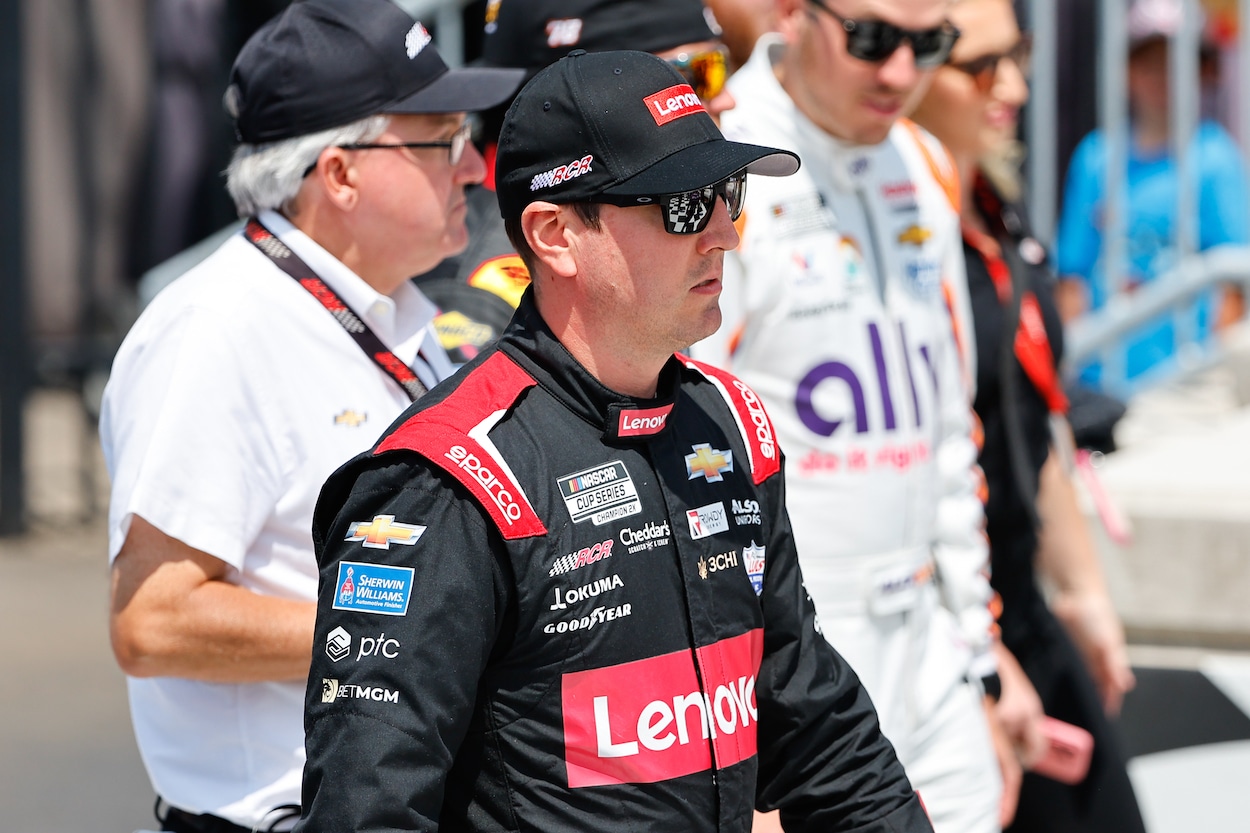 Clint Bowyer Raises Red Flag on Kyle Busch on Eve of Playoffs
Kyle Busch has struggled in recent weeks. Clint Bowyer talked about it this week on Race Hub and admitted he's concerned going into the playoffs.
Kyle Busch has had a rollercoaster of a year, his first with Richard Childress Racing. There's been plenty of highs and lows. Unfortunately, he's hit a season-low in recent weeks, posting three finishes of 36th or worse in his last half-dozen races. 
This week, Clint Bowyer made an appearance on NASCAR Race Hub, and the Fox broadcaster didn't sugarcoat his thoughts, raising a red flag and expressing concern about what he's seen lately from the two-time champion and what it might mean for the rest of the 2023 season. 
Kyle Busch started season strong with new team
Kyle Busch opened the season with a 19th-place finish at Daytona. However, the results didn't accurately reflect his performance. He was leading the race going into overtime, but in typical Daytona fashion, got collected in a late crash. 
The following week at Auto Club Speedway, the driver avoided any crashes, won the race, and in the process, sent a message to the rest of his Cup Series competition. After limited success during his final years with Joe Gibbs Racing, he was back.
Busch followed up that victory with two more wins at Talladega and Gateway, all in the first half of the schedule. That total is his most wins in a season since 2019 when he won his last championship. In addition to the trips to Victory Lane, he recorded eight more top-10 finishes, including three inside the top five.
Busch has struggled in last two months 
However, since the halfway point, Busch's performance has dramatically declined. After finishing fifth in the second race of the year at Atlanta, he scored his worst result of the season at New Hampshire, where he crashed in Stage 1 and finished last in 36th. Unfortunately, there was more where that came from. 
He finished 21st at Pocono and third at Richmond, before he hit another new season low and added another DNF, a 37th-place result at Michigan. He finished 36th on the Indianapolis Road Course with mechanical issues and recorded a 14th-place result in his most-recent race at Watkins Glen. 
Clint Bowyer raises red flag and admits he's concerned
Being it's the second half of the season, Clint Bowyer is not on the air every Sunday working in the Fox broadcast booth. But don't mistake his absence for not having an opinion. He does and he shared it this week during an appearance on NASCAR Race Hub when talking about Busch's recent results.
"I'm really concerned, Josh. Yes, I'm an RCR fan, a Kyle Busch fan," Bowyer said. "This eight team. We talked about William Byron, how he started the year, what we saw when we started the season. You saw it with Kyle Busch right off the bat with the Clash.
"All of a sudden, you get halfway through the summer; I talked about that faucet, we're out of water. Something is going on big time. We've got to figure it out. Whatever it was that they had, I'm pretty sure that RFK, Keselowski and camp, they found whatever it was."
Things could all turn around for Busch once the playoffs start. And if they do, no one should be surprised to see the driver battling for his third championship in Phoenix.
To stay up to date on the latest happenings in NASCAR, including breaking stories you can't find anywhere else, follow Kyle on YouTube and Twitter.