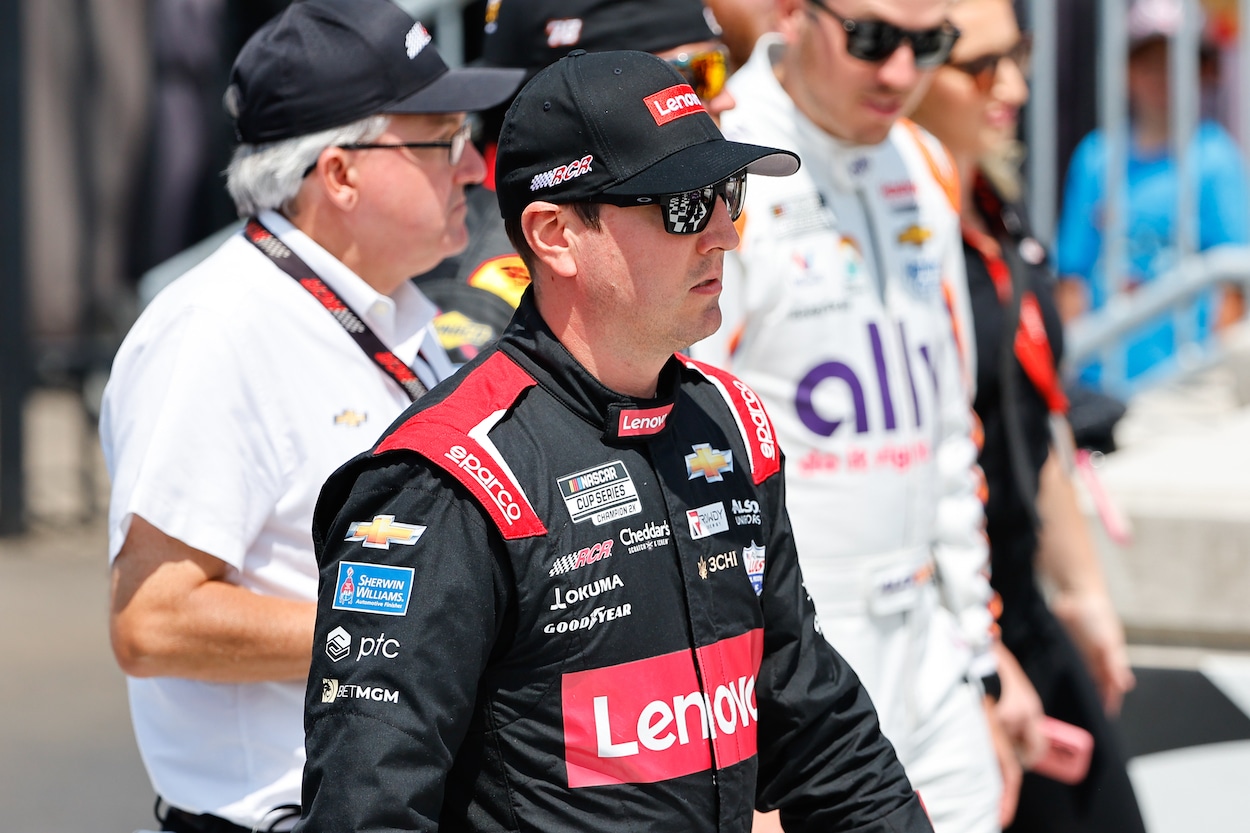 Kyle Busch Accepts 'Dirty' Driving Is Exciting to Fans and the New Norm for the NASCAR Cup Series
Kyle Busch has been outspoken in the past about a lack of respect in the garage. He now accepts "dirty" driving is part of racing and what it takes to win.
Kyle Busch has never shied away from sharing what's on his mind. He did it back in March when he addressed NASCAR's penalty of Denny Hamlin after his former Joe Gibbs Racing teammate admitted to intentionally wrecking Ross Chastain. However, that conversation drifted into the topics of aggressive driving and respect, and, unsurprisingly, the two-time champion had thoughts.
This week, ironically enough, on the heels of another Hamlin incident — this time with Kyle Larson at Pocono — the Richard Childress Racing driver revisited the topic of aggressive racing, and while not necessarily in agreement, acknowledged that "dirty" racing is a byproduct of the Next Gen car and a necessary evil if you want to win. 
Kyle Busch talks about lack of respect in March
Before the first Atlanta race in March and just days after NASCAR handed down a penalty to Denny Hamlin for admitting on his Actions Detrimental podcast that he deliberately crashed Ross Chastain at Phoenix, Busch was among multiple drivers who addressed the situation.
"Keep your mouth shut," Busch suggested of his former teammate. "Simple as that. It's what Logano did when he wrecked me in 2017. That was on purpose but didn't admit it." 
Just a few minutes later, NBC's Dustin Long brought up how drivers like Mark Martin had more etiquette in the past. The driver wholeheartedly agreed.
"That's the key part. Now you're going down the right path because we have completely lost any sense of respect in the garage area between drivers at all," he said. "That's where the problem lies is nobody gives two s**** about anybody else, and it's just a problem where everybody takes advantage of everybody as much as they can. We're all selfish, granted. 
"But there was an etiquette that once did live here. Mark started it. I think Tony (Stewart) really lived by it. I think Jeff (Gordon) lived by it. Bobby Labonte. Rusty (Wallace) for the most part. Dale Jarrett for sure. It did exist. That's gone."
Busch addresses Denny Hamlin-Kyle Larson incident at Pocono and reveals changed mindset
Since Sunday's race at Pocono, all the talk has been about Hamlin's aggressive late-race move, where he escorted Kyle Larson into the fence and out of contention. Busch appeared on SiriusXM NASCAR Radio and talked about the incident and the overall aggressive driving in NASCAR. He offered a similar but more accepting tone than in the past.  
"Could Denny have done that differently and raced it out and raced it clean and done a side draft down the backstretch and seeing where everybody kind of positioned into the next turn and the next turn and the next turn after that?" he asked. "Sure there's a way that you can run clean and you can race side by side but all you're gonna do is draw in the rest of the competition behind you and everybody is so close that you know the guys, if you're stuck side by side, you're gonna allow third place to jump into the picture and they might even just go by the both of you and clear you and now you're still stuck side by side with that guy. And the third-place guy's now the leader and he's gone. 
"So it's just a different dynamic, you know, with the competition being closer and the cars being closer, you have to mess up the guy that you're racing, that you're around. You have to push them out of the groove. You have to pinch him tight to make him get tight. And then you know, you have to pull a slide job on him to get in front of him and take his air.
"There's all this — it's racing. It's just a different form of racing. I don't know whether you call it dirty or whether you call it greedy. I think it's both of those things, but you know, I've been seeing it a lot out of the younger generation. The kids and stuff like that coming up through the ranks. How they do it in ARCA, how they do it in the Truck Series, how they're doing in an Xfinity, and now it's come up to the Cup Series. And so it's just this vicious cycle of how to race. 
"But it's a hell of a lot, damn more exciting I guess than it once was in the Jeff Gordon-Mark Martin-Rusty Wallace-Bobby Labonte era, where you know the racing was a lot cleaner. You gave each other room. If a faster car caught you, you let them go. You hoped for the same favor later. Now it's if they catch you try to hold them off as long as you can and screw them up so they don't go by you because track position is everything."
Translation: Kyle Busch prefers racing clean as was done in the past. But he understands, in order to be successful in today's NASCAR, that's not the way to do it.
To stay up to date on the latest happenings in NASCAR, including breaking stories you can't find anywhere else, follow Kyle on YouTube and Twitter.