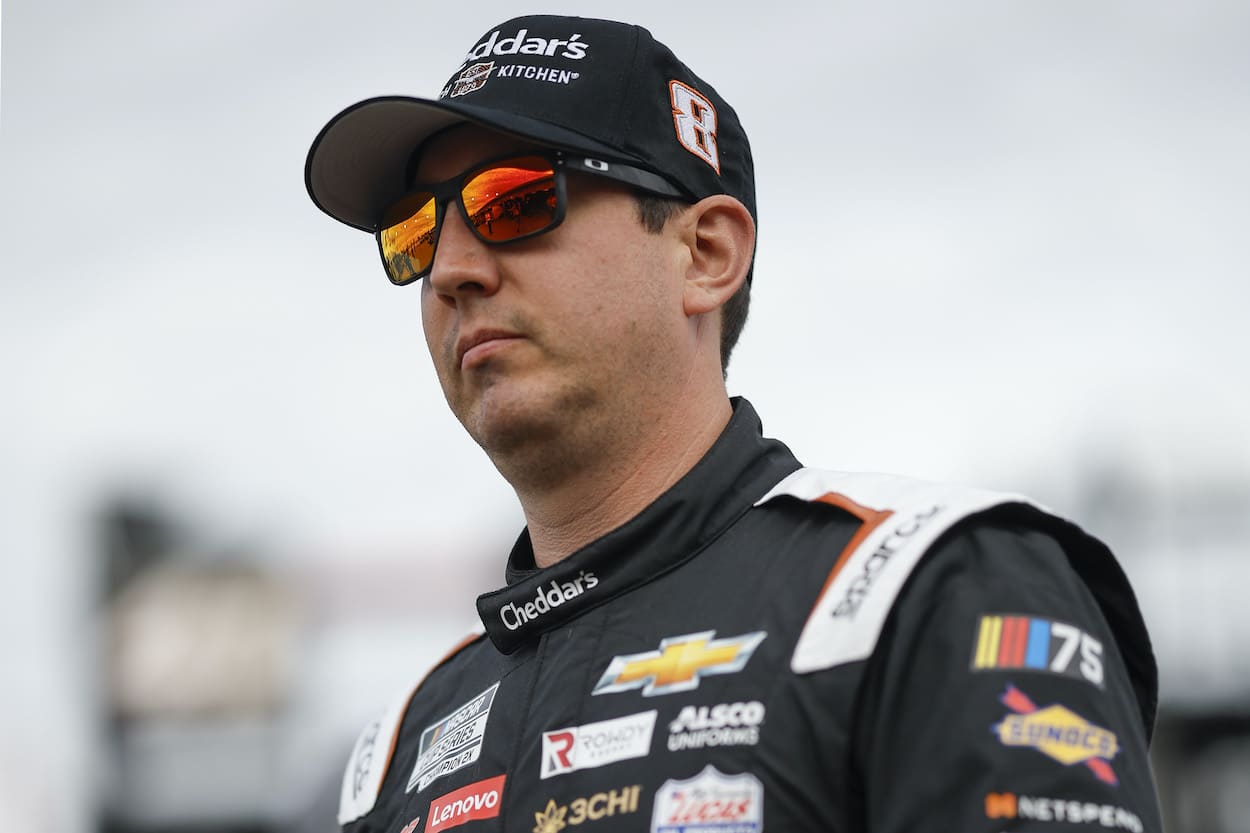 Kyle Busch Might Be a Respected Two-Time Champion but This Weekend Confirmed He Doesn't Always Know What He's Talking About
This weekend at Atlanta confirmed that despite being a two-time Cup Series champion, Kyle Busch doesn't always know what he's talking about.
Kyle Busch has never been afraid to share what's on his mind. The sanctioning body, fellow drivers, and fans have all been in the two-time champion's sights at one point or another in his Hall of Fame-worthy career. 
A couple of years ago, he took direct aim at Atlanta Motor Speedway and blasted track owner Speedway Motorsports Inc. for its plans to reconfigure the track, suggesting it would be "s***." Sunday's rain-shortened race in Georgia was anything but that, and, in fact, it was universally heralded as one of the best races in a long time and confirmed that the driver didn't know what he was talking about.
Kyle Busch blasts plans for new configuration of Atlanta Motor Speedway
Kyle Busch won a pair of Cup Series races at Atlanta in 2008 and 2013 on the old configuration. Like many drivers, he liked the older version of the track because it was worn out and wider. 
How much did he like it? After the final Xfinity Series race on the old surface in July 2021 and after SMI had announced that it was reconfiguring the track for the 2022 season, the then-Joe Gibbs Racing driver didn't hold back in what he thought about the decision to modify the 1.5-mile track.  
"Barring getting into Hemric and him crashing, I sure am glad to win the final Xfinity Series race on a real Atlanta racetrack because the next one is just going to be a showpiece, and it's going to be s***," Busch told reporters in his post-race press conference.
Busch still not a fan of track in 2023
But that was two years ago. Busch could change his opinion after racing there a couple of times. Interestingly, that did not happen.
When the Cup Series raced on the track in March, Busch finished 10th, his best result on the new reconfiguration. Despite that solid outcome, the Richard Childress Racing driver made it clear after the race that he was still not a fan.
"Just talk about your day and a little bit about what you thought about the track," reporter Lee Spencer asked him.
"I won't comment on the track," he answered. "That'll just get me in trouble."
Dale Earnhardt Jr., Darrell Waltrip, and most everyone else disagrees
On Sunday at Atlanta, NASCAR was trying to capitalize on the interest and momentum generated from the week before and the very successful race through the streets of downtown Chicago. Did it ever. 
The wild ending to the first stage, which saw numerous drivers jockeying for position up front and Ryan Blaney edging out Kyle Larson by a nose at the finish line, was just the beginning. That fast-paced, hold-your-breath kind of action lasted for much of the race. 
During the NBC broadcast, Dale Earnhardt Jr. made it clear multiple times how he was impressed by the exhilarating on-track action. While rain ended the race early and wasn't the finish everyone wanted to see, that didn't take away from the overall entertainment value of the racing product. 
After the race, Darrell Waltrip took to Twitter and shared his thoughts on the race.
"I'm a driver, owner, TV personally (sic), but most of all a race fan, tonight's race was the best I've ever seen!" Waltrip wrote.
High praise from the NASCAR Hall of Famer. And a very different take from another future Hall of Famer.
To stay up to date on the latest happenings in NASCAR, including breaking stories you can't find anywhere else, follow Kyle on YouTube and Twitter.