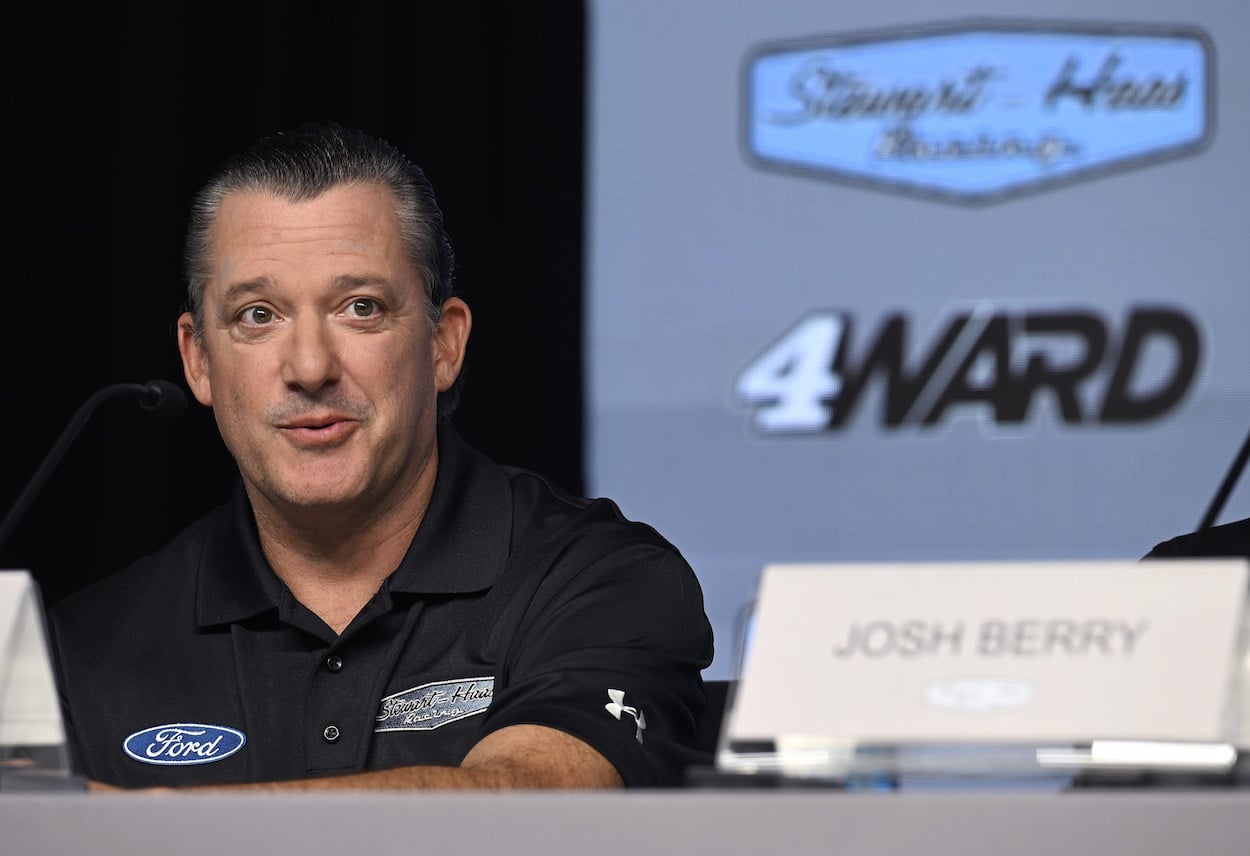 Tony Stewart Joins Kyle Busch and Joey Logano as the Latest Cup Series Champion to Sound Off on NASCAR's Broken Business Model
Tony Stewart is the latest Cup Series champion to sound off on NASCAR's broken business model, joining Kyle Busch and Joey Logano, who've addressed the subject in the last month.
Tony Stewart was understandably happy this week when he was part of revealing the worst-kept secret in NASCAR that Josh Berry was joining Stewart-Haas Racing in 2024 and replacing Kevin Harvick in the No. 4 car.  
During that press conference from Charlotte Motor Speedway, the SHR co-owner talked about why Berry is a good fit for the organization, including his level of maturity and work ethic. But one comment in particular by the Hall of Famer received a lot of attention because it highlighted NASCAR's broken business model. Interestingly, he's the third Cup Series champion to address the subject in the last month. 
Tony Stewart not interested in pay-for-play drivers 
Tony Stewart understood replacing Kevin Harvick would be a challenge. So this week, when he joined the 2014 champion on stage along with Berry and crew chief Rodney Childers, you could sense the satisfaction that the 52-year-old team owner had found his driver. 
Dale Earnhardt Jr. has guided Berry in his career and helped prepare him for this moment. Interestingly, unlike what's become commonplace for drivers in NASCAR, the JR Motorsports driver has earned the ride on merit, not money. The Athletic's Jordan Bianchi asked the panel about that topic and getting to the Cup Series on skills and not sponsors. 
"I'm not interested in some kid's father, coming and buying their way into the Cup Series," Stewart admitted. "I have zero interest in that. We want guys that earn their way, that work hard, that understand the values that it takes to be a top-tier driver, not one that just got his high school diploma and now, all of a sudden, he's a Cup driver. I've got zero interest in that." 
Kyle Busch talks about John Hunter Nemechek returning to the Cup Series
The remarks by Tony Stewart provide the perspective of a team owner focused on competing at the highest level with drivers based on their talent, or how all stick-and-ball sports operate. But Kyle Busch, a team owner in the Truck Series, offered a different perspective when he was recently asked about his former KBM driver John Hunter Nemechek and what it will take for him to return to Cup racing, where he raced for one full-time season in 2020 with Front Row Motorsports. 
"This isn't meant to be mean or rude or a bad word, but he needs six million bucks, and he'll be in a JGR Cup car next year," the two-time champion said. 
"That's all he needs. It's not a success game anymore. It's a money game. So if he can find the cash, then there'll be a seat for him, I'm pretty sure." 
Joey Logano admits it's a broken system
Joey Logano is the reigning Cup Series champion. He's a two-time champion. He's got clout. Unfortunately, that doesn't go far these days. The Team Penske driver revealed as much recently in an interview with Kenny Wallace on his YouTube channel. During that conversation, the 33-year-old shared his experience this season and racing in the Truck Series on the Bristol dirt. 
"I hate to say it, but it is a broken system. I hate to say it, but it is so challenging to make it because you got to have cash," Logano said. "Now, that's not everybody. Right? You got to be a standout. You better be ridiculously good today to get the opportunity that I had. 
"Even today, I can't go drive a truck without bringing money to the table, right? I drove that truck at Bristol this year, I had to bring a significant amount of money to go drive it. You would think you win a couple of Cup championships that you can go drive whatever you want whenever you want."
"They could sell you," Wallace replied.
"Right. Well, they would want me in the cars. I can help them build their program. I have experience. I can help," Logano responded. "Nope. I got to bring money to go race still. If the two-time Cup Series champion has to bring money to go racing, what is the 18-year-old kid, 19, 20-year-old kid that does not have a resume expect? I don't know how you do it. Like, to the point that I don't know if I want my kids racing."
Busch and Logano are in agreement — that sounds weird — that today's NASCAR requires money to make it. Stewart's hiring of Josh Berry suggests, while rare, drivers can still make it on talent and hard work. But no one will deny, with the current business model, a big paycheck in your back pocket certainly doesn't hurt. 
To stay up to date on the latest happenings in NASCAR, including breaking stories you can't find anywhere else, follow Kyle on YouTube and Twitter.